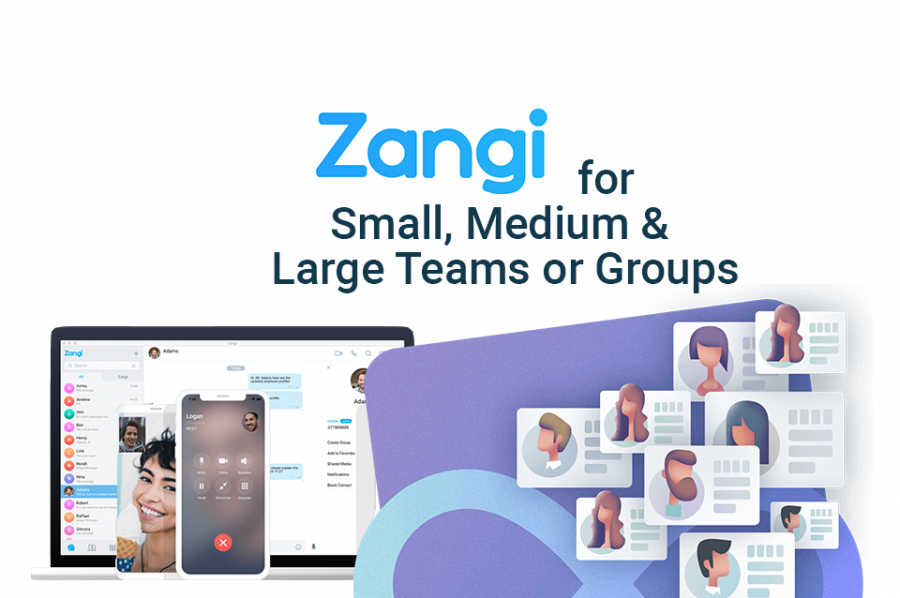 Small, Medium & Large Team Chat Software : Get your Secure Team App
Zangi solutions is for any business or community that needs a secure internal or external team chat software.
Teams, groups of all sizes, from any industry, can create their secure communication system on top of Zangi. Or they can build their own independent team chat software apps, with Zangi's help.
What does Zangi offer?
With Zangi's help you get a communication system (team chat software) with:
1) powerful, multilayered encryption & security
2) data safe & under your control
3) management dashboard
4) your own independent public or private apps & desktop
5) modern messenger features & lowest data usage
6) HD voice and video
7) fastest file transfer & messaging
8) easy, seamless integration with your office phone and CRMs
9) a reliable app tested by millions, which is ready in 10 days time
10) fit the app to your business with your branding & customization
Messenger Marketing: How To Improve Your Business Communication
Cases
Case 1: Use Zangi app as your own secure team chat software app
Have your entire team download Zangi apps, and invite & manage your team from your Management Console. All team calls and messaging via Zangi will become fully secured and in HD quality. 
Case 2:
Get your own messenger app, hosted on Zangi Cloud
For a white-label team chat software option: get your logo, branding, colors, icons & name on your app, hosted on Zangi backend. Keep your apps exclusive or publish them publicly on the marketplace (on iOS, Android, Desktop) with out-of-the-box functionality. The app's configurable with some setup preferences and 3rd party services.
Case 3:
Get your own messenger app, on your servers
Use the Zangi platform to create your own branded & fully independent team chat software app deployed on your servers or cloud. Have it up and running within 10 business days if no custom development is needed. But of course, you can make custom changes, transforming the app to your needs. 
Cutting-Edge Technology: Get Your Branded Chatting App Within a Few Days
By simply connecting your desk phone to Zangi messenger, you can have calls to your office from any location. Reach offices, teams, and customers on their mobiles through a secure connection to your company phone.  Also get strong encryption & security, HD voice, mobility, conference calling, cost savings and increased functionality all seamlessly integrated to your existing SIP infrastructure.  The integration will take you 5 minutes. 
For telecom or MVNO businesses, Zangi solutions aim to help digital operators create a more meaningful, dynamic & feature-full user experience while improving asset utilization. In addition to standard Off-net calls via SIP which is provided by default, also get  In/Out Voice Termination over SIP and Incoming/Outgoing SMS. This solution is also configurable with some setup preferences and 3rd party services.
Advantages
⊳Modern messenger features, no technical team needed
Zangi business solutions is the best choice for you if you don't have the required skills to build an application from scratch, saving your valuable time and resources.
Instant messaging, group chat, voice and video calls, file sharing, stickers market, public channels, groups, user groups, and VoIP capabilities are available out-of-the-box. You can also request new features, and then take full ownership of the development.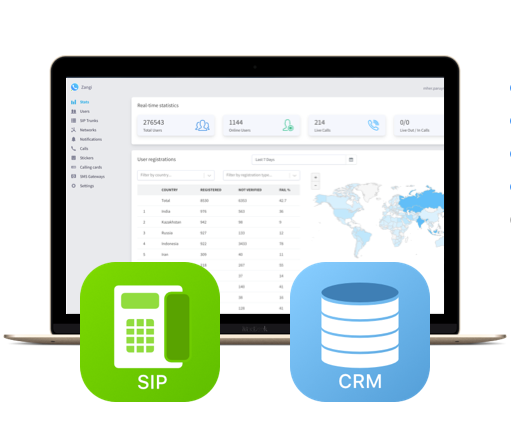 ⊳Configurable with 3rd party services and highly integrable
VoIP, SMS, Audio code, DID, Payment Systems, Ads providers and other 3rd party services are configured during the initial setup. Then businesses decide which provider to choose, based on business preferences.
Integration with external systems via XMPP, SIP, SMPP, HTTP(S) ReSTful APIs. For instance, Customers can use their own billing, requesting and sending call authorization, rates, and rules through API calls between 2 systems.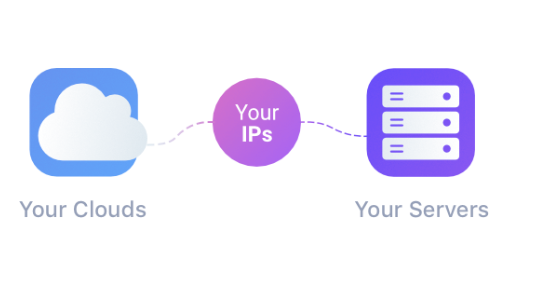 ⊳Flexible architecture
The Backend can either be hosted on Zangi's private cloud cluster (referring to your business domain URL in all visible queries) or the Backend can be hosted on the business's servers – on-premises hosted or on a rented cloud.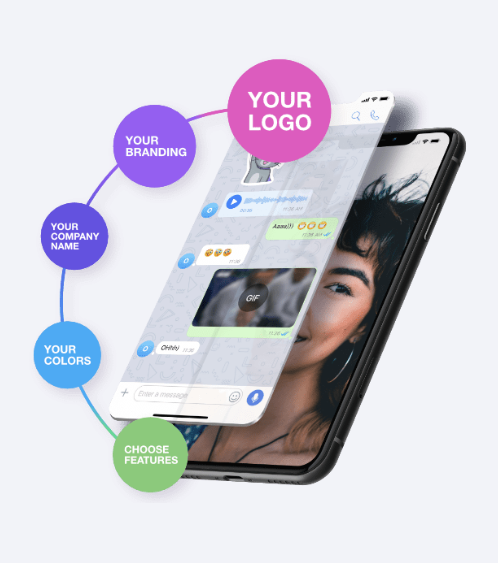 Businesses get to set up their branding, including UI branding, their logo, colors, splash screen, icons, background, colors, intro text, invite friends text, etc.
These basic branding elements will give your business messenger a whole different feel and look. No one will figure out that the messenger was not created by you. And Zangi will not add their logo anywhere, and will never publicly mention their client names, so Zangi's origin will not be visible anywhere.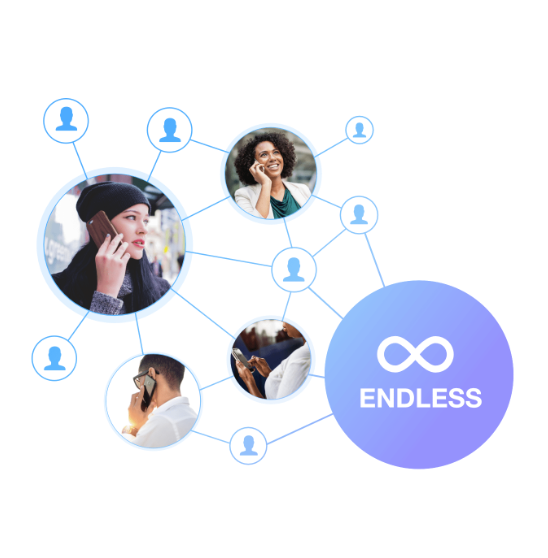 ⊳Highly scalable backend 
Whether you'll be using your team chat software for team communication or if you want a huge community to be using it, there is no problem with user quantity.
Zangi-made Binary XMPP protocol for Signaling is 5X more lightweight than other protocols, and it's highly scalable, meaning an unlimited number of users can use the messenger at the same time with no problem.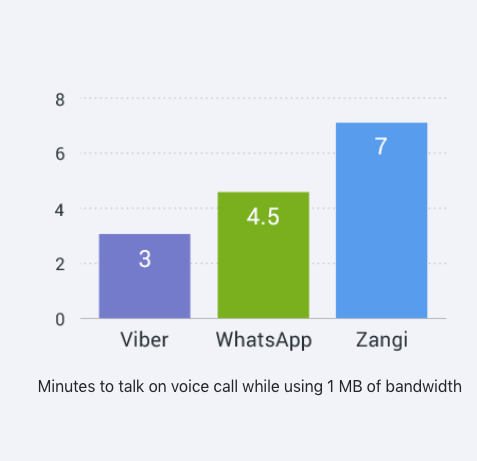 In order to make cheaper and free calls and messaging with your network, Zangi providers a great bonus money-saving option. By activating Zangi Streaming Control Protocol, you can optimize bandwidth usage on transport level (reducing data packets up to 30%). Users can limit bandwidth consumption and speak up to 7 minutes with 1MB of data traffic.
Limiting the bandwidth consumption also helps to get better voice quality in Edge/2G and noisy wifi networks.  Low Data Usage mode is an optional feature subject to a One-off payment. Your users or team members can save on data and they will never complain about call quality, as the SC protocol provides crystal clear voice and video quality even in 2G/EDGE data networks and low/noisy WIFI connectivity.  
Why Low Data Usage Feature Is Important For Your Messenger App
If security is important for your business communication, Zangi has top-class security options for every business need. Zangi provides 3 levels of encryption: encrypted proprietary handshaking mechanism (provided by default); dynamic channel encryption (encrypts each session and is provided by default); end-to-end encryption (optional, listed in Extra Features).
With end-to-end encryption each conversation between users is encrypted, and decryption is possible only with the key, that is available only for communicating users. E2EE is an optional feature subject to a One-off payment. For data storage: you can also choose to have the messenger hosted on Zangi's servers, your servers or have it become serverless. The messenger can become downloadable on Google Play or the App Store or you can choose to have the messenger be fully incognito for only inner-community use. 
You can start off with the standard Off-net calls via SIP and upgrade to also receive incoming voice termination over SIP. Customer or Customer's Voice provider should route the calls to our SIP, and our backend will handle the incoming call according to SIP standards. Solution supports caller number identification(CLID). Both G711U and G711A are supported.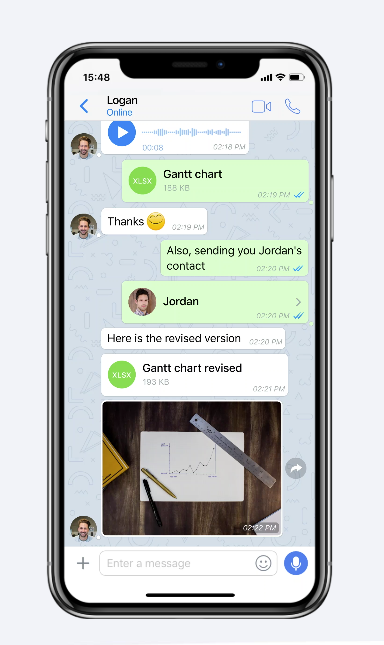 ⊳Incoming/outgoing SMS 
SMS from the external system can be routed to the application via REST API or SMPP gateways. Incoming SMS will appear as a regular IM chat in the applications. It is possible to link 1 external number to an internal service number so that users can send/receive SMS from 3rd party systems like CRM as regular IM.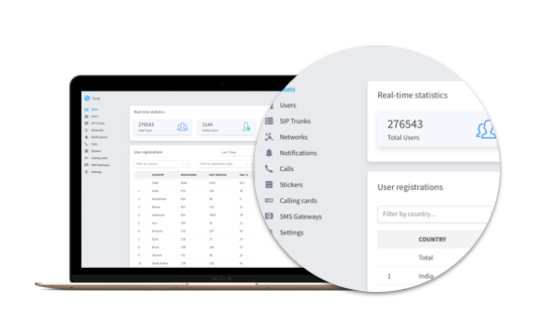 ⊳Manage with your control panel
To view all messenger activity and to manage roles etc. Zangi White Label provides businesses with a control panel for the Backend accessible through the web.  Stats dashboard, Billing, User Management, Grouping(Referrals), unlimited number of VoIP (SIP) gateway setup and routing,  Rates upload and Sales Margins management, Sales and Expenses monitoring Call logs, Bulk Push and SMS to users and Value Added Services (Stickers Stores) featuring capabilities of an E-commerce platform are all available and possible.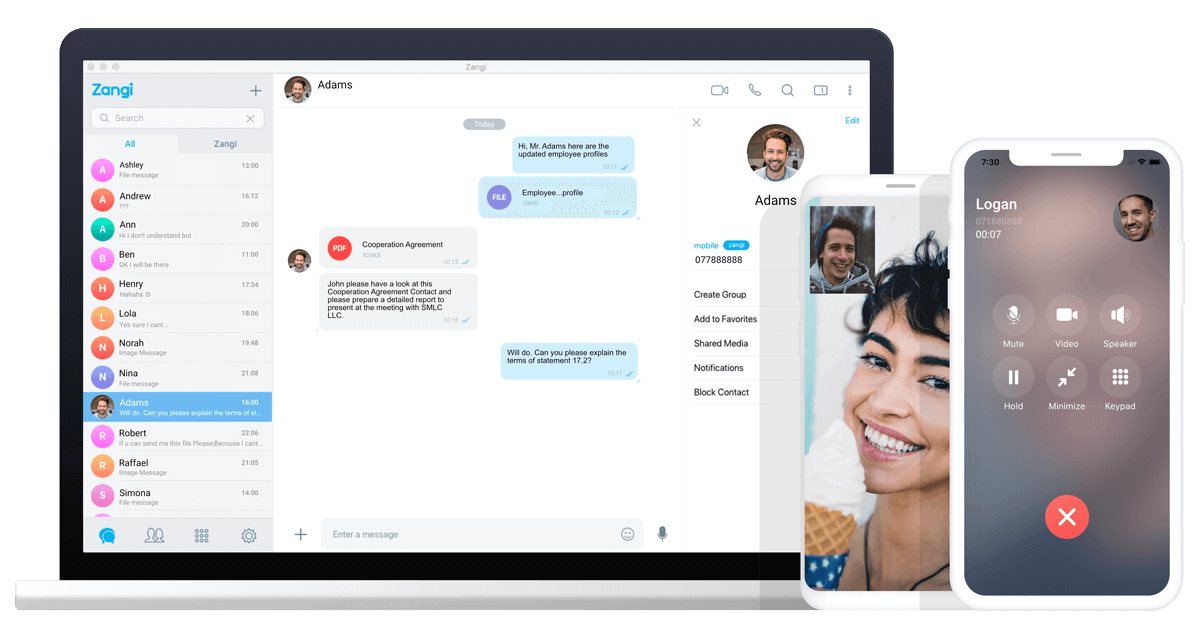 ⊳
Foster marketing and customer loyalty
 Once your customers have installed your app (team chat software) on their smartphones, you will be able to increase their loyalty and engage customers. You can send push messages, offer promotions or let customers take part in savings by making mobile payments. If you already have a mobile wallet, Zangi allows integrating your wallet in your new messenger, for easy chat and money transactions. developed a special customer card for this purpose. 
⊳
Risk-Free
If something goes wrong, the Zangi team will take care of the quality and troubleshooting. You never have to face with app development risks or problems. With Ordered batch-updates Customers can choose which updates and when to apply to their branded solution.
Contact Zangi or fill out the form below and tell what you need from your communication app.
Get in Touch
Send us a note using the form below and we will get in touch with you shortly.