Create Your Own Messenger
Take Zangi's messenger platform, add custom features, and create your own messenger. The platform is completely customizable with IT, FinTech, CRM, Telecom service, e-wallets and more. It has a scalable and integrable backend with operational infrastructure and a lightweight engine with its own streaming and signaling protocols.
Why You Need a Business Messenger for Your Business ?
- Boosting company sales by demonstrating the products and selling them directly to your targeted audience.

- Skyrocketing marketing by sending notifications directly to your targeted audience without spending on advertising.

- Engaging users through providing them a possibility to communicate directly with each other via audio or video calls, messaging, group chats file sharing and more.

- Creating confidentiality and reliability by managing and monitoring everything yourself. You don't need to delegate your data to any company or system.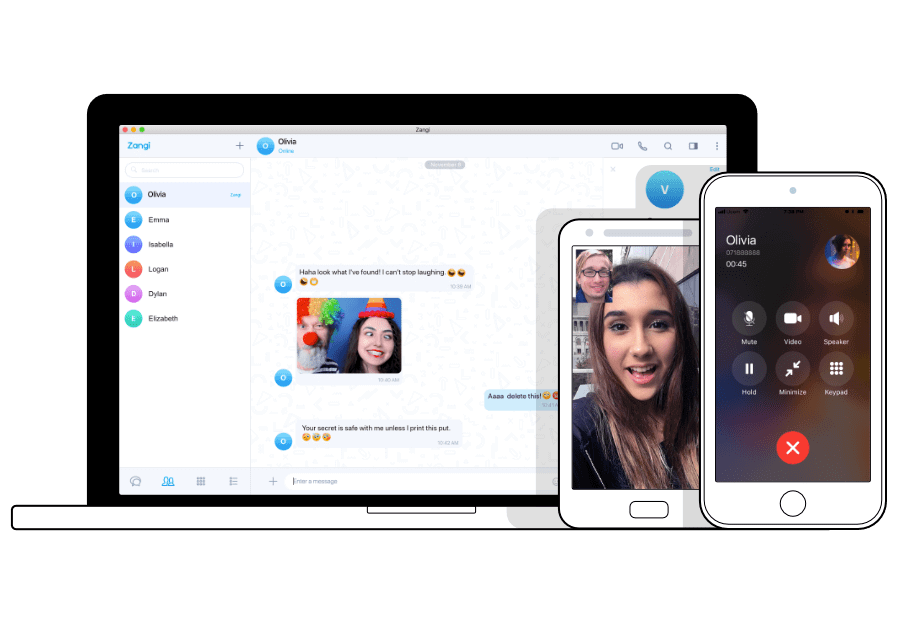 For iOS, Android, Web, and Desktop
You can have your business-ready, extensible messaging app with high-quality features up and running within 2 weeks. The quality of the features are the same as in Zangi Safe Messenger.
White Label Basic
Your branded messenger up and running within few days.
Basic includes:
Business​ ​ready​ White Label ​applications​​ ​​on​ ​iOS,​ ​Android,​ ​Desktop​ ​and​ ​Web​.

Highly​ ​scalable​ ​Backend​​ ​​with​ ​Control​ ​Panel​ ​accessible​ ​through​ ​the​ ​web.

Configurable​ ​for​ ​3rd​ ​party​ ​services: VoIP,​​​ ​DID,​ ​Payment​ ​Systems,​ etc.

Flexible​ ​architecture: Backend​ ​hosted​ ​on​ ​Zangi​ ​private​ ​cloud​ ​cluster,​ or Backend​ ​hosted​ ​on​ ​Customer's​ ​servers​.

Integration​ ​with​ ​external​ ​systems​ ​via​ ​XMPP,​ ​SIP,​ ​SMPP,​ ​HTTP(S)​ ​​ ​​ReSTful​​ ​APIs.

No​ ​custom​ ​feature​ ​development.

No​ ​source​ ​code​ ​access.
Popular
White Label Pro
Customize and transform to better fit to your business needs.
Includes all Basic features plus:
Custom features available. All development should be ordered to Zangi team via Dedicated/On demand Development.

Separate Code branch maintenance per Customer, per App and per Backend instance.

No source code access.

Zangi core based new solutions reselling is subject to Partnership Agreement.
Enterprise
Get the source codes to run own development.
Includes all Pro features plus:
Source code access to run own development.

Development can still be ordered to Zangi team via Dedicated/On demand Development.

No Source code ownership transfer. The source code is the intellectual property of Zangi.

Source code access License is sold only to the end Customer. No direct reselling.
Get In Touch
To create your messenger, contact us and we will help you with the rest.