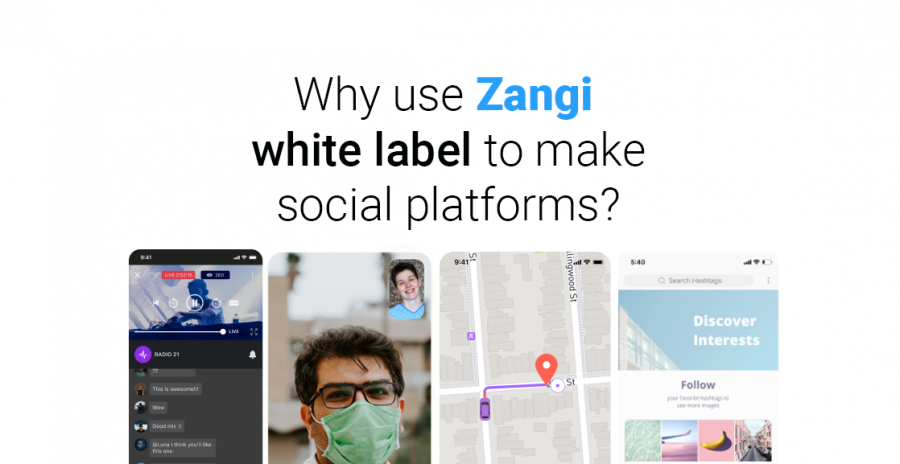 Why use Zangi white label social media platform?
For years now, Zangi technologies have been the foundation of numerous white-label app solutions for healthcare, crypto, start-ups, etc. with over million-user databases. This article lists how exactly Zangi white label helps social app founders with their main risks and challenges. 
This past decade, the social media sector has been dominating the online world. With the widespread use of social apps and the advancement in tech solutions, many startupers with different ideas are developing their new social-oriented solutions.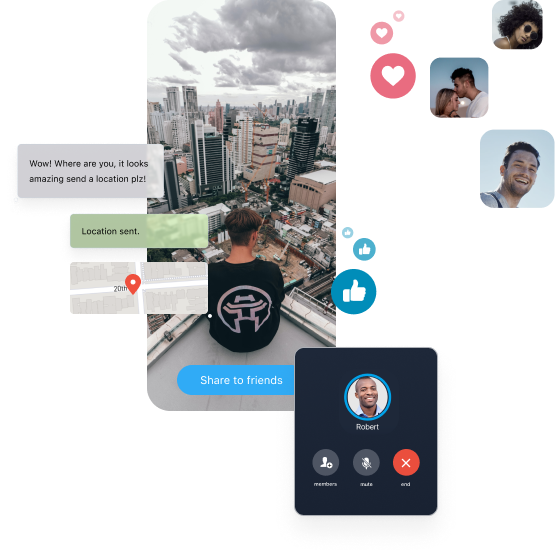 New types of social platforms
Some new types of social media apps include anything related to communication, interactions, and community-building:
social networking;

remote working;

remote healthcare & schools;

broadcasting;

content-generating communities and sharing;

collaborative projects;

business team-related;

Internet forums;

social blogs;

vlogs, video rating;

photographs or pictures;

social bookmarking;

virtual social/game worlds;

crowdsourcing;

and much more.
The main challenges and risks creating a social app 
It's one thing to want to create a social media platform, and another thing to successfully bring it to life. Here are the main points one considers when starting or planning to start a social platform. 
MVP (minimum viable product)

Marketing strategy

Code quality

Scalability

Time to market

Development costs
Unfortunately, many great ideas fail when founders can't meet these points. In the case of Zangi white label social media platform as a service solution (PaaS), Zangi fully takes care of at least 4 of these 6 concerns (code quality, ability to scale, quick time to market, low development costs).
How to build a social media app with Zangi
First, let's understand how creating a white label social media platform with Zangi works. Zangi offers a business-ready social network solution for mobile apps, desktop apps, web apps, with scalable, flexible, and lightweight back-end systems. 
This social solution includes all the mandatory features required by modern consumers: Group Chat, Audio/Video Conferencing, Files Sharing, Messaging, Channels, Embedded End-to-End Security, and other features. On top of that, you can create absolutely new apps by requesting custom modifications of the app logic and design.
As a result, you can achieve an application like Instagram, TikTok, Zoom, ClubHouse, Uber or any other social app up and ready within 6 months for a 10X low cost. Impressive? Want to create a social media app of your own? We can offer you some good advice on how to start your own social media platform and give you social media app development costs. 
What benefits are there to Zangi white label social media platform (PaaS)
1. Tested Code Quality: Instead of developing your code from scratch, with Zangi PaaS case you just do code modifications on top of already tested codes. So your app's code quality risks decrease substantially.
 
2. Speedy Time to Market: Implement market-ready Zangi features (all the base communication app features) into your app with ZERO development time. All the other custom features development is implemented through Zangi features modifications and based on the Zangi back-end system. As a result time to market decreases up to 5 times.
 
3. Low Development Cost: Our experience with different customers shows that the cost decreases is up to 10 times. 
 
4. Unlimited Scalability: Zangi PaaS is already tested on systems with millions of real users. Zangi back-end is practically ready for unlimited scaling. You can have thousands, millions, or billions of users and not worry about your system stability and capacity.
Get in Touch
Send us a note using the form below and we will get in touch with you shortly.