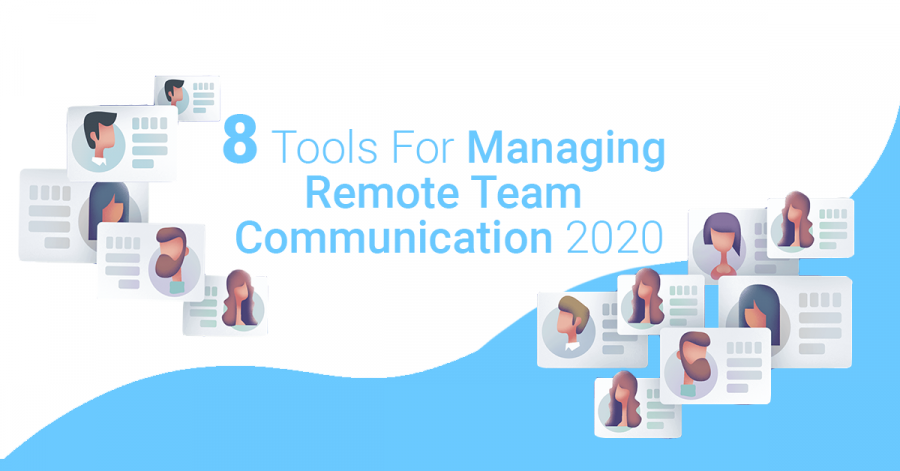 8 Tools For Managing Remote Workers Toolkit, Plus+ Infographic
How do you manage to have a long-distance relationship with your employees? And how can you have employees feel connected and work productively, even when they're so far away? Business success lies in the tool-choice of their Managing Remote Workers Toolkit. 
Great remote team communication & collaboration technology and tools, as well as strategically-set processes for each project and goal. The good news is that collaboration and communication tools have expanded and modified their functionality to meet the needs of remote teams. Which tool should you use for your remote team communication? Here's a guide to narrow down different tools which will fit best for your team type:
Managing Remote Workers Toolkit 101
1. For Team Collaboration– Slack
Slack is one of the most widely used tools from the managing remote workers toolkit. Remote team management companies like Zapier, Buffer, and Help Scout consider Slack their "virtual offices"—a place where employees can connect with their colleagues or management, both one-on-one or in groups.
 With Slack, you can:
Share files

Speak as a group or through direct messaging

Enjoy almost 100 integrations, or use the open API to build your own

Access securely encrypted transfer data

Use desktop and mobile messaging

Use two-way video and audio

Enjoy a comprehensive search functionality

Personalize user profiles
One feature that stands out is the ability to install apps that automatically report on business activity, like new email subscribers or product reviews, and bots that help keep employees engaged.
2. For Private Remote Team Communication– Zangi 
In a world of data breaches and privacy loss, Zangi is one of the few systems that companies trust for communication and is a great addition to our Managing Remote Workers Toolkit: for calls, messages, and collaboration. This is because Zangi gives them complete ownership of their own application and desktop, hosted on their company servers. 
 With Zangi, you can:
Send end to end encrypted messages one-on-one or in groups

Web Dashboard for full management of your business and team

Add, remove users to your Network 

Send notifications, view statistics, activity & more. 

Integrate your existing CRM to Zangi via API codes

Integrate your existing office phone system for secure roaming-free calls

Use desktop and mobile messaging

Add special security algorithms and keys into the source code

Add your logo, branding, features to your app

Apps can be incognito or we published on Google Play or the App Store.
What stands out is the app (app's communication, data, and control) belongs to you and only you. If your solution provider IPs are closed or get blocked, that will not impact you. 
3. For Video Conferencing– Zoom
Everyone's had the memory of frustrating technical glitches, frozen video, and no sound. Thankfully, Zoom is a world away from all that, which explains the company's rapid growth from 30,000 users in 2014 to 700,000 users in 2018.
With Zoom, you get:
Cloud Video Conferencing

HD Voice with dynamic voice detection

Group Collaboration and Messaging 

Screen sharing documents, photos, and video clips

Whiteboarding and Mobile Whiteboarding

Secure Socket Layer (SSL) encryption

Unlimited VOIP and Call me/Call Out

Content Sharing and scheduling & starting meetings
What stands out is gallery view, which allows you to view everyone on the chat at once which makes it feel, for a moment, like your remote team is close together. 
4.For Design Collaboration– InVision
InVision is undoubtedly the most comprehensive tool of design software on the market. This solution provides users with prototyping tools and features that enable them to create better, functional prototypes that they can present their clients. The prototype is clickable, it makes it easy for designers and clients for managing remote workers toolkit/ communication and to be on the same page with each other. Remote teams like Treehouse, Help Scout, and Trello loves using it.
With inVision, you get:
Design Prototyping

Sharing and Presentation

Feedback and Commenting

Real-Time Design Meetings and Whiteboarding

Design Organization and Collaboration

Project Management for Designers

User Testing and Research
What stands out is InVision Freehand is like a whiteboard that allows you to wireframe, plan, design presentations, and give and receive feedback, between designers but also in conjunction with other stakeholders.
5. For Project Management– Trello
Trello stands out from our other Managing Remote Workers Toolkit tools for its style, simplicity, and performance. By visualizing what needs to get done and aggregating feedback from the whole team, Trello helps remote teams increase productivity. It can be used for editorial calendars, project management, to catalog stories from our customers, and more.
With Trello you get:
Quick overview on front and back of cards

An easy organization with tags, labels, and categories

Checklists, with a progress meter

Easy uploading of files and attachments

Data filtering

Archiving of card records

Deadline reminders

Email notifications

Activity log and assign tasks

SSL encryption of data

Search function

Remote team management
What stands out is you get a whiteboard (to use anywhere you like), filled with lists of sticky notes, photos, files, with each note as a task for you and your team. 
6. For Time Management– Teamwork
Track every hour to boost your remote team's productivity. The tool lets you invoice all tracked time and expenses. You can create custom time reports of time logged on the project. And export your report and time log entries as Excel, CSV, or PDF.
With Teamwork you can:
Organize and categorize their active projects 

Get a snapshot of what the team is working on

Create project roles, invite followers, assign project owners, add status updates.

Attach documents to tasks, set their priority, add estimates, progress, reminders, tags, comments.

Assign milestone features such as description, reminder, calendar, tags.

Calendar tool for tasks, milestones, and events.

Enables users to write messages within projects.

Log time spent on tasks and projects, and even set start and end times. 
What stands out is the capability to add subtasks from task list templates, include or exclude subtasks from board views, more bulk editing options, search for task followers, and others.
From our Managing Remote Workers Toolkit, this tool for file management often is more important because geographically dispersed employees access files during times when their colleagues can't be reached.
With Google Drive you get:
Standard 15GB of storage space

To store all their email communications, attachments, photos and videos directly on to the Google Drive storage servers 

Microsoft Office files can also be stored in Google Drive safely. 

Data stored in the cloud is stored under high-quality security with Secured Socket Layered online protection.

To store all their personal photos on the Drive
What stands out is that all types of files and data can be stored in Google Drive, which is one of the important benefits as users need not worry about the type of files they possess.
8. For Signing Papers: Adobe
Adobe Document Sign makes it easy for remote managers to get signatures easily and swiftly. The good thing is that you do not need an Adobe account to be able to sign documents. Moreover, it is compatible with all browsers and mobile device operating systems. 
What stands out is that this tool solves the document signing issue without having to go through the process of downloading, printing, signing then scanning. Infographic below and free to download: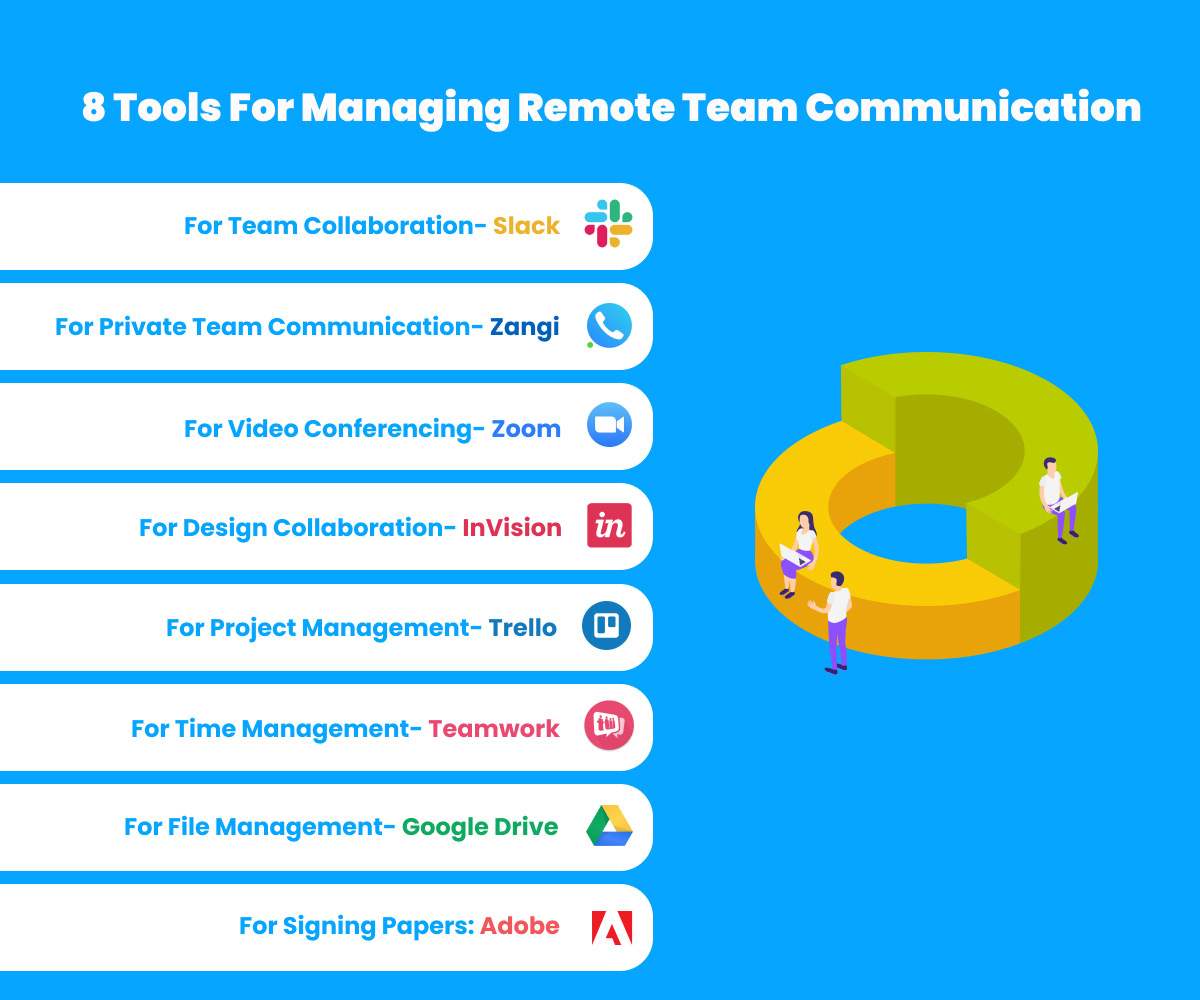 Get in Touch
Send us a note using the form below and we will get in touch with you shortly.