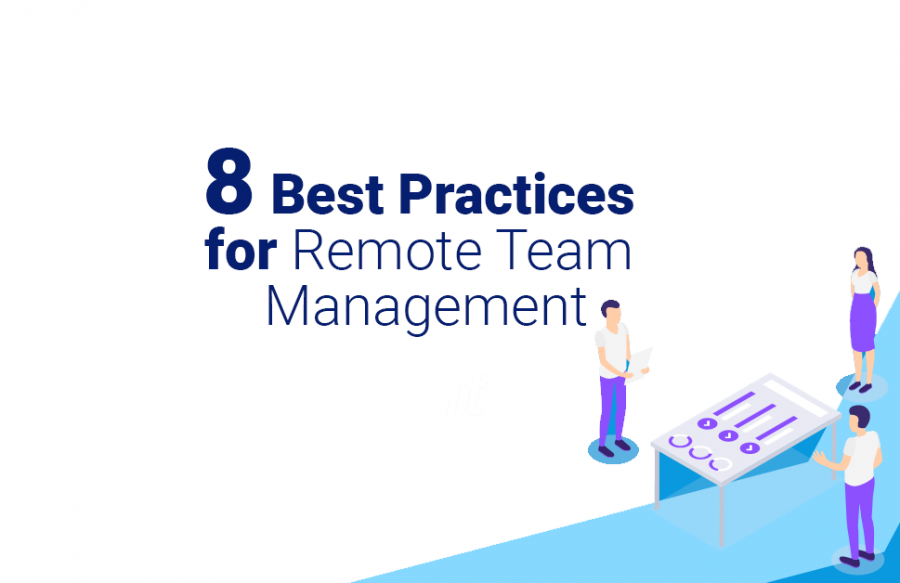 A Manager's Manual: 8 Best Practices for Remote Team Management
If you're just starting out with remote teams or if you're looking for the latest tips on effective remote team management, there's always a lot to learn and many tips you should be constantly adding to your management style. Since managing remote teams is a lot more challenging than regular team management, more software and skills are required for the best results. Here are 8 best practices that will help with effective remote team management in your business.
1. Invest in the Right Remote Team Management Software
Your remote team working culture will flourish once everything is under one roof. To make this possible. you'll need to rely on remote team management software to plan tasks and projects. Here's all you can plan on a project management software:
Communicate with your scattered team

Keep a track of project evolution

Track productivity

Maintain and manage timesheets

Share information in real-time

Have discussions

Manage task list tasks

Interact across different time zones

When and how to send tasks, daily reports
For Team Collaboration– Slack
One of the most widely used tools for remote team management and collaboration. Remote team management companies like Zapier and Buffer consider Slack their "virtual offices"—where employees connect with their colleagues and management team.
For Secure Team Communication– Zangi 
In a world of data breaches and no privacy, Zangi is one of the few systems that companies trust for all their remote team management & communication: calls, messages, file transfer. This is because Zangi gives them complete ownership of their own application and desktop, hosted on their company servers. Everything is safe and private, under your control.
For Video Conferencing– Zoom
Zoom is a world away from frustrating technical glitches, frozen video, and bad sound. The company has been rapidly growing from 30,000 users in 2014 to 750,000 users in 2019.
For Design Collaboration– InVision
InVision provides users with prototyping tools and features that enable them to create better, functional prototypes that they can present their clients. It's made easy for designers and clients for remote team communication and to be on the same page with each other.
For Project Management– Trello
Trello stands out from other remote team management /project management tools for its style and simplicity. By visualizing what needs to get done and aggregating feedback from the whole team, Trello helps remote teams increase productivity. It can be used for editorial calendars, project management, to catalog stories from our customers, and more.
[Related: Cheaper Slack Alternative Tools]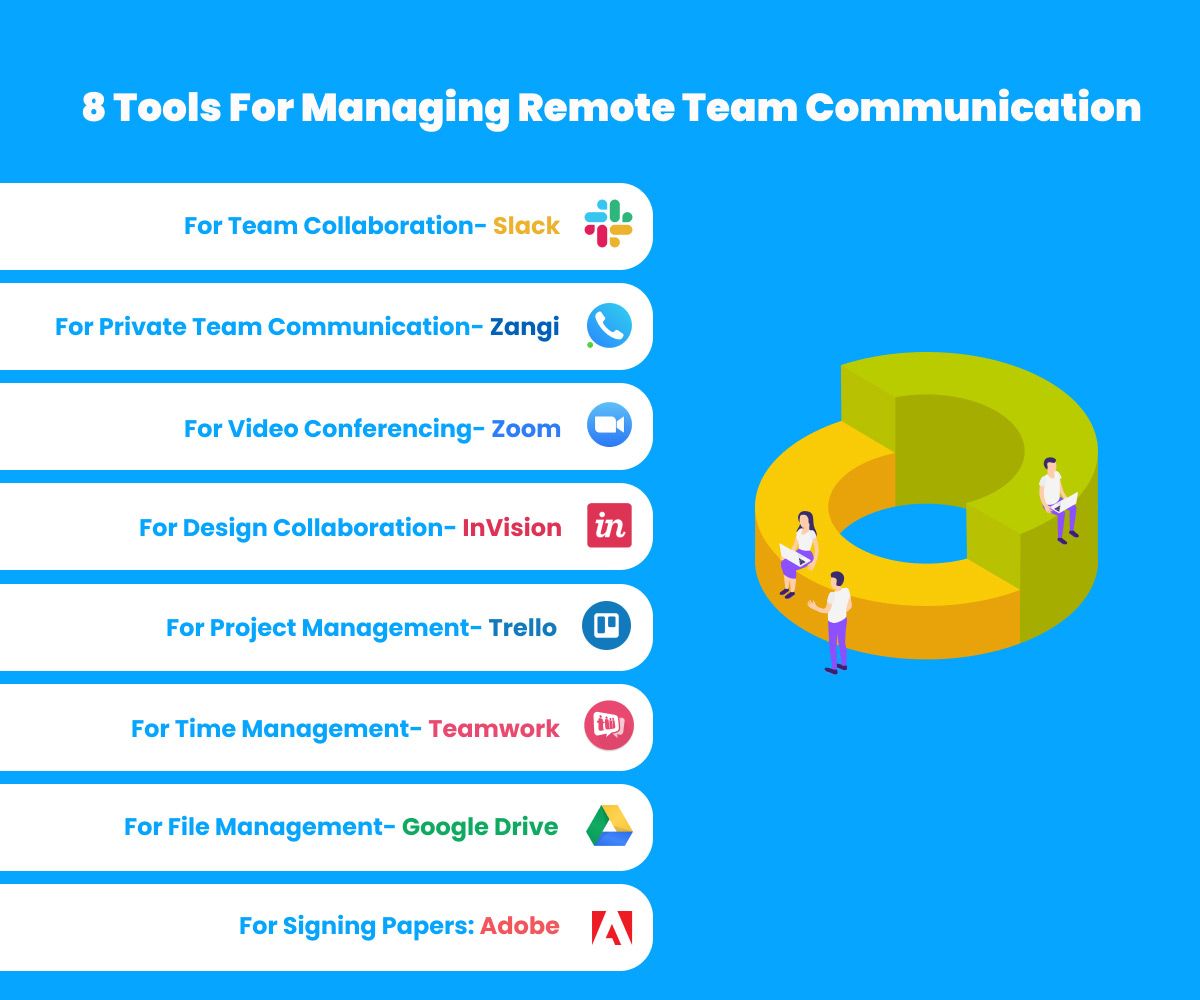 2. Set Time Boundaries with Remote Workers
First things first discuss work schedules with each team member by respecting their time and show them that you care for their time. They, of course, may have much more freedom than regular in-office workers, but they should be expected to be reachable and online at certain times, be present at meeting times, but you should also consider their personal time and know when they log off. 
As some teammates may be working from different time zones, any notifications or chat messages or emails can ruin someone's sleep or disturb their family time. So having a picture of your remote worker's schedule will really help. Also, you don't have to fully compile with the remote worker's schedules if there are too many remote workers to keep up with or if there are other problems. Offer them work hours and meeting time which will work best for you, but considering their needs as well.
3. Set Expectations Early and Clearly
Every business and employee has expectations: whether working remotely or virtually. Being clear with employees will have you both on the same page, and keep them focussed working towards the same goals. Expectations should be set for:
Work hours

Availability

Communication system

Timely meetings

Key projects and deadlines

Scheduled meetings

Respond to email

How to submit daily reports and tasks
4. Encourage Independency
You may set work hours for remote workers, but for the most part, they'll be working on their own. It not going to be possible to check on them all the time. So it's best to show trust in the remote worker's professionalism and work. 
5. Give Them Help When They Need it
Being out of sight, there might be a struggle to address employee needs, so you should always keep that in mind. If something is really bothering your employees, they don't understand something or they're feeling under the weather, understand the clues they might be giving you and help them out. 
6. Embrace Diversity
Remote teams may often involve multicultural teams which may lead to misunderstandings because of cultural or time differences. A simple way to solve this is to be open to receive feedback, promote a mindset of celebrating differences, be respectful about national holidays for your global team, and respect every cultural difference.
7. Brush Up on Your Online Communication Skills
Many remote working teams come across a communication setback when working on collaborative projects. It is always going to be difficult to connect with your teams in different areas without having good communication skills. As you start with the conversation, be quick and concise, so the teams do not get confused. Develop your writing skills, talk precisely, use the right remote collaboration tools to collaborate effectively.
[Related: 5 Professional Remote Communication Tools for Collaboration]
8. Learn about Everyone
When working remotely you will have a little harder to know about your team, because they aren't actually sitting next to you the whole day. Make it a point to have a discussion that gives you learning about their personality, to grow into a positive culture with your remote team. Having the right tips and tricks on effective remote team management should get you ready to create an energetic and successful business environment with your remote workers. Good luck with your teams!
[Related: 6 Things that Negatively Affect Your Team Communication, And How To Avoid Them]
Get in Touch
Send us a note using the form below and we will get in touch with you shortly.