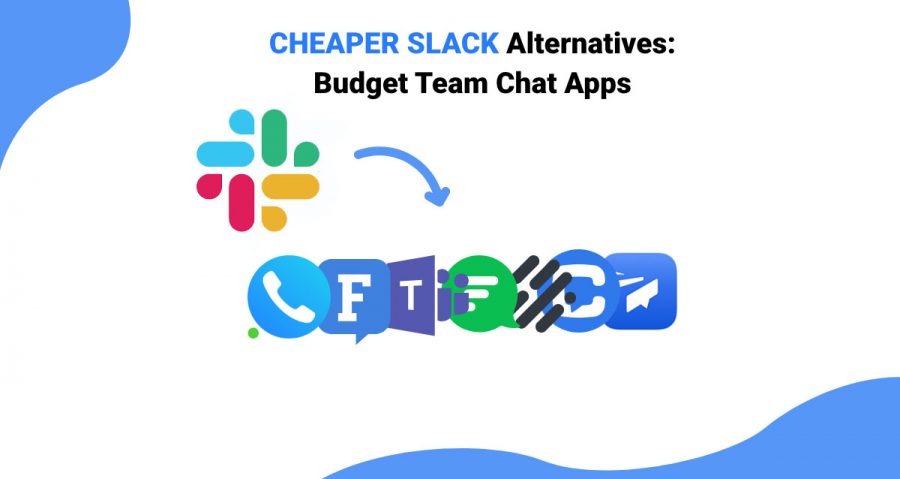 Cheaper Slack Alternatives: Best Budget Team Communication Apps
Once developed as an in-house team communication app, today, Slack is ruling offices worldwide. With more than 8 million daily users (3 million paid), it's the most widely used chat app for workplace communication. However, many lesser-known cheaper Slack alternatives are trying to break the competition by offering more range and more value for less the price. 
Slack Isn't Free
Many know Slack for being free 一 with basic functionality and no time constraints. But Slack's free version is limited with 10K searchable messages, a limit of 10 integrations and 5GB storage, which is a big pain for many Slack customers. Audio and video calls are only available between two users at a time on the free plan.
So if you have frequent video calls or conferences, you'll have to upgrade. If you want more than the minimal storage, calls or any guests on Slack, you have to pay a good amount for it. 
The paid plans in Slack start at $8 per user/month or $6.67 per user/per month (when billed annually).
That sums up to $96 per year per user for their cheapest paid version.
Let's say you have 15 people in your team. That comes up to $1,440 a year, for chatting with your team.
There ARE Cheaper Slack Alternatives! That May Better Fit Your Team Needs
If Slack just isn't in the budget for your team, or if Slack has a few functionality gaps that—because of the type of work you and your team do—you just can't overlook, there are other cheaper Slack alternatives worth testing out before tying your team down to the most standardized choice in team communication software.
Team communication apps:
The quicklinks!

Zangi Pricing:
$6 per user/month.
Advantages: Zangi is not only a modern-featured cheaper Slack alternatives messenger (audio/video calling, encrypted messaging, file sharing, etc.), it's one of the strongest advocates for secure business communication. With Zangi for Business, your team communication app is hosted on your own servers, which means your data security and privacy is handed over to you. 
Calls are secured too! If your team is already using an office phone system, it can easily be integrated into the app, so your team can make safe, roaming-free calls even from outside the office. With Zangi, app admins are able to manage and monetize their team, send push notifications, view statistics and activity, create groups and roles and more.

Fleep Pricing:
€5 per user/month, if billed annually.
Advantages: One of the cheaper Slack alternatives, Fleep is an open network. This means that you can talk with any Fleep user and belong to several teams with the same account.
Fleep has an integrated Tasks feature for lightweight and contextual task management. Also, the seen-bys ('Read' indicators) show you how far people have read the messages in any conversation. Included in the price are audio/video calling, screen sharing.

Microsoft Teams Pricing:
$5 per user/month, part of Office 365 subscription.
Advantages: Teams integrates with Office 365 apps, such as Outlook and Skype, etc. This allows users to email and call their peers all from within Teams. And if someone sends you a Word document, you can edit it in Teams without having to leave the platform. Teams also comes with a tab-based structure, making it very convenient to access the apps and services integrated with Teams.

Blink pricing: $3.60 per user/month
Advantages: Blink is an easy to use out of the box internal comms solution that combines chat with an internal feed and cloud storage. It is currently the cheapest Slack alternative on the market when paid annually and with unlimited search history and document storage, it is a great solution for growing teams and large companies alike.
It's also fully brandable, and features things like polls, read-receipts, and engagement analytics for team admins.

Hibox Pricing:
$4 per user/month.
Advantages: With Hibox team communication software, you get an all-in-one task management, you don't need to always switch to another platform if you need to share files, talk in real life, or assign tasks. Included is live support in English 24/7: for whenever you need help. And most impressively, you get a built-in AI virtual assistant.
This tool recognizes which messages you want to create a task from and makes an automatic suggestion for you. You can create tasks directly in the chat stream. And most surprisingly this cheaper Slack alternative, with all these functionalities, is exactly half the price of Slack!

Twist Pricing:
$5 per user/month.
Advantages: One of the cheaper Slack alternatives, Twist team communication app concentrates on making the messaging experience simpler and distraction-free. It's asynchronous by default, so your team can finally prioritize focused, productive work without fear of missing something important.
Twist organizes discussions into threads that stay on topic and in context. Information remains neatly structured and easy to find (even years later).

Flock Pricing:
$6 per user/month.
Advantages: Need to invite vendors or clients to work with you on Flock? Add as many as you need as guests on Flock at no extra cost.
With Flock team communication software you go beyond messaging, with task assigning, to-do lists, live polls, automated mailing lists for each channel so you can send emails when chat is not the best medium and integration with Google Drive.

Chanty Pricing:
$4 per user/month.
Advantages: Chanty strives to keep the balance between features and usability, staying simple yet with enough great features a team needs for effective work. A built-in task manager allows you to turn any message into a task, assign it to your teammate and get notified when it's done.
The app is code snippet-friendly and you can import your message history from other apps, like Slack, Flock, Hipchat, Stride. What's also nice about Chanty is its unlimited searchable message history, which is available even in the free plan. 
Which cheaper Slack alternatives will you choose?
With many teams going remote, with them needing more versatile and quality conferencing options/more integration possibilities, and others strongly valuing their team conversation and data privacy, team communication app is filling in for the different needs of different kinds of teams.  If you're looking for a proven solution that is loved by many, go for Slack.
However, note that Slack's free plan is very limiting and the app itself can get rather slow with its enormous number of users.
There are plenty of strong competitors/ cheaper Slack alternatives in the list, that might as well be a better fit for your team. So we'd recommend you check them out and see which one has the best feel for you.
Get in Touch
Send us a note using the form below and we will get in touch with you shortly.