How to create a messaging app like WhatsApp 2021
With messaging apps more popular than ever, in 2021 the popularity is not only about chatting with friends, now it's all about business communication. Businesses have been strongly interested in which messaging apps to use, how they can create their own messengers, and whats the safest solution among communication solutions. Especially with more and more employees and customers working from home, security and ease-of-use have become crucial for all businesses — small and big.
WhatsApp app is not intended for Business use
Many of us know that WhatsApp takes first place among the most popular messaging apps. But choosing WhatsApp for business-use is never recommended. WhatsApp is not intended for business conversations, the messaging app has been known for plenty of data breaches, third-party interception, government interference, and personal data collection with the soon-to-be privacy policy change.
Instead, create your own messaging app like WhatsApp
What businesses are doing instead is looking for ways on how to create a messaging app like WhatsApp. Different industries [especially the ones that require strong privacy] such as TeleMedicine, Government & Security Institutions, Legal & Professional Services, FinTech, Digital Wallet & other teams are now making the choice to pick a more professional and secure route for communication– creating their own messenger and hosting the app themselves. https://zangi.com/news/en/make-communication-app-for-banks-customer-service/ Let's get down to business and tell you how to create a messaging app like WhatsApp 2021:
How to create a messaging app like WhatsApp, without programming skills
Getting your own secure messenger doesn't always imply making it from scratch, as that would mean you would need a whole technical staff working on it for a minimum of several months. Most probably, your company's line of work is something completely different, so it wouldn't make sense to hire best-class developers for this task specifically. Instead, a risk-free and faster solution would be to go for a well-approved white label messaging app solution.
Step-by-Step guide on how to create a messaging app like WhatsApp
This would entail:
your company describes their needs and wants to the White label messenger provider,

give them your company colors, and logo

let them know whether to host the app on your cloud/ on-premises

choose the app to be private or published publicly on Google Play /App Store.

wait about a week for setup, publishing & needed changes
And there you have a business-ready messenger app in no time. Risk-free, fast, and much more cost-effective. 
The top provider for white-label messaging apps is Zangi for Business, which will help you build your own messaging app with features like messaging, voice/video calling, file sharing, group chat.
The privacy aspects of creating your own messenger
By choosing to get your own exclusive self-hosted messaging app, you'll be solving all the essential privacy concerns:
✓  trust no one, get complete ownership of the app/desktop
✓ complete ownership of your data & communication
✓ media servers will be deployed on your side, separate from 3rd parties
✓ client and backend hosted on-premises
✓ your verified certificates
✓  the app will work only with your IPs and domains
✓ the app can be incognito
✓ the solution provider's problems will not impact you, you will be separate
Also, for strong security to go parallel with such privacy, the white label messenger provider Zangi, provides full military-grade end-to-end encryption for calls, messaging, file sharing, and all communication altogether.
Get all the needed features like WhatsApp, & more
Your company messaging app will include the features WhatsApp is known for: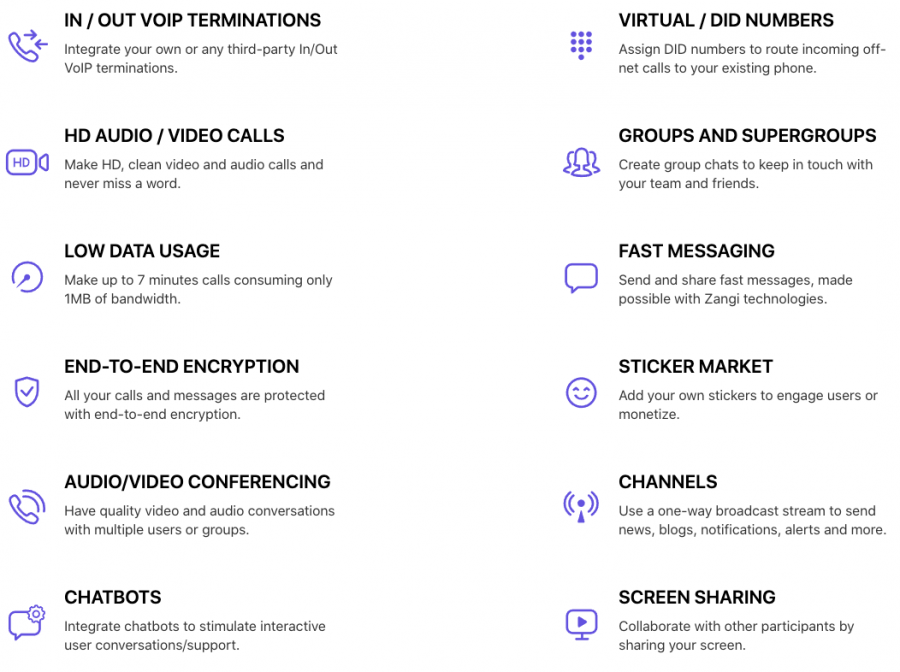 Wrapping up
For business communication, the needs have been evolving. To cover the need of a more private, remote business communication system, messenger providers now offer companies to create their own WhatsApp-like app.
You can use the WhatsApp app for your team, for your customers, for the mass market (to even compete with other messengers). How to create a messaging app like WhatsApp can be pretty straightforward and fast if you choose to move forward with a white-label messenger solution, a risk-free way to get your own private messenger without having to build it yourself. 
Interested in how to create a messaging app like WhatsApp 2021? Contact our experts for more details and a free demo.
Get in Touch
Send us a note using the form below and we will get in touch with you shortly.