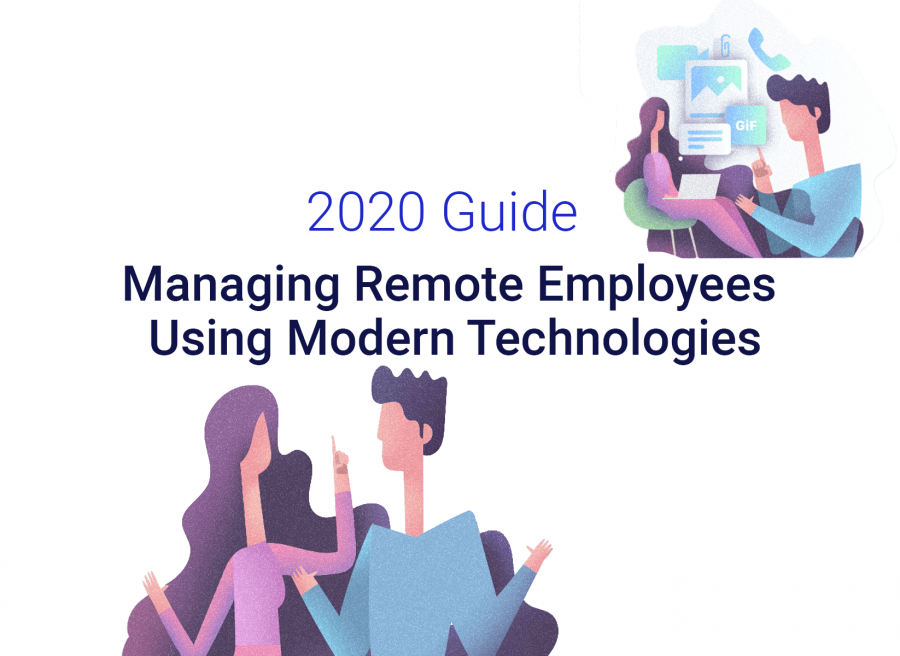 Ultimate Guide: Virtual Team Management Tools during Coronavirus
Virtual team management tools are different from traditional: they use other formats and communication methods to keep remote teams in the loop, informed, motivated and present.
In the times of COVID-19, all of us have become remote workers, so transitioning to modern management tools is a great idea especially now, since we need it the most.
Virtual Team Management Tools & Modern Technologies
Short Guide:

The complexity of managing remote employees is in remoteness, when you can't check on your team in the next room. But there are virtual team management tools to help you out with that. The tools are many, that's why we've listed what tools matches each management style and priorities:
Virtual Team Management Tools List

A secure, confidential communication tool
ZANGI
Zangi lets you securely transfer files, have calls and messages, and manage your team safely.
Top features:
Fastest file transfer
3 levels of encryption & serverless
Possibility to host on your company servers
Possibility to integrate office phone system for more secure calls
HD voice and video calls
Pricing: Free to download, for businesses from $4 user/month

Lots of conference calls, chatting
REDBOOTH
Redbooth lets you manage your projects the way you want, with boards or lists to organize tasks, and time tracking to see where your day goes.
Top features:
Simple project & task planning
Shared virtual team workspaces
HD video conferencing for collaboration
Productivity reports for managers and team leaders
iOS or Android applications
Pricing: From $5 user/month

How much time my team is spending on tasks
PAYMO
Paymo offers a simple yet powerful tool bringing together project management, work reporting, and time billing.
Top features:
Tracking the time spent on tasks and projects
Thorough work reports
Dashboard to see your team's performance
Billing customers for completed tasks
Integrated project accounting
Pricing: Free and paid plans from $9.56 user/month
One central place: Virtual team management tools
SCORO
Scoro is a comprehensive solution that combines all features: projects, contact, team collaboration, and reporting.
Top features:
Projects with sub-tasks and deadlines
Real-time KPI dashboard
Shared team calendar & meeting scheduling
Contact management
Time tracking and billing for work
Detailed reports on project progress and finances
Quoting and invoicing with pre-set templates
Pricing: From $26 user/month

For small teams, with not so complex projects
TRELLO
Trello is known for visualizing project tasks on a cardboard-like dashboard that's great fo managing short and quick everyday assignments.
Top features:
Simple task management on a cardboard
Creating unlimited task lists
Image and file sharing
Organizing lists by dates or priority
Commenting and collaboration
Pricing: Free for personal use, $9.99 user/month for businesses

For marketing and creative teams
BRIGHTPOD
Brightpod is a web-based project management & time tracking software for digital marketing & creative teams.
Top features:
Projects with tasks, priorities, and milestones
Editorial calendar
Logging time under each task
Individual dashboards for team members
In-app communication and file-sharing
Pricing: From $29/month for 10 users

A project management tool for large projects, IT
JIRA
JIRA is a cross-platform issue and bug tracking software with advanced project management capabilities and features.
Top features:
Create user stories and issues, plan sprints
Distribute tasks across your software team.
Prioritize and discuss your team's work
Centralize your team communication
See real-time reporting on your team's work
Pricing: Starting from $10/month (up to 10 users)

For workflows and ideas
NOTION
Notion helps to plan and discuss projects, share everything with the team, and keep track of all the ideas.
Top features:
Keep a personal weekly checklist
Take notes
Build a task board with flexible drag and drop editor
Share files
Nest pages inside each other – like an infinite knowledge base
Pricing: $8 user/month

A  place for employees to write what they did/finished
PODIO
Podio is a flexible and highly customizable online hub for work and team communication.
Top features:
Assign tasks, attach files and discuss details within the solution
Share encrypted & large files
Automate the sales pipelines, project budget tracking, and more
Get an overview of the company with visual dashboards
Automate your workflows
Pricing: From 24$ month/user for full suite of features

Social media-like platform for updates
BASECAMP
Basecamp has a modern social media-like interface and carefree team collaboration features.
Top features:
Projects to manage multiple users' work
Message boards for discussing new projects or ideas
In-app collaboration with team
Reporting on project performance
Separate dashboard for showing to clients
Email and desktop notifications
Price: $99/month for unlimited users

Are my employees active during work hours
TIME DOCTOR
Time Doctor is used by companies like Apple, Verizon and PwC for time tracking. With Time Doctor, managers can calculate:
Top features:
The tasks your team is working on.
The time they're spending on each task.
The sites they're visiting.
The times they log in and log out.
Task management – task allocation based on how productive each employee is.
Attendance.
Client billable hours.
Pricing from: $49 / month
Vital Rules for Managing Remote Employees
Time Difference
First, the most commonplace is the time difference. This is an unpleasant thing that many people are just starting to get used to. We now have people scattered in eight time zones. As a result, firstly, from time to time, you have to work quite well after hours, for example, call up at 5:00 or, conversely, at 23:00. In general, any businessman is used to an irregular working day, but, given the time difference, this day becomes not only irregular but also crumpled and torn.
Time Management
Secondly, you have to monitor the time of solving problems more closely together with virtual team management tools . Time management is now everything. But the great thing is technology: mobile Internet, smartphone – and no one noticed the difference that you are not in the office and not with a tie.
How Modern Technologies May Boost Your Business
Customer insight.
Various systems are present for collecting client information that can tell the client everything: geography, gender, age, interests. These are tools such as social network statistics, GoogleAnalytics data. This data allows you to set up advertising campaigns, help competently interact with customers, giving them only what they need at this stage. Also, these data will enable you to understand the target audience, identify needs in order to sell more, and provide quality service to customers.
Use of programs and services.
Virtual team management tools: mobile applications, digital presentations, social networks – all these are tools that help build relationships with customers and create additional channels for communication.
Creating points for interacting with customers.
The same social networks, chatbots, and Google forms – tools that create additional channels for interacting with customers. Customers can send feedback and suggestions, complaints. Seeing that the business does not hide, but cares about its reputation, customers begin to trust the company more.
Automation.
The most routine areas of product production, customer service can be entrusted to automate processes and free up time for employees to solve other problems. Tools such as electronic mailing, collecting requests, leads, a support service through a chatbot, automatic notification of clients – all this can be done using digital tools.
Remote mode.
All documents and working materials are collected, grouped, and stored electronically, which means that there is no need for employees to go to the office and spend all day here. After all, all the work can be done remotely. So the company can save on staff wages, on the maintenance of the office, office equipment, pay for Internet and telephone communications, as well as find the best specialists in their field in the country and work with them.
Business management.
Managers using virtual team management tools in business receive statistical data from various sources regarding all the processes of their business, which means that they can make decisions based on these data and improve all business processes. Thus, with the help of statistical data, the effectiveness of various managerial tactics is measured, and tactics change depending on the results.
A Manager's Manual: 8 Best Practices for Remote Team Management
Conclusion
Thus, virtual team management tools is our present, without which business is unthinkable. Indeed, those companies that strive to be customer-oriented, already create additional sources and channels of communication with customers, optimize business processes within the company, become more successful and competitive, because they keep up to date.
Marie Barnes & Lucia Y
Written by Zangi staff, if you're interested in Zangi's secure messaging and calling solution, send us a note.

Get in Touch
Send us a note using the form below and we will get in touch with you shortly.