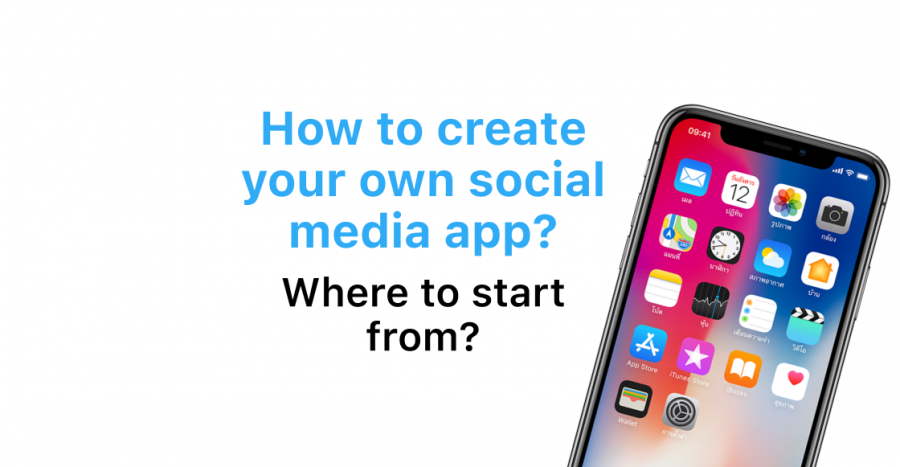 How to create a social media platform | With a ready app builder or from scratch
How to create a social media platform? Where to start from? What's the fastest way? Most cost-effective?
Many of us have great app ideas with huge potentials, but we don't know how to bring them to life. And the truth is no matter how good your idea, the way you choose to go through making the app is what will determine if your app will have the chance of becoming successful or not.
This article will help you with the various directions and options to choose from, each with its PROS and CONS.
How to create a social media platform: The Different options
Within these options, you also need to decide if you need an iOS app, an Android app, or Web too. Each option has its additional expenses, challenges, and specifications for each app store.
1. White label social media app provider (PAAS solution)
PaaS platforms such as Zangi provide you a ready base and advanced features that you can use to create a social media platform, with requested customizations. You can change the look and feel, quickly add your branding, and get the app up and running in a very short time, while also saving money.
PROS
✔ Ready-app, with your requested changes
✔ Reduce development costs by 5X
✔ Reduce your time to market by 5X
✔ Guarantee a risk-free process.
✔ Add your branding & colors
✔ Experts working on the app
✔ Support when done
CONS
✔ Platform base already ready
2.Create your own internal design & development team
Putting together a team is another way of approaching building an app. While this way development is completely internal, the actual team-building process is often time-consuming and expensive. You'll need to hire mobile engineers, technical engineers, quality engineers, product managers, project managers, UI/UX designers & more. But still, there might be issues with your team working together productively, and getting the project done when starting from scratch.
PROS 
✔ Development is internal
✔ You get to interview/hire who you need
✔ Support, and development continuation
CONS 
✔ Time-consuming, long time to market, starting from scratch
✔ Expensive process
✔ Need employment hiring processes/ office/ teamwork happiness expenses
✔ Lots of risks, no guarantee
3. Hire a development team/freelancers, develop from scratch
If you have a completely unique idea that requires advanced technology, you probably can hire an app development agency or freelancers to achieve this. If they are really experienced and reputable, building the app would not be so difficult for them, and you'll probably get what you are paying for. This option although is the most expensive and time-consuming option.
PROS
✔ Can build you technology from zero
✔ Uniqueness of app
✔ Experts will have a good grasp on trends, landscape of app competition
✔ You can't build a high-functioning team yourself in the same timeframe, with the same quality.
CONS
✔ Incredibly expensive
✔ Time-consuming, long time to market
✔ Quality not guaranteed
✔ Risks of development not going as planned
4. Build the app yourself
It is possible to develop a first version app yourself. However, doing so requires having full-stack developing capabilities (the ability to do both front-end and back-end development) not to mention, a lot of time. You would need more development help in the future, to be able to fully compete with high-quality and high-functioning other social media apps.
5. Open-source software
Open-source software can be downloaded and configured on your own server. Although they offer more flexibility in terms of customization they will require the cost of a developer and you'll have to pay for any hosting. You also don't benefit from any customer support or software updates.
6. CMS with a social network extension
You can use CMS platforms such as WordPress or Drupal to build a social media site with plugins. These plugins can be free but are also quite limiting in terms of what you may want to achieve and be buggy. They're also better for a social media website rather than a social media app.
The fastest and most cost-effective way to go forward is with a ready app builder, where there are no risks, no fuss. The development team at Zangi has taken years to master and create a base (with top-notch features and tech), on top of which you can get any customizations to get your envisioned app.
Leader in White Label Messengers, Zangi has been doing this for years
Zangi technologies are the foundation of numerous white-label chat solutions for healthcare, crypto, start-ups, etc. with over a million user databases. We've been continuously expanding our business solutions even further with new modern features to advance every aspect of enterprise communication. Now Zangi makes more than just messengers, but social media apps like image-editing apps, taxi apps, medical apps, conferencing and broadcasting apps, and more.
Everything You Need to Create a social media platform
How much will I be paying? – With Zangi you'll be paying 5 times less than you would need to build the app from scratch.
How fast will the app be ready? –With Zangi, you won't need to develop your app from scratch. You'll have the competitive advantage of having your product ready in a short TTM, thanks to modifications done directly on Zangi's fully functional & business-ready client applications and backend. So it'll be ready about 5X faster than building it from zero.
Which platforms will the app be available on? – It's up to you. You can have them on iOS, Android, macOS, Windows, Linux, Web, or all of them. Zangi also completely helps you publish on Google Play and the App Store.
To conclude
There are many options to go forward to create a social media platform, but the best ones that don't cost you a fortune are ready white label social media app builders.
Get in Touch
Send us a note using the form below and we will get in touch with you shortly.
You Might Also Like