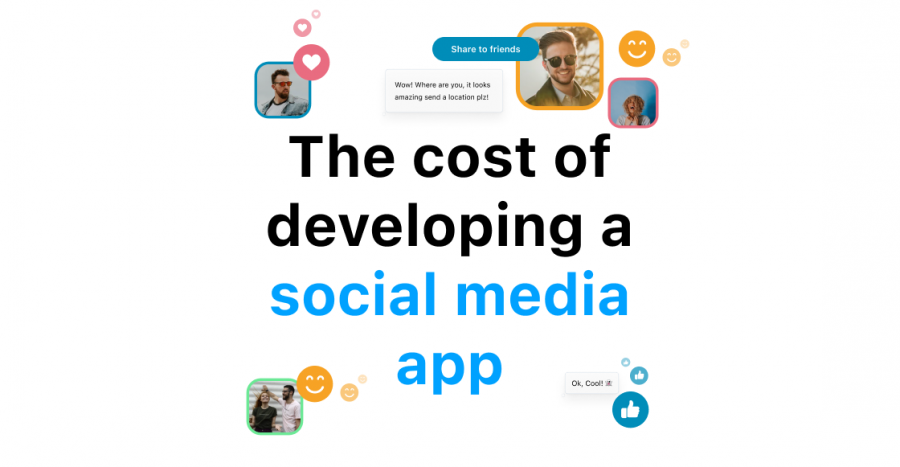 The cost of developing a social media app (With real numbers)
So many businesses, communities, and individuals have great ideas for social media apps. But the biggest problems they face are the organizing and development processes. The cost of developing a social media app, the right development team, the quality of the app, and the time to market are all the many factors that will make or break these app ideas.
The right development will determine which apps will actually make it. And which won't.
So what's the cost of developing a social media app?
The typical cost to create a social media app can range from $35,000 to $1,000,000+, depending on factors like features, software complexity, design, and whether or not you'll be needing a team and/or will be developing from scratch.
Also, the price will depend on whether you on not you want an iOS app, an Android app, or Web app, or all of these platforms at once. Each additional platform will have its additional expenses, challenges, and specifications for each marketplace.
What type of social media app do you want to make?
To figure out the cost of developing a social media app first you need to decide the type of app you want. To succeed with your app type, we always suggest to either:
– Bring a very unique and innovative idea with amazing features or
– Create an app for a very specific audience or group (for example for your company or a community)
Here are some social app types, to choose from:
Networking app
Create your own social media LinkedIn, Facebook-like app for networking. A perfect platform for users to find investors, partners, leads, fellow co-works, and experts from their same field. You can leverage users from all over the world, or make the app  very specific to a community. The apps can work for developing personal contact networks, expanding your professional network, finding investors, leads and also helping people to find suitable mates.
Messaging & Calling App
Develop your own WhatsApp, Zangi-like messaging and calling app, with military-grade encryption, high scalability, and unique technologies. Include features like messaging, voice/video calling, file sharing, group chat, and more. Publish on Google Play or the App Store.
Social app for dating
Create your own dating Tinder-like app with superb-quality messaging & calling technologies. Have users create profiles with the details, such as profile pic, relationship status, a brief description, includes search engine functionality based on filters, such as gender, location, hobbies, etc. Have ultra-secure conversations via chats calls, and video calls, and add your own twist or niche quality.
Team communication app
Create your own Slack-like app for team communication. Get complete ownership of the apps, and keep your team's data and communication completely safe by self-hosting. Add your logo, branding and have the app be visible only for a specific company, community, or have it public. Add additional security algorithms and special communication and collaborating features, to attract the modern consumer.
Photo editing & sharing network
Make an Instagram, PicsArt-like app to share, edit and create video and photo content. Have users use various photo and video filters and interesting features to edit videos online and create the best content from these social networking apps. 
Brodcasting app
Create your own Telegram channel-like networking app, with channels, for broadcasting your public messages to large audiences. Directly send notifications to a large scale of subscribers. Have users create private or public channels. Charge for subscription or create free channels. Have millions subscribing.
Blogging & discussion forums
Make Twitter, Tumblr-like blogging or  micro-blogging, social content publishing apps to generate traffic and users  by having them have a platform for publishing their thoughts and content. Also include discussion forums or Q&A services to exchange knowledge and advice.
The main features and functionalities you need 
After picking the type of app, the features of the app really are what will determine the full cost of developing a social media app. The costs of your app, and the success of your app highly depend on the features, functionalities, UI/UX, and design you choose to integrate into the app.
Here are rough estimates of the costs of each feature:
Registration $750+
Profile Editing $600+
Search $900+
Messaging $1750+
Encrypted Messaging $2000+
Encrypted File Transfer $3000+
Group Chat $2000+
Contact Sharing $2750+
Location sharing $1250+
Multimedia sharing $2250+
Notifications $650+
Audio Call $3750+
Encrypted Voice Calls $3000+
Video Call $5500+
Encrypted Video Calls $3000+
Setting $4000+
Sticker Store $2000+
Different social media apps are constructed with varying sets of features. To get all the basic features in one go, the easiest and fastest way is with white label social media app providers, who will already give you the base of what you need. Just add your branding and name on top of it.
Advanced features for developing a social media app
With emerging technologies and already big name social media apps in the market, it wouldn't make sense and would be a waste of money to create a basic social media app. You would need to include advanced features to stand out in competition,  and to have a unique selling point for potential users.
Here are the few advanced features and its development cost/time that you should consider:
Additional Languages Support $1000+

End-To-End Encryption/E2EE $4000+

Special Registration and Verification $5000+

Balance Transfer $3000+

Audio conferencing $30000+

Channels $12000+

Large Groups $8000+

Supergroups $8000+

Stripe, PayPal, Braintree Payment Gateways integration $1000+

Animated GIFs $3000+

AR Filters $5000+

Photo Editing $16500+

Chatbots $15000+

Video Conferencing $40000+
Development team and tech stack required
Developing a social media app is truly very complex; not every entrepreneur has the required skills, expertise or professional employees to build apps. They would have to either create their own development & design team, hire developers or choose a white label app provider to create an app for you on top of a ready base. A team you would need would consist of:
2 iOS Developers

2 Android Developers

Back-end Developer

Front-end developer

QA Engineer

UX/UI Designer

Project/ Product Manager

Backend Setup and Integration

Office Rent and Utilities (if working in office)
The cost of developing a social media app with a development tea (US in-house vs India outsourcing) can be seen in the graph below.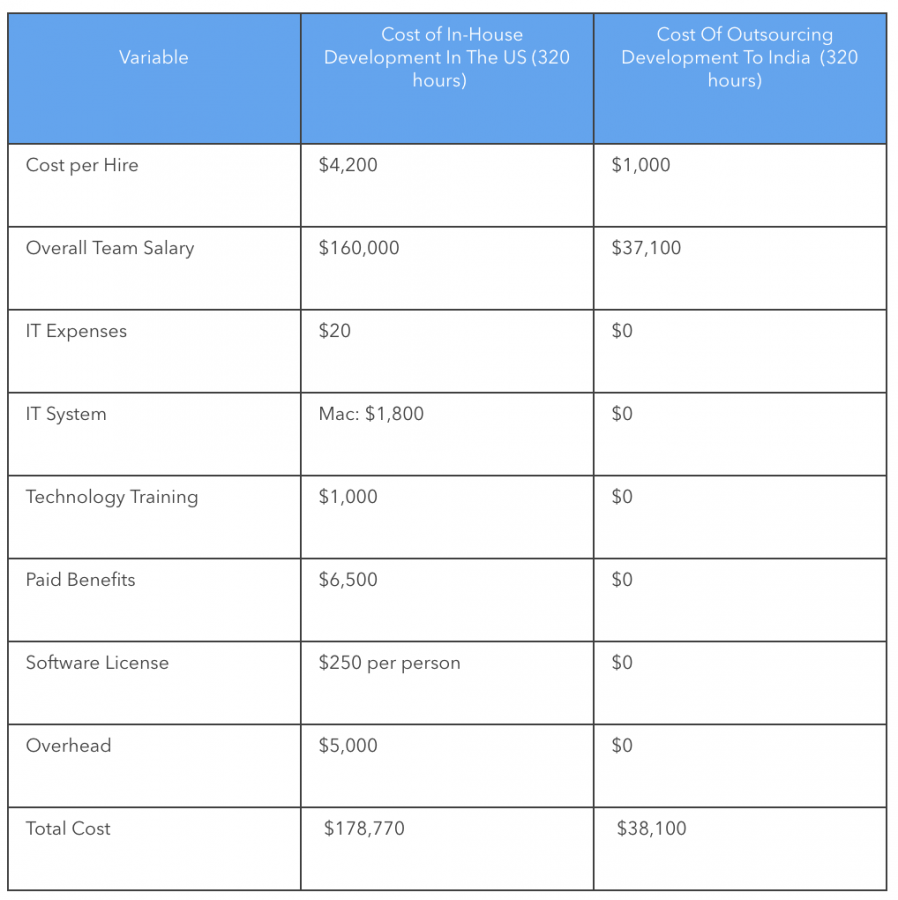 Source: Classic Informatics And according to the country you're in the cost of developing a social media app really varies for mobile and web developers.
Source: Classic Informatics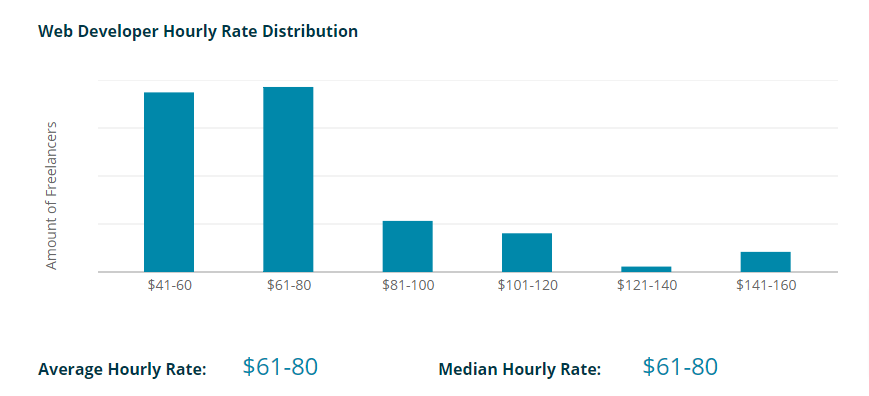 Source: Classic Informatics
The overall cost of developing a social media app
By the end of this article, you are hopefully able to estimate your costs. Depending on factors like the number of platforms (iOS, android, web), features, software complexity, design, and whether or not you'll be needing a team and will be developing from scratch, a simple app starts from $25,000 to $60,000, medium complex can cost you in between $61,000 to $70,000 and the complex app can go above $1,000,000+.
Should you choose the cheapest development option, that claim they develop social media apps under $25,000? Most are just marketing scams.
Should you choose high cost freelance developers to ensure high quality? It may not always be the case.
Or should you hire your own team to get you through development? This will give you the opportunity to hire the greatest expertise, but is often the most costly option.
For the best cost of developing a social media app + the best quality, it's recommended to look for a reputable app development company that will already know how to effectively help you. Or a ready white label app platform (PAAS), ensuring a risk-free process with ready app, for a quarter of the price.
For example Zangi White Label is a mature company that has built and achieved premium quality, excellent features:  technology that doesn't drain your battery, fast messaging, a highly secure system, modern UX/UI, and messages that always deliver. They have been delivering messenger apps to communities and companies for years. 
The cost starts from $13,000 for a risk-free WhatsApp-like messaging app ready to be posted in the marketplace. For more advanced features, customizations, and social media features, the price goes up respectfully. But still, development time and price is about 5X lower than developing from scratch. 
How is Zangi able to save you so much more time and resources?
With Zangi, you won't need to develop your app from scratch. You'll have the competitive advantage of having your product ready in a short TTM, thanks to modifications done directly on Zangi's fully-functional & business-ready client applications and backend. Zero risks, zero hassle.  
Get in Touch
Send us a note using the form below and we will get in touch with you shortly.
You Might Also Like