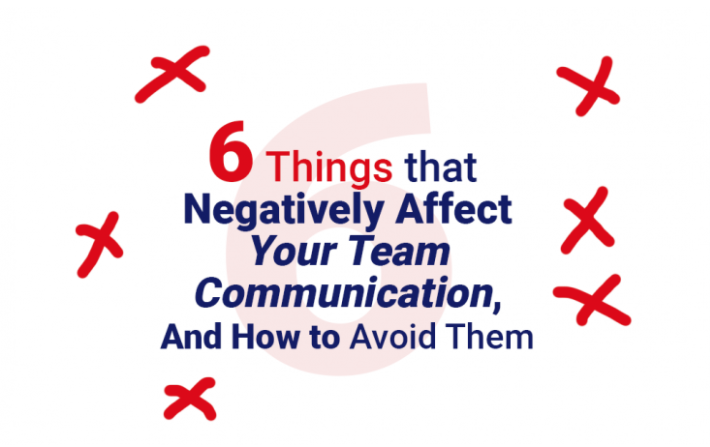 6 Things that Negatively Affect Your Remote Team Communication, And How To Avoid Them
"Great teamwork" is an inconstant concept that depends on all sorts of different things. In order to engage your employees in great remote team communication, you need to focus on all the many factors around them, especially when it comes to communication, motivation, and working with each other in high-stress situations.  To help you keep team morale at the office, here's a list of the 6 most common things that you need to avoid if you want to see your employees function well as a team.
1. Awful or Too Much Remote Team Communication
Having too many meetings with low-quality and unnecessary information often will cause frustration with the lack of sensible remote team communication. As a consequence, your team's work will start to suffer. Employees may feel that they're wasting their time and important tasks and projects might lose priority. 
Tips: 
Good remote team communication is all about the quality of information and saying more with less. Communicate often, but invite separate teams for different meetings, so each team is given their corresponding info.

 

The best solution is having team leads. Team leads are responsible for their mini team, they have meetings with their team, and to management with the main points. Not all staff needs to be involved in every step of the process.

Identify the information each department needs every day. After identifying key information, use your internal messaging system to share this essential information between departments in an easy and transparent way, every day. 
2. Not Having an Internal Communication Software
You don't always have to orally communicate everything if there are easier ways like messaging and team collaboration apps/systems. This puts company knowledge in one place and gives everyone the information they need to make faster and smarter decisions.
Tips: 
Have a remote team communication channel within the company. You can utilize modern communication tools such as

Jira

and

Trello

to make it easy for teams to work together on projects with hundreds of moving parts.

To get a self-hosted communication system (set up on your clouds or servers) for your team, Zangi has

Private Network

solutions. Essentially its an app/desktop for all your team — a safe place for them to collaborate and communicate, protecting your core business interests, data transfer and data management. The great part is that it includes modern messengers features that work with poor internet: messaging, HD audio/video calls, file sharing, group chat, virtual goods, in/out VoIP termination, etc.

Flock's Shared To-dos and Trello to manage day-to-day tasks within channels and cross-functional projects. Similarly, time management apps like

timedoctor

,

paymo

,

toggl

, and

timecamp

can make it fun and easy for everyone on the team to accurately track their time and progress on tasks. 
3. Communication Software Info Overload
Remote team communication software was originally intended to ease staff from email overload, but in some cases, it becomes a mess of information overload and a place to gossip. In most cases, it ends up being a distraction source for many employees. 
Tips: 
Create a

Messaging Software Rule book

for your company and make it a part of on boarding new employees. Set up specific rules for when and where it's appropriate to send memes and entertainment-related stuff on company-wide channels and groups. Make sure to make this rule book a part of on boarding for new employees and make a presentation for current employees so everyone is on the same page.

Manage your notifications, only turn notification on for most important conversations. Make sure to turn off notifications from general channels that have non-work-related chatter or even general conversations going. Reserve commands like @here and @channel on company-wide channels for special occasions and announcements only.

Leverage group chats and meetings. Make sure that team meetings aren't always carried out through communication software. Decision making on the group chats can be slow and unproductive, so make sure to keep a healthy balance of in-person and software communication.
4. Not Knowing How to Deal With Your Remote Team 
Many teams working remote come across setbacks in remote team communication when working together on projects. It's always difficult to connect with your different teams located in various areas without having good communication skills. And of course, online communication skills is vital too. 
Tips: 
Making sure that you're including remote employees in even the small discussion to loop them in is important, as sometimes they'll get skipped in larger meetings.

Invest in the Right Remote Project Management Software: Team collaboration tools like

Slack

can quickly help coworkers touch base with each other, without all the formality of an email. Just a quick message can help employees who are working remotely continuously be part of the workspace, even when they're not there.

Make and receive HD quality calls through your business phone system, even when out of the office, via your office phone system, with

Zangi

. Zangi is essentially a messenger app that connects with your office phone system, allowing anyone to call using their smartphones (even from abroad) while paying nothing for roaming.

Video conferencing can also help everyone be on the same page during meetings. Actually seeing your teammates helps foster a sense of connection and adds layers of communication through body language cues. Screen sharing capabilities let everyone's visual participation in the same presentation, with the same experience. All of these add up to create more effective communication and a much more productive team.
5. Managers Not Communicating Tasks 
One of the top reasons for poor productivity is your team simply doesn't know what is expected from them. Managers need to be able to communicate not only what the task at hand is, but the big picture related to it. It can help if you routinely show employees how far they've come toward reaching a goal.  If employees don't know what they're expected of that could lead to lowered employee productivity, employee feeling left out, slowing down of progress, and conflicts as to who should be doing what. 
Tips: 
As a manager, one of the key elements of any project plan is a Remote Team Communication Plan that defines what, how often, and to whom you will communicate project information. Write out job and project descriptions clearly and check-in to ask how things are going, etc.

Successful projects involve a significant amount of communication among team members out to customers and stakeholders. Document what the team agrees to do: what status reporting will be done, what team meetings will be held, how decisions will get documented, and who will participate in various reviews.
6. Unresolved Conflicts in the Office 
With remote team communication, comes conflict. Conflict will more likely benefit not hurt group communication if you confront problem right at the bat, in a respectful manner.
Tips: 
Conflict participants: listen to ideas, not facts, concentrate more on what the person is trying to say to you in general than the small details. Defer evaluation: wait until the end of the conversation before making up your mind.

Managers will need to keep a close eye at the team at all times to follow along with such possible conflicts, to be able to resolve them at the right time. 
Get in Touch
Send us a note using the form below and we will get in touch with you shortly.