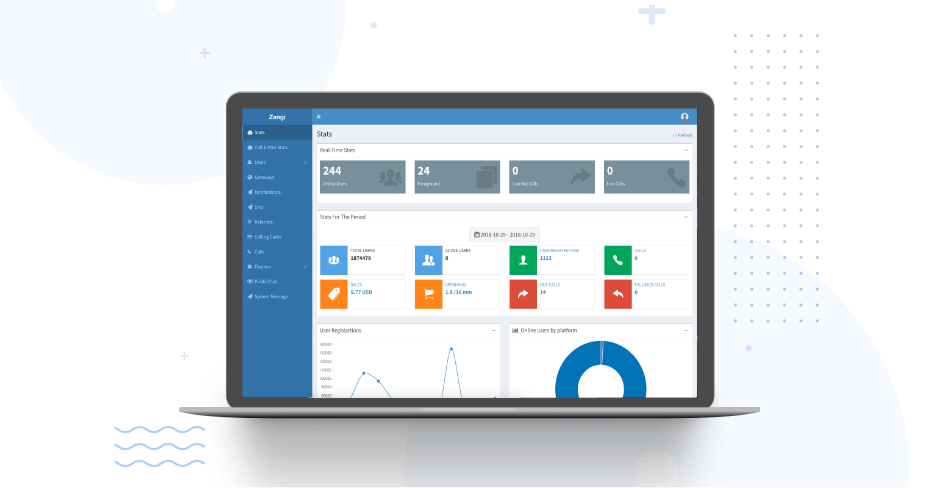 All You Need To Know About Zangi SoftSwitch
For all the new and running VoIP service providers, SoftSwitch has become the number one option today. But what is this SoftSwitch and why is it so important?
A Softswitch is a server that offers an easy business implementation for all the beginner and mature VoIP service providers that allows business tracking, high-quality connectivity, and user management through a single, unified, software platform.
And the good news is, Zangi has created the most advanced Class 5 SoftSwitch which you can easily implement in your business. Zangi SoftSwitch stands out with its light weight and high speed; it includes a wide variety of features that can improve your business model and make it more versatile and is intended to work with end users. It is a full server-side backend software solution that provides complete telecom services functionality. Moreover, it also includes the following functionalities:
Instant Messaging
Billing. Multi-currency support, Minutes based charging, Promotions support.
Payment Processing
Gateways management. Set termination paths, SIP trunking, Set Prices, Set countries and etc.
So how Zangi Softswitch is going to help you in your business?
With the Class 5 SoftSwitch, you will get an Admin Panel that will let you keep a close track of how your business is growing, and how your users are taking advantage of your services.
You will find all the statistics, both real-time and archived, in one place, clear and comprehensive.
You will be able to monitor and track your user activity continuously.
You will also be able to keep an eye on the resellers of your services, constantly remaining in charge of how your business is developing and growing.
Through the simple CRM Messaging system, you will be able to send a message to all your users with just a couple of clicks. No fuss.
For better planning, you will always be able to see which locations are the most popular for placing calls and how much your users spend daily on the outgoing calls.
Choose Zangi's Class 5 SoftSwitch for better VoIP business solutions and grow with us. These are only some of the features we listed above, for more information get in touch.
Get in Touch
Send us a note using the form below and we will get in touch with you shortly.