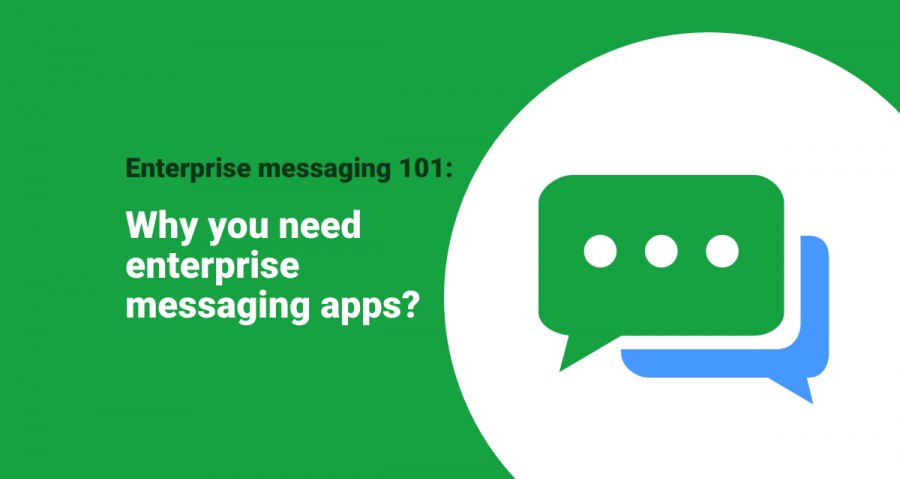 Enterprise messaging 101. Why you need enterprise messaging apps for business communication?
With the switch from email to enterprise messaging apps, many companies are interested in why they need corporate messaging apps in the first place. Here we've presented answers to the most frequently asked questions businesses ask about corporate messaging apps. Scroll down for a guide on how to pick a corporate messaging app that will work best for your business needs.

Why does my business need a corporate messenger?
Advance from old systems.

Because email and SMS are inconvenient, unsafe, and unsuitable for collaboration. And there are better systems for communication.

Global trend of messaging apps.

To follow the global trend of communication migration to messaging applications/social channels.

Highly secure messaging exchange.

Because you need a highly secure communication system to exchange your very confidential information and data.

Achieve decentralization.

To achieve decentralization, where no central servers can be attacked, shut down, or forced to turn over data.

Convenient in-app features.

To combine social messengers, collaboration, calling, e-wallets, groups, channels, notifications and other features in a single app.

A dedicated app for your company.

In order to have an independent team-communication network/app dedicated to your business.

Blocked countries.

Because your country is blocked (or is being taxed) to use other messenger options.

Easy integration.

To integrate your existing systems: phone system, CRM, collaboration system, etc.

Admin control.

In order to have substantial control over your business: have admin control.

Faster & more effective.

For faster and more effective communication flows.
Why choose enterprise messaging apps over email?
If you still aren't sure about incorporating enterprise messaging apps, here are 15 reasons why such apps will accelerate and save your business communication.
Email is a tool that everyone is used to, but nobody loves.
REAL-TIME

Enterprise messaging apps offer real-time communication to get instant responses and make faster decisions – this is very useful 1:1 as well as in teams.

ACCELERATED WORKFLOW 

Enterprise group chats are perfect to quickly update each other, to immediately solve topics, and to accelerate processes and workflows.

EDITING 

Messaging is custom-built for quick exchanges of messages.  No need for selecting receivers and selecting a heading. Also, messages can be edited or deleted after they have been sent. Compare with email, where there are no such possibilities.

STRUCTURE 

Given that messages are written in channels (belonging to teams), where each channel is dedicated to a certain topic, messages are automatically sorted and placed in the right context. With messaging, it's like asking the sender to pre-classify the message into your folders.

DEDICATED PLACE 

A business messaging app is a dedicated channel for internal communication – a transparent overview of everything that is important internally, and there is no mix with external communication like with customers.

FOCUS 

A common problem in today's workplace is the constant interruptions for new incoming messages. And it's calculated that 20% of a working day being wasted on task switching. With modern messaging, where messages are placed in different channels depending on the message topic, you have the possibility to temporarily mute channels (or entire teams).

PRIORITIZATION 

If a team is distributed and busy yet trying to move quickly, it should still be easy for everyone to stay in-sync and have quick discussion cycles. There should be a separate place to make sure no team member is a block to any other person's work. Related to prioritization, a team should be able to reach a colleague at any moment, but external demands may not be as immediate and could wait until the next morning, etc.

STREAMING VS THREADING 

Faster messaging and reading with enterprise messaging apps: Fewer clicks and scrolling to access messages and content, nicely threaded conversations, less messaging overhead like titles, etc. It is quicker to scan through a feed then scan through emails. A chat stream enables quick scrolling through a discussion.

QUICK SHARING 

Messaging apps allow easy and quick sharing of digital content (photos, videos, locations, files, links with previews, voice messages, polls, etc) and thus improve the information exchange with colleagues and teams.

REMOTE-FRIENDLY 

As a consequence of the reasons above, business messaging apps are capable of reducing required meetings and related travel costs.

CHANGE 

The role concept makes it easy to manage change within an organization. When an employee gets new responsibilities, he or she can be assigned new roles (and old roles can be removed), and thus automatically get access to the right teams and channels. And when a new employee joins the organization the first thing that happens is the assignment of roles.

CONFIDENTIAL & SECURE 

Secure enterprise messaging apps are capable of better protecting the distribution of confidential enterprise content and data and offer stronger encryption.

TRANSPARENCY 

With the channel concept, where members of a channel can see all messages, comes transparency and traceability that email cannot match. Instead of targeting individuals with a message, a message is placed where everyone interested in that topic, now and in the future, can find it.

MORE INFORMAL 

Business messaging apps lead to more informal internal communication and thus improve information exchange.

INTEGRATIONS 

With some modern messaging it is possible to integrate phone or management systems with the communication.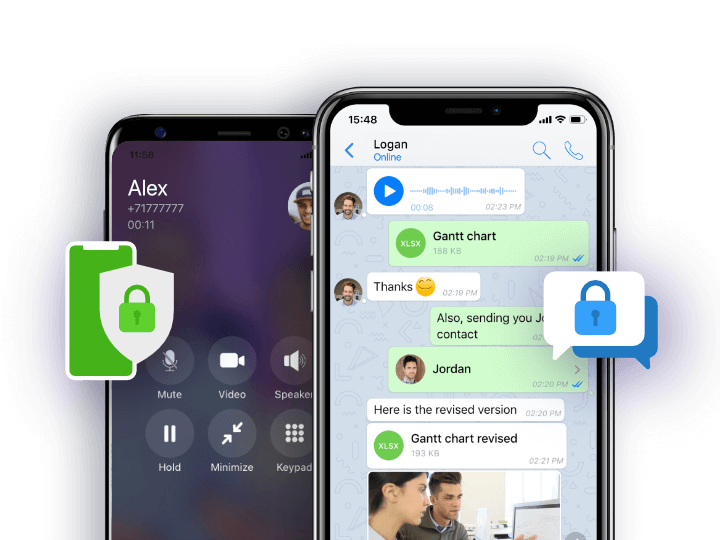 I care about SECURE enterprise messaging apps. What effective features should it have?
If security is important for your business— which it absolutely should be— in the long run, you'll most likely have to go towards getting your own branded, secure enterprise messaging app. In the race to keep your data secure, messaging app developers have been spending the last few years innovating strong encryption and other security measures so leaks, breaches and the police/government wouldn't have any backdoors. Here are some of the must-have features in an all-rounder secure enterprise communication app.
Modern messenger features instant messaging (IM), audio/video calling, group chat/call, file sharing, etc.
Location tracking apart from advanced directory service.
The server needs to be set on the owner's own premises to ensure the highest security prospect.
Controlled and authorized registration process.
White labeling will add extra to the internal communication system.
Compatible in any network like 4G, 3G, GPRS, EDGE, CDMA, Wi-Fi and even across low-bandwidth areas.
SECURE enterprise messaging apps list
Zangi: Best Private, On-Your-Servers apps
Zangi enterprise messaging apps offers to self-host your enterprise messaging app on your servers or clouds. The system is E2E encrypted & decentralized; the entire information is only kept on the user's device. This means only your company will have access to your data and no third parties, not the police nor hackers and not even Zangi can have access to your user's conversations.
PROS: You get a full, dedicated app for your company. And all communication, data, and control belong to you and only you. Communication is highly secure.
CONS: This app is more for communication, not task management.
Wire: Tailored for Enterprise
The Wire enterprise messaging apps is built for large organizations that need to protect their documents, and secure their communications across teams, and with clients and partners.
Productive and seamless internal collaboration
Protect your data with unrivaled security
Steer clear of costly cyber-attacks
Secure guest rooms for external parties
GDPR-compliant and ISO, CCPA, SOX-ready
PROS: Productive and seamless internal collaboration, protected with encryption. Has secure guest rooms for external parties.
CONS: It's a bit costly as compared to the work requirement. A limited number of callers on the encrypted video call.
Troop Messenger lets you host your collaboration on your local servers to extend high security to your data. It ensures no third party intervention to your information, thereby allows you to manage and customize all specifications as per your needs.
PROS: Build for massive communication of concurrent users. Governments, defense agencies, and large enterprises can benefit from this model for all their data securities. Troop Messenger's feature-stack is so wide that it makes conversations more interesting, productive and secure.
CONS: The app is good for team collaboration, not for the project and task management.
EASY INTEGRATION businesses messenger list
Slack: Best For Features and Integrations
PROS: The ability to install apps that automatically report on business activity, like new email subscribers or product reviews, and bots that help keep employees engaged.
CONS: Expensive. It can be overwhelming for new users. Audio and video call quality needs improvements.
Ryver: Integrated Task Management
PROS: It integrates team communication tools, high-class team task management, and workflow automation.
CONS: Subdivision of conversations make discussions harder to track. Minimal customization.
Zoom: DropBox and Microsoft Outlook Integration
PROS: Zoom is fully optimized for integration with tools such as DropBox, Microsoft Outlook & more, further extending its collaboration and communication functionality.
CONS: Everything seems to be an add-on or an extra with Zoom. At the basic level, if you don't want any add-ons and extras, Zoom is reasonably priced. As soon as you start adding extras, though, Zoom's price gets less reasonable by the addition.
PROS: It only takes minutes to connect your phone system to Zangi. Instantly, be able to make and receive secure calls from your mobile to your office phone.
CONS: Everyone needs to have Zangi on their smartphones or devices. 
BEST BUDGET team messaging apps list
[Related: Cheaper Slack Alternatives: Best Budget Team Communication Apps]
COLLABORATION enterprise messaging apps list
Flock: Best For In-app Collaboration
PROS: Perform task assigning, to-do lists, live polls, automated mailing lists for each channel so you can send emails when chat is not the best medium and integration with Google Drive.
CONS: Limited customization options. Lacks polish and panache.
Zoom: Best For Video Conferencing
PROS: The tool consists of video messaging and collaboration as its primary focal point. You can easily manage upcoming meetings, send email invitations, share files or screens and all-in-all manage who can attend your meetings, at which time and in what capacity.
CONS: If you want to run a successful Zoom event, your webinar attendees will also need to download Zoom to access your meeting. This process is quick, but it can be a turnoff to some webinar and meeting attendees.
PROJECT MANAGEMENT business messaging apps list
Trello: Best Project Management App
Trello stands out from other remote team management /project management tools for its style, simplicity, and performance. By visualizing what needs to get done and aggregating feedback from the whole team, Trello helps remote teams increase productivity. It can be used for editorial calendars, project management, to catalog stories from our customers, and more.
PROS: Trello is you get a whiteboard (to use anywhere you like), filled with lists of sticky notes, photos, files, with each note as a task for you and your team.
CONS: Not many viewing options for how the tasks are laid out.
Fleep: Best for Coordinating Team
Fleep has an integrated Tasks feature for lightweight and contextual task management. Also, the seen-bys ('Read' indicators) show you how far people have read the messages in any conversation. Included in the price are audio/video calling, screen sharing.
PROS: Fleep offers a native task management feature, which is a rare find in most communication tools. Integration is Fleep's answer to the question of busy digital workplace communication.
CONS: Pinned notes are really not pinned.
GET YOUR INDEPENDENT messaging app on your servers
The winning trend now for the most reliable business apps is to have everything under your own control, under your private messenger, independent from  3rd-party services. That's why for the best long-term results businesses choose to invest in their own messaging app for their business created with White Labeling. This will allow you to easily communicate with your team/users in an app that belongs to you.
How it works is really straightforward: businesses get a full-functioning enterprise messaging app, request some changes on top of it, add in their own logo, design, and branding to create a finished product that looks fully customized, transformed and unique. And if the business already has an existing infrastructure, the messenger can easily be integrated with the existing infrastructure of telecom operators, PBX/SIP phone systems, VoIP, DID, Roaming, Satellite, OTT providers, payment systems, etc.
Get in Touch
Send us a note using the form below and we will get in touch with you shortly.