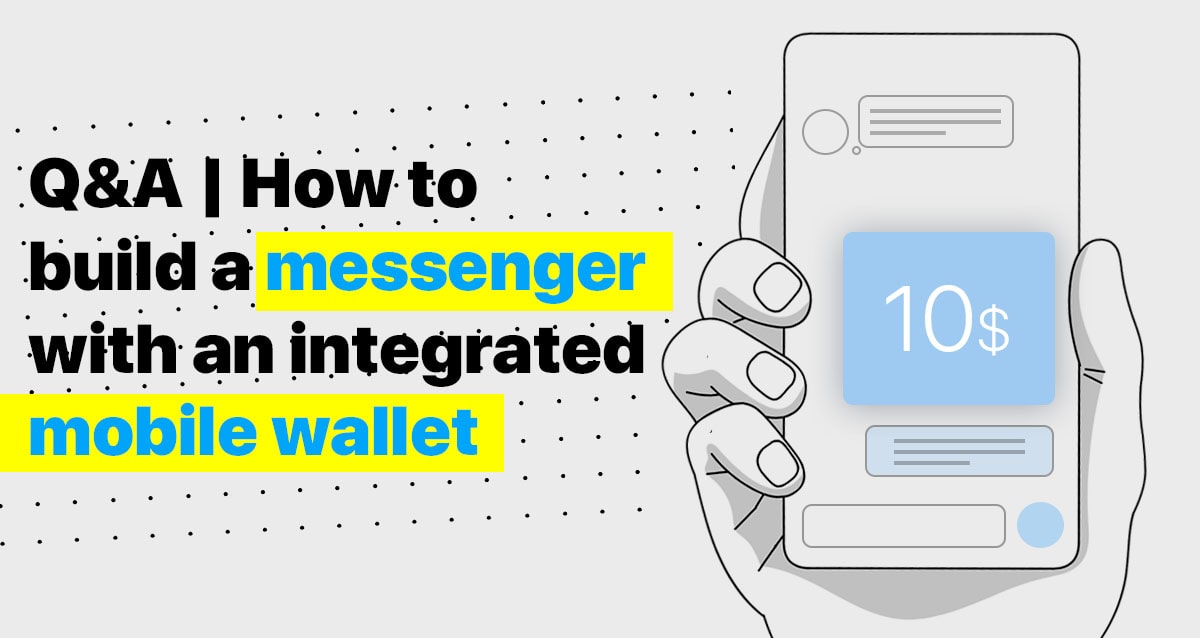 Q&A | How To Integrate Your Mobile Wallet With A Messenger
Do you have a mobile wallet but no programming skills to integrate it with a messaging app? You can solve the problem in a short period of time by going for Zangi White Label solution. Let's dig in to find out how it is possible.
Over the last few years, mobile wallets are taking over making it much easier to manage your money or purchase an item without having to go to the store and having to use cash. Here are some questions and answers to help you figure out how this all works and how you or your business can benefit from obtaining a messaging app with an integrated mobile wallet.
How Do You Integrate A Mobile Wallet Into A Messenger?
You have two main options: to build your own application and integrate a mobile wallet in it or go for Zangi White Label solution and have a ready-to-use messaging app with an integrated mobile wallet.
Why Building Your Own App Is Not A Good Idea?
You can start building your own application and then add a wallet to it. But once you start the process you will realize how time and money consuming it is. You will also face a number of obstacles, make mistakes which will delay your business plans for months.
Why Is Zangi White Label Solution Better?
Simply because you don't spend time and resources to build your own messaging app from scratch. Instead, you get your branded messenger in 10 days, you spend much less money and, of course, you don't deal with any bugs or other app-related problems.
Why Should I Integrate My Mobile Wallet With A Messenger?
If you choose Zangi White Label solution, you get a messaging app on top of which they will add the mobile wallet. The messenger platform is the best environment to make online transactions and mobile payments. Not only you get a secure platform that is based on a decentralized model but you also get additional texting, audio and video calling features and a lot more.
What Can These Features Be Useful For?
Having an opportunity to contact your clients, bank support center or the airline directly via texting or calling makes the process of solving problems and making transactions much faster and more trustworthy.
You, basically, get a direct channel to contact the company or the person you want without third-party interference. Also, you can send push notifications and advertise your product without spending money on marketing.
[Related: How to Use a Messaging App in your Marketing Strategy] [Related: Why You Should Have a Branded Messaging App For Your Business]
Why Zangi Decentralized Messenger Platform?
If you or your users have to send and receive money using their credit cards, send bitcoins or share their private information, it would be wise to choose a safe platform. Zangi provides a decentralized messenger which means the information sent by the users won't be stored on any servers.
Plus, all the messages will be encrypted once those are sent via your branded application created by Zangi.
What Can I Do With My Mobile Wallet?
The possibilities are endless: you can send money to your friends or refunds to your clients, give away coupons, buy goods from supermarkets using your digital wallet and a lot more. We can examine one case to understand how having a mobile wallet can be useful for you and your business. Let's say you are writing songs and selling them.
Someone wants to buy your latest song, and you send the material through your branded messaging app being sure the content won't be available to anyone else. Once the client decides to pay for the song, he can generate a QR code from the mobile wallet menu, choose the amount of money and send it to you. To receive the money, you type the PIN set by the sender and scan the QR code.
This is an entirely safe and fast solution to sell and buy anything online. As the industry develops, more and more people switch to mobile wallets. A number of messaging apps have already integrated mobile payment options into their application. But if you need your own branded one, Zangi White Label solution is the best time-tested choice.
Get in Touch
Send us a note using the form below and we will get in touch with you shortly.