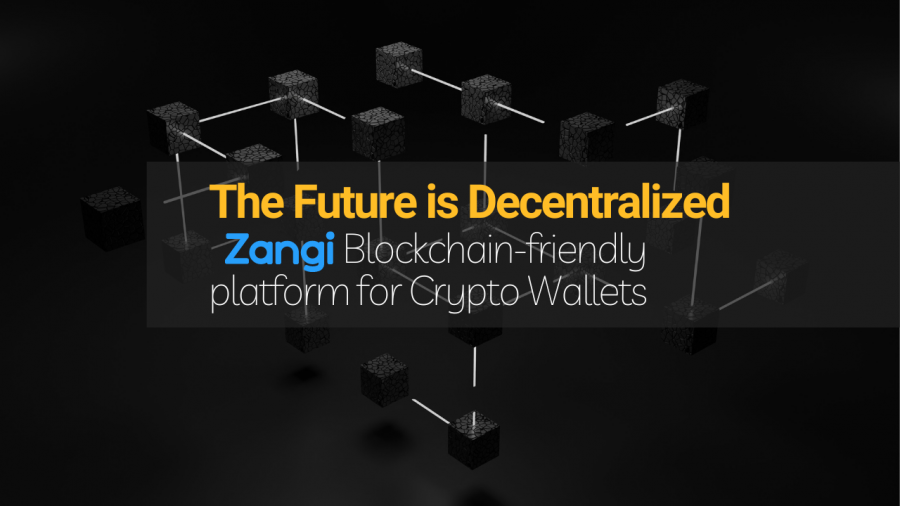 The Future is Decentralized | Zangi blockchain-friendly platform for Cryptowallets & more
Decentralization, which means independence from central processing units, is becoming the foremost choice within companies to finally achieve full trust and efficiency.
With cryptocurrency and E-Wallet use rising exponentially all over the world, decentralized blockchain-friendly systems 一 without 3rd-party intermediaries 一 are becoming the new standard of monetary transactions and not only.
Not only are more and more people using digital wallets and currencies, the numbers and volume of transactions are doubling every year. These trends are further evidence that blockchain-friendly technologies are not only secure and accessible, but are providing considerable value and becoming the future/new norm. When combined with the necessary communications infrastructure, transactions can become so much more efficient. 
For businesses handling or in need of crypto-wallets, fiat wallets, P2P remittance systems or communication apps for gaming platforms, blockchain-friendly communication platforms like Zangi are the ultimate choice of carrier to make transactions fully zero-trust and decentralized.   
Related resources:
Safeguard all Digital Transactions: Integrate your E-Wallet with Zangi Secure Messenger 
Enterprise Messaging for FinTech, Digital Wallets & Remittance
What is decentralization vs centralization?
In Blockchain, decentralization refers to the transfer of control from a centralized unit (individual, group, organization) to a distributed network. This ensures that decision-making is not in an individual's hands but distributed in a network to eliminate any misuse or issues. 
Centralized networks can be blocked from 1 single point, while decentralized networks are connected though scattered chains /nodes. If one of the nodes are blocked or tampered, the rest will operate, meaning the system will be unaffected. For someone to hack the blockchain, they would need to tamper with each and every node, which is next to impossible. 
From fraud prevention to reduced transaction fees, why are businesses choosing decentralized blockchain?
In a decentralized blockchain network, it's a no trust system. Transactions in these digital currencies are recorded on a distributed ledger system known as a blockchain and are not subject to the oversight of any governing body or central authority. Users benefit from increased safety, privacy, and convenience, cheaper transaction costs & more. 
In decentralized networks, users are able to start or end transactions without the authorization or permission from a centralized entity, such as a third-party.
PROTECTION FROM EXTERNAL CENSORSHIP
Unlike centralized systems, decentralized networks are immune to interference, restrictions, bans & etc.
Decentralized networks minimize the reliance on trust for transactions. Users can decide to protect their identity and hide personal information from the public and still make transactions on the network.
Decentralized networks employ robust cryptographic encryptions to enhance data security, making them more secure than centralized networks.
At any given moment, there are countless miners across the globe actively validating blockchain transactions. This extensive oversight empowers decentralized blockchain-friendlycryptocurrencies with an exceptional level of security, rendering them highly resistant to fraud.
The data stored in decentralized blockchains is really difficult to alter or delete. Any modifications must be validated by each node within the blockchain network.
NO SINGLE POINT OF FAILURE
Decentralized systems do not have a single point of failure, unlike centralized ones which can shut down or fail for a number of reasons. 
The distributed nature of the ledger removes the need for intermediaries and a large proportion of the fees associated with infrastructure costs. 
Block chain technology provides significant speed improvements, settling transactions with finality in seconds. 
How it works | Going forward with a decentralized blockchain-friendly platform 
Your company can get a decentralized blockchain-friendly platform by choosing Zangi technologies, an encrypted communications platform, which fully operates with decentralized nodes. 
Zangi can either build a wallet for you on top of their encrypted communications platform, or add your existing wallet over the top, if it comes with an API or SDK. Get in touch with their solution architects will give you the approach that fits your business.
Integration options available:
Zangi white label system can be set up with your preferred configuration and hosting, then add your wallet SDK on top (Basic, Pro packages).

Add Zangi features on top of your system via SDK

Develop your wallet on top of Zangi system through custom development
Conclusion|Having a wallet VS having a wallet on top of a messenger system
To conclude, decentralization is becoming the new norm for monetary transactions and not only. This is because decentralization ensures that your network can't be blocked, tampered or shut down like the risk would exist in a centralized unit. Control and decisions are not in one place and being made from one person or company, but are distributed. 
A regular mobile wallet will get transactions done, but for it to be decentralized, combining it with a decentralized blockchain-friendly messenger system like Zangi will make all activities  zero-trust, and will add many useful messenger features like texting, audio and video calling and more.
There are two main options:
Develop your wallet on top of Zangi communication system 

Add your existing wallet on top with an API or SDK
To get a quote from Zangi blockchain-friendly platform for crypto wallets, fill out the form below or contact sales@zangi.com. 
Get in Touch
Send us a note using the form below and we will get in touch with you shortly.