Zangi's ZPM | Privately Hosted Mobile Communication System
Using VPNs to secure data, is it fully safe?
With many teams working remotely, companies & organizations that prioritize privacy have been using VPNs for their staff's computers, headsets and smartphones.
VPNs connect employee computers or smartphones to your company data center via an encrypted channel, so that they can securely send and receive emails and work in your company private cloud.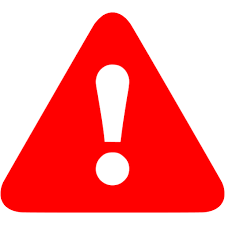 VPNs have security flaws though; when employees use some of the mass market messaging apps to communicate, the VPN safety will cease to work, as the communication will now be passing through a 3rd party server. This is where Zangi has come up with a truly protected solution – a company privately hosted mobile communication system, hosted on your organization's data centers.
Data risks with VPNs & communication apps
Even when the company or organization is invested in privacy measures for their data to be safe, VPNs can be compromised. When your employees use the cell phone network of WhatsApp/Signal/Telegram to make a call or send a photo or file, the VPN will not protect such communication as the content of the call, message or file will pass through a 3rd party server, which in some cases is under lawful surveillance or can become subject to unlawful surveillance and data leaks. 
Mass market messengers are not suitable for private communication and lately are becoming a serious threat to data privacy and security.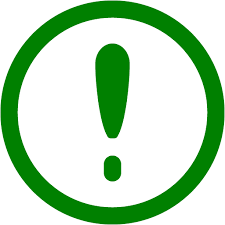 Instead, privacy-conscious organizations should be looking for a privately hosted solution. 
Introducing Zangi's New System for Businesses
To fill the need of a truly private communication system, Zangi has creating and is now offering governments, businesses, militaries, embassies, a privately hosted mobile communication system, under your company name, hosted on your data centers, which we call ZPM for short. 

Zangi Privately Hosted Mobile Communication System, and how it works?
ZPM, stands for Zangi Privately Hosted Mobile System, a privately-hosted communication app for companies. It combines privacy with the usability and comfort of mass market messengers like WhatsApp, Signal, Telegram or WeChat. ZPM also integrates to your office PBX, so that you can make / receive. private calls to your smartphone just like from your office desk.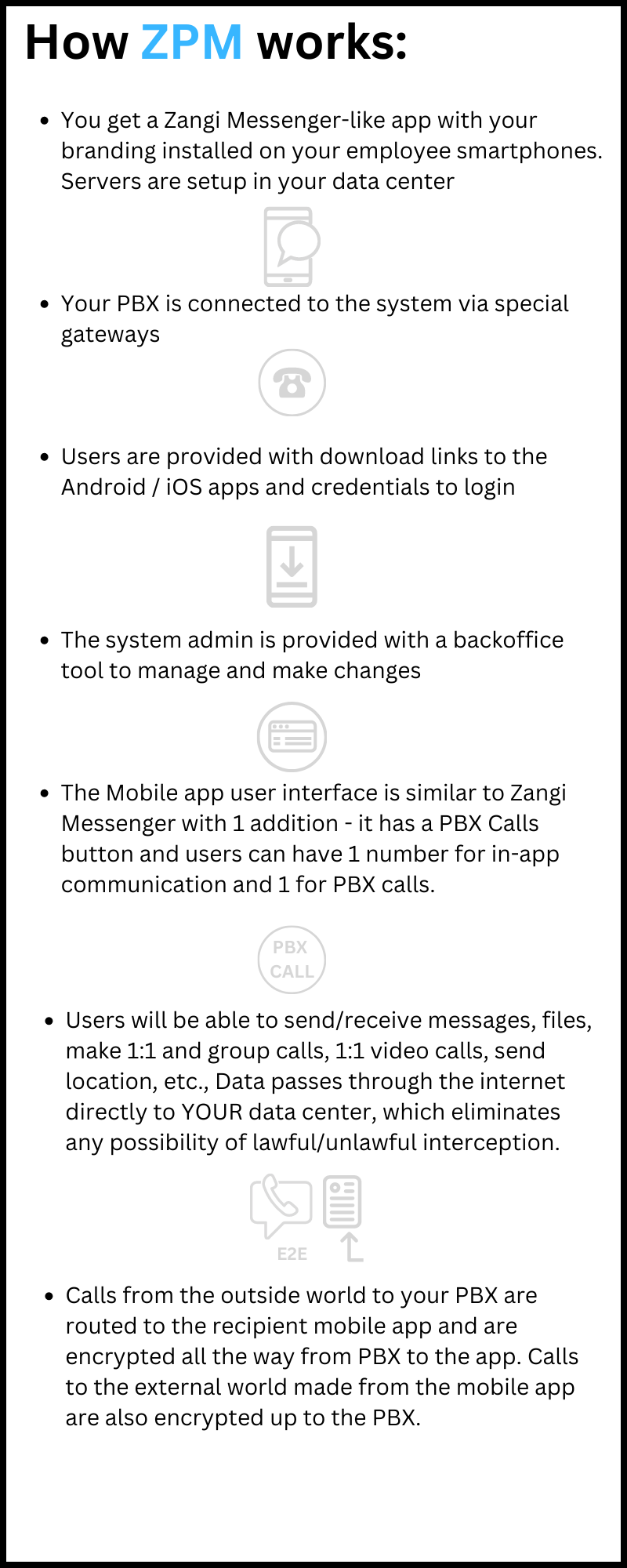 What kind of organizations is ZPM for?
This solution provides privacy, security and mobility for companies and organizations like military, police, government executive departments, ministries, embassies, as well as commercial organizations and banks. The system is built with Zangi SCP data transfer protocol, which provides protection against interception and data leaks.
All communication is end-to-end encrypted with military grade encryption.

No communication data is stored on servers, and therefore centralized data leaks are not possible and hacking system servers becomes useless.
What will be included in the ZPM platform?
Businesses and organizations get the following components with Zangi's Privately-Hosted Mobile System:
Mobile applications for iOS, Android with your brand name

Privately Hosted backend system

3rd party integrations via RestAPI

Integration with your PBX

Back office / Business Management console accessible through the web  
How will ZPM look like?
To get a feel of what your business apps will look like, we have our free Zangi messenger app on Google Play and the Play Store, with real users. Download the app to view the features and interface. Do take into consideration that the app name and branding will be all changed to the business's brand. To also see the back office functionalities and for any questions and pricing contact us.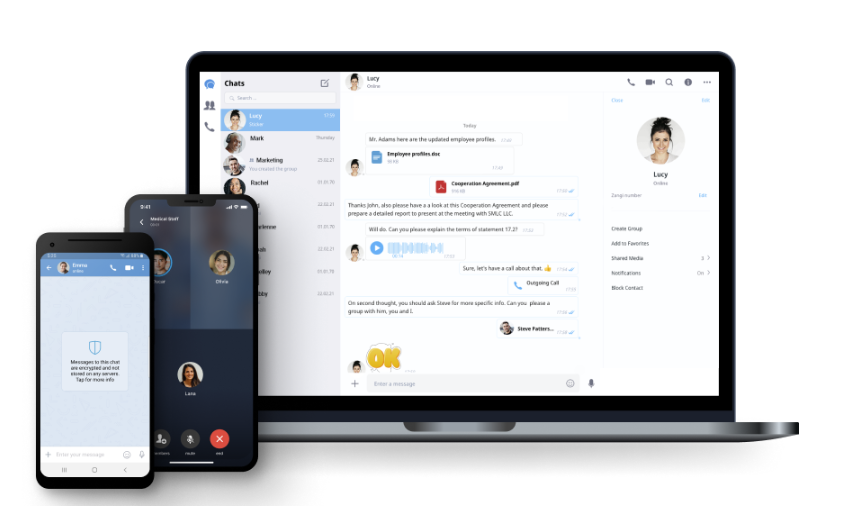 For all price and offering related inquiries, please contact: sales@zangi.com
Get in Touch
Send us a note using the form below and we will get in touch with you shortly.