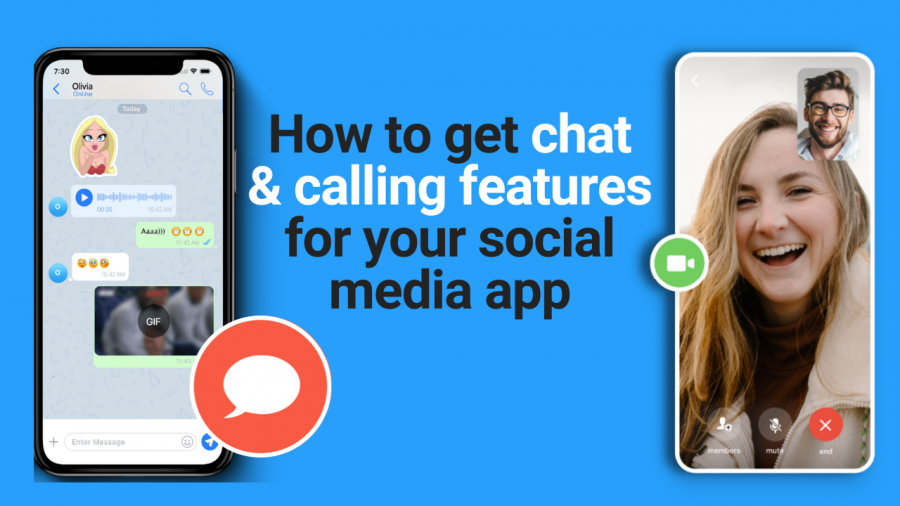 How to get ready chat features for social media app
Developing a unique social media app is a big undertaking that requires a sizable budget, a significant amount of time, and dealing with complicated new development processes.
You might already have a development team, plan to hire, or are a developer yourself, but even so, doing everything from ground level has proven to be a very rigorous, and even more expensive.
Achieving a short
 time-to-market & lower overall costs
Making use of ready Feature-sets or APIs means working smartly towards your bigger goal. Most social media apps are pretty feature-packed, many of which consist of many assisting functionalities. And so, by getting features like messaging and calling out of the way, that means one less building block, one less risk and the faster you'll get to the marketplace.
Some companies don't realize that it's also cheaper to go ahead with a ready white label system; they give you very reasonable pricing in exchange for instant premium quality features. On the contrary, creating from scratch costs and risks are undeterminable and often drag on. 
How to get ready chat features for social media app
Get the foundation features like instant messaging, group chat, voice and video calls, file sharing, stickers market, public channels, groups, user groups, and VoIP capabilities from reputable white label provider Zangi. 
They take care of the chat system development so that you can focus on the rest. Integration works by giving Zangi your SDK or API to put on top of Zangi white label messenger platform or purchase the source code access for direct integration. Reach out for a quote.
REAL CUSTOMER CASE: Company's near-bankruptcy caused by struggle developing communication features
This undisclosed company came close to bankruptcy even with a remarkably unique social media idea.
The problem was they spent almost all their budget building the interactive communications system with messages, files exchange, video / audio streaming, and push systems and had some struggles there. All these features listed were supplementary parts of their social media platform, but without the ability for people to communicate they could not carry out their main idea.
They tried using open source technologies like XMPP, Firebase and Web RTP. But none of those provided the required level of quality and scalability.

The bottom-line
You don't need to reinvent what has already been developed and perfected by experts in their field. What they did was they took Zangi interactive communications platform as their app base and were finally able to concentrate their efforts on their business and other features. Zangi guarantees quality and scalability. 
Build your social media app and contact us today to see how we can help integrate with a chat system. Fill out the form below or drop us an email at sales@zangi.com. 
Get in Touch
Send us a note using the form below and we will get in touch with you shortly.