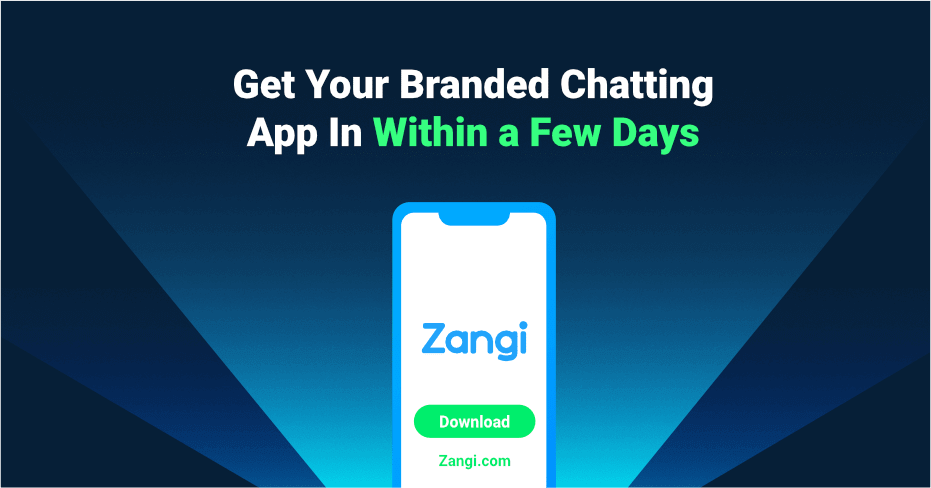 Cutting-Edge Technology: Get Your Branded Chatting App Within a Few Days
Technology runs our lives today, and for many of us, it's hard to imagine a life without it. If you are of a certain age (not that long ago though) you'll remember the internet wasn't easily accessed. Being cut off while making calls, having access to the limited internet, spending several minutes to download an image or file…Feel a wave of nostalgia? Then welcome to the club of the internet pioneers of the dial-up age :)) Here we'll present to you what is a branded chatting app and how to get one. 

Fast-forward a short decade later, with the introduction of smartphones and social media, we witnessed a decline in the abovementioned trend. This fall was mainly attributed to a new type of solution for communication and connecting, namely Over-the-Top messengers like WhatsApp and Viber. What did they do? They basically took the concept of Calling Scratch Cards and integrated it as a feature into their OTT messenger.
By providing VoIP calls to worldwide they reshaped our communication and we could talk over the Internet almost as easily as we can talk on the phone.
But Is This Enough? What's Coming Next?

This is, of course, a success story for many companies since not only OTT messenger providers skyrocketed their revenue but also various companies started to deploy messenger marketing strategies to grow relationships with customers. However, we – humans aren't satisfied with the present and are constantly creating new technology trends to reshape our world. Today, in the world of payments, companies are striving to have more to offer to an audience.
They started to create their own branded messaging apps rather than just having a group or channel inside different messengers such as Telegram. While integrating into a business, this disruptive innovation enables companies to combine social messengers, e-wallets, delivery service, and other customized features in a single branded chatting app and have an independent team-communication network.
What's The Benefit Of Having A Branded Chatting App?

First of all, boosting company sales by demonstrating the products and selling them directly to the targeted audience. A crypto wallet inside the platform makes transactions and monetization seamless, transparent, safe and convenient. Skyrocketing marketing by being up to date to current trends. If you have news you'd like people to know, you can simply share it with your targeted audience via your branded chatting app instead of spending too much money on advertising.
Engaging the audience by providing them with the opportunity to communicate directly with each other via audio or video calls, messaging, group chats file sharing and more. Creating confidentiality and controlling crush risks via having your own private platform. You don't depend on any other company and your team-communication is not at risk anymore.
But What If You Already Have Your Own Channel Or Group Inside Messaging Platforms Such As Telegram, Whatsapp Or Viber?
It's quite logical if you're asking yourself this question now! You spent so much time and energy on collecting followers on the above-mentioned channels, and now there's a need to start everything from scratch! Sounds not attractive, doesn't it?
But have you asked yourself what would happen if one day the servers of that companies shut down or get hacked or banned in a specific country?

Well, most of them claim they're end-to-end encrypted and no one can hack the system, and they keep your communication history very safe on their servers. Alright….!  But what if…? Who could expect that one of the leading companies in the world, such as Facebook could sell your personal data to the third party and then be hacked? Or Telegram is blocked in major markets, such as Russia, China today and no one can guarantee that it won't be blocked in a targeted country where you collected so many followers.
Or, the companies claim they are end-to-end encrypted, but did you know that they can switch off that option if they have to and fully possess your communication history? Considering all these benefits and risks and even more, a next question comes;
Should You Create Your Own Messaging App From Scratch Or Buy A Business-Ready White Label Solution For Your Team-Communication.

Creating a branded messenger for a company from scratch is a nice idea. However, you need to look realistically at the fact that it takes time, requires various specialists such as developers, QA engineers, Project Managers AND no one guarantees the app's high-quality. Here Zangi comes with its cutting-edge technology enabling you to create your own communication platform – a branded chatting app with your company logo and customized features.
It is worth mentioning that no one will know that the communication platform was developed by another company and it will be fully yours.
What Do You Get?
First of all, you get full control over the business management panel. It means you can;
Create your own groups and channels and never depend on third-party servers
Add new features relevant to your business needs
Fully control admin permissions, block/unblock users and possess the whole statistics
Satisfied and engaged users are also guaranteed. You'll get;
A possibility to send out customized push notifications to your community and become the best advocate of your product
Availability for your customers to contact you directly via messaging or calling
Better customer service and loyalty due to personalization and fast responding
Moreover, you'll be able to
Monetize your products and monitor sales
Safe developing time and resources, decrease the failure risk of the product and get your ready branded chatting app
How Can You Get A White Label Chatting App?

The process is very simple. Contact Zangi and brainstorm together about what kind of features you need for your branded chatting app. You don't have to worry about developing tech from scratch and dealing with quality risks and deadlines. Instead, sit back, take a breath and focus on other essential parts of your business. The rest will be done for you!
Nowadays, it only takes a few days to become the owner of a branded and customized messaging app at much reasonable price than creating a messenger from scratch. Also, major companies will soon have their branded chatting app to improve their customer loyalty and engagement. Thus, hurry up to get yours!
Get in Touch
Send us a note using the form below and we will get in touch with you shortly.