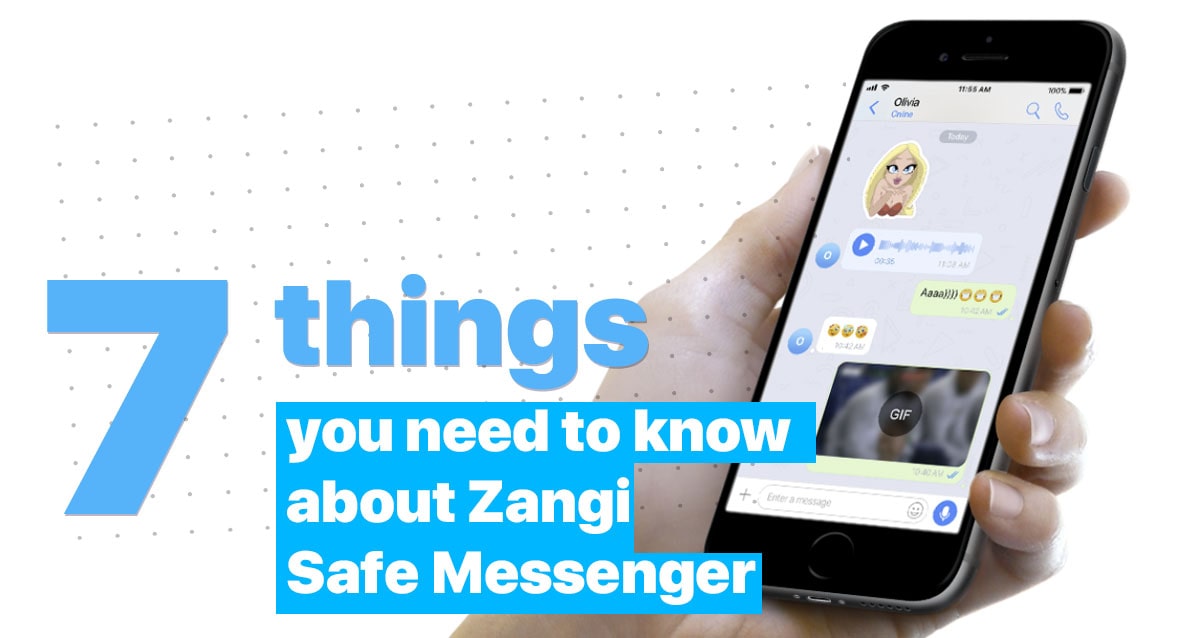 7 Things You Need To Know About Zangi Safe Messenger
Updated March 12th 2020
So, you have downloaded Zangi Safe Messenger and it seems to be another standard app. Before you jump to conclusions, take a time to learn about Zangi Safe Messenger features and surprising facts. There are a number of messaging apps in the market, and it has become harder to find the one you need. I'm sure you will switch to Zangi Safe Messenger once you learn about its advantages.
Why Zangi Safe Messenger?
If you haven't heard yet, Zangi has made a revolution among the messaging app. It is the first safe messenger available in the market. The biggest difference between Zangi and other messengers is that it's serverless or you may call it a decentralized messenger.
Thanks to this model, your communication history is not stored on the servers. There is no cloud or any other virtual place where your private information is stored. This means there is no way anyone can have access to your messages, photos, etc..
Your Messages Are Only Yours
Talking about the safety of your communication, all your messages sent via Zangi are encrypted. Only you have access to the messages and the person you send the message to.
So, the app is serverless, and all your messages are encrypted: this means even Zangi team cannot have access to your private information, let alone data thieves.
Bad Connection Is Not An Issue
Not everyone is aware that Zangi messenger works even with slow Internet and 2G connection. If you have to deal with a crowded Wi-Fi but still make calls or send messages to your friends or colleagues, only Zangi can guaranty your messages are delivered and your calls are uninterrupted.
This is possible thanks to another revolutionary protocol invented by Zangi team. Yes, you can use the app to its full potential anywhere you go regardless of how bad is the Internet connection.
You Save With Zangi
You are most probably shocked after learning all these facts and Zangi messenger features but there is more to digest. If you use Zangi Safe Messenger you save money because the app consumes the least mobile data compared to other messengers. You can test it yourself and see the difference.
Using Zangi you save around 6 times more mobile data and can enjoy longer calls.
[Related: Why Low Data Usage Feature is Important for Your Messenger App ]
[Related: A Mobile Dialer That Works With 2G Connection]
[Related: Secure Communication Components of Zangi]
[Related: 5 Best Messenger Apps with the Least Data Usage]
There Are No Annoying Ads
Ads are everywhere: in our inbox, on the streets, on TV and, of course, ads are squeezed between the messages in the messaging apps.
But Zangi is against it all. There are no distracting ads anywhere in the app so you can enjoy texting and call without having to deal with any advertisements.
All The Stickers Are Free To Use
Not only Zangi does not run ads, but all the original stickers are also free to download and use.
There is a number of colorful and unique packages of stickers that you can use to make your conversation more fun. Of course, apart from these stickers, there are emoticons and animated GIFs that can be used for free.
You Get The Best Quality
Last but not least, you get a high quality messaging app that is not only safe and cost-effective, but it lets you make HD audio and video calls, enjoy a professional and easy-to-use interface and a lot more.
These are just a few things you should know about Zangi Safe Messenger. Zangi has all the messenger features we seek to be able to stay in touch with our friends and not worry about the privacy of our communication.

Subscribe to Our Newsletter