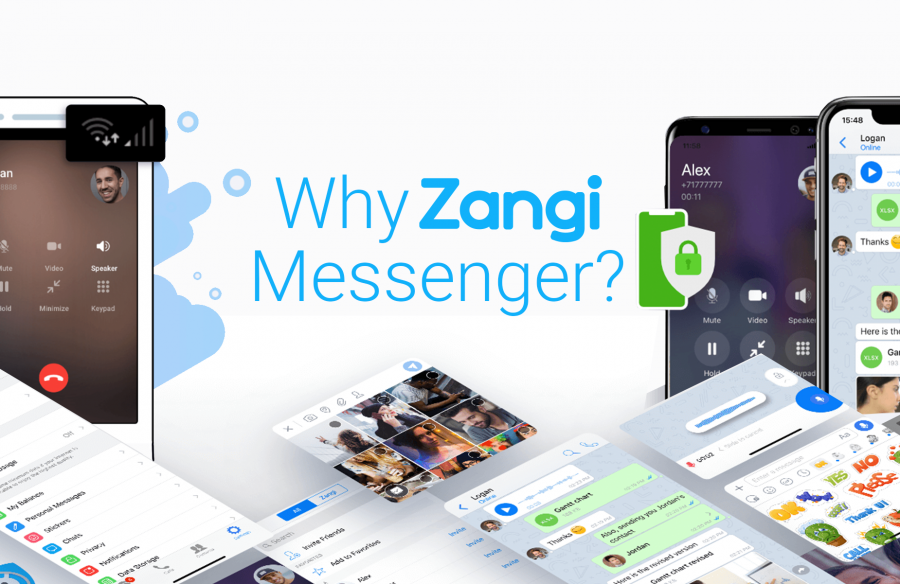 Why Zangi Private Messenger? Security, new technologies & more.
Zangi Private Messenger is a security-centric communication system with a free app on Google Play and the App Store.
What makes Zangi stand out is definitely its powerful multi-layered security, it's fastest file transfer technologies and the lowest data usage out of all messengers. These leading advantages are all thanks to the in-house built unique innovative technologies created right in the Zangi office, by our CTO, technology team, and CEO's vision.
Without further ado, here is a list of the great achievements and advantages of Zangi Messenger, where they appear as front-runners, and what sets them apart from other communication apps.
Why Zangi Messenger?
#1 1st Future-Centric Data Protection
In a fast-changing digital environment, Zangi is the only communication system that has created strong enough technology to thoroughly secure users in the PRESENT and the FUTURE.
Because Zangi doesn't store anything on any servers even in encrypted form, that ensures that even when technology advancements become smart enough to decrypt data, or break into servers, Zangi users will have nothing to worry about. Nothing is stored on any servers, ever.
#2 Security Strength & Focus
Zangi Private Messenger is designed with privacy and security in mind and is constantly intensifying security measures.
Zangi system combines military-grade security with 3 levels of robust encryption: Encrypted Proprietary Handshaking Mechanism, Dynamic Channel Encryption,  and End-to-Endencryption, ensuring complete confidentiality and authenticity of calls and messages, even across the most vulnerable or hostile networks. All user calls, files and messages are securely encrypted both at rest and in transit. And communication history is not stored on any servers.
#3 The Lowest Data Usage Messenger
Designed to work with slow and crowded network connections, Zangi consumes the least mobile data: 6X less than any other messenger.
This modern messaging feature makes voice and video calls for up to 7 minutes consuming only 1MB of bandwidth.
#4 The Most Powerful File Transfer
Zangi-made technologies have made us front runners in file transfer, with 3X faster transfer than other internet services or messenger. We've added COMFORT and CONVENIENCE to transferring files. Users can send any type or any sized files, and user experience is never compromised. Even the largest files are sent at very high speeds.
The transfer is also FAIL-RESISTANT. If something unexpected happens: your internet/WIFI changes, your phone freezes, etc, you don't need to start your download from scratch. Come back to the file and continue downloading from where you left off.
#5 Premium-Quality Messenger Features
Zangi Private Messenger is a full-featured app with a suite of modern messenger features, listed are some of the most popular features:
Enjoy HD voice and video calls with anyone on the Zangi Private Messaging app and never miss even a word. Zangi recovers lost voice and video data to keep your communication going.
Instantly send and share text messages, photos, and videos, voice, and video recordings, GIFs, or any other files. Create private group chats to keep in touch with your family or coworkers, and never worry that your communication can be leaked or hacked.
How to get real roaming at a fraction of the cost while traveling? As a cheaper alternative to expensive roaming charges, activate call forwarding and stay available for your loved ones.
Original Stickers & Emojis
Chat more colorfully. Say it better with our unique and fun stickers.
#5 Zangi's Years of Experience & Reliability
We are a mature company with a diverse team and an ambitious vision. The Zangi app has been tested and is now used by millions of users. And after years of development and improvement, we have achieved premium quality: technology that doesn't drain your battery, fast messaging, a highly secure system, modern UX/UI and messages that always deliver.
#6 Zangi Private Messenger: Our Team!
Lastly, kudos to our team. The Zangi team aims to be at the forefront of technological development. The passion for challenges and innovation are our main drivers. Our passion for excellence has pushed us to develop our own next-gen technology.
Powered by Zangi technology, Zangi also offers business solutions to build a flexible communication system and telco models for their teams or communities, on top of their new technologies.
Enterprise messaging 101. Why you need enterprise messaging apps for business communication?

What is your experience with Zangi Private Messenger? Share your opinion and let us know why you prefer Zangi and what new you would like to see from Zangi. 
Subscribe to Our Newsletter