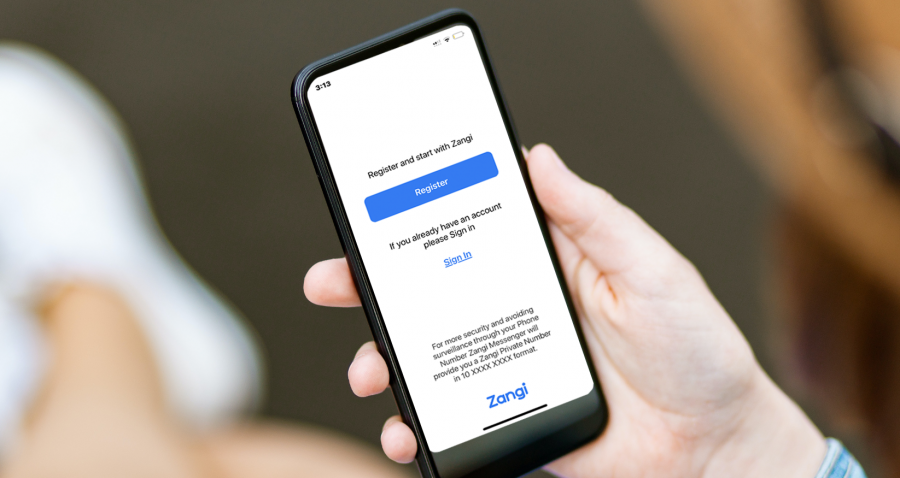 Zangi's new NO TRACE registration. What's a Zangi Number? Privacy advancements!
(Updated May 2022)
Very recently we've changed the registration process on Zangi. To register, now you don't need to provide nor phone number, nor email. Simply tap on the registration button, and get your dedicated Zangi Private Number.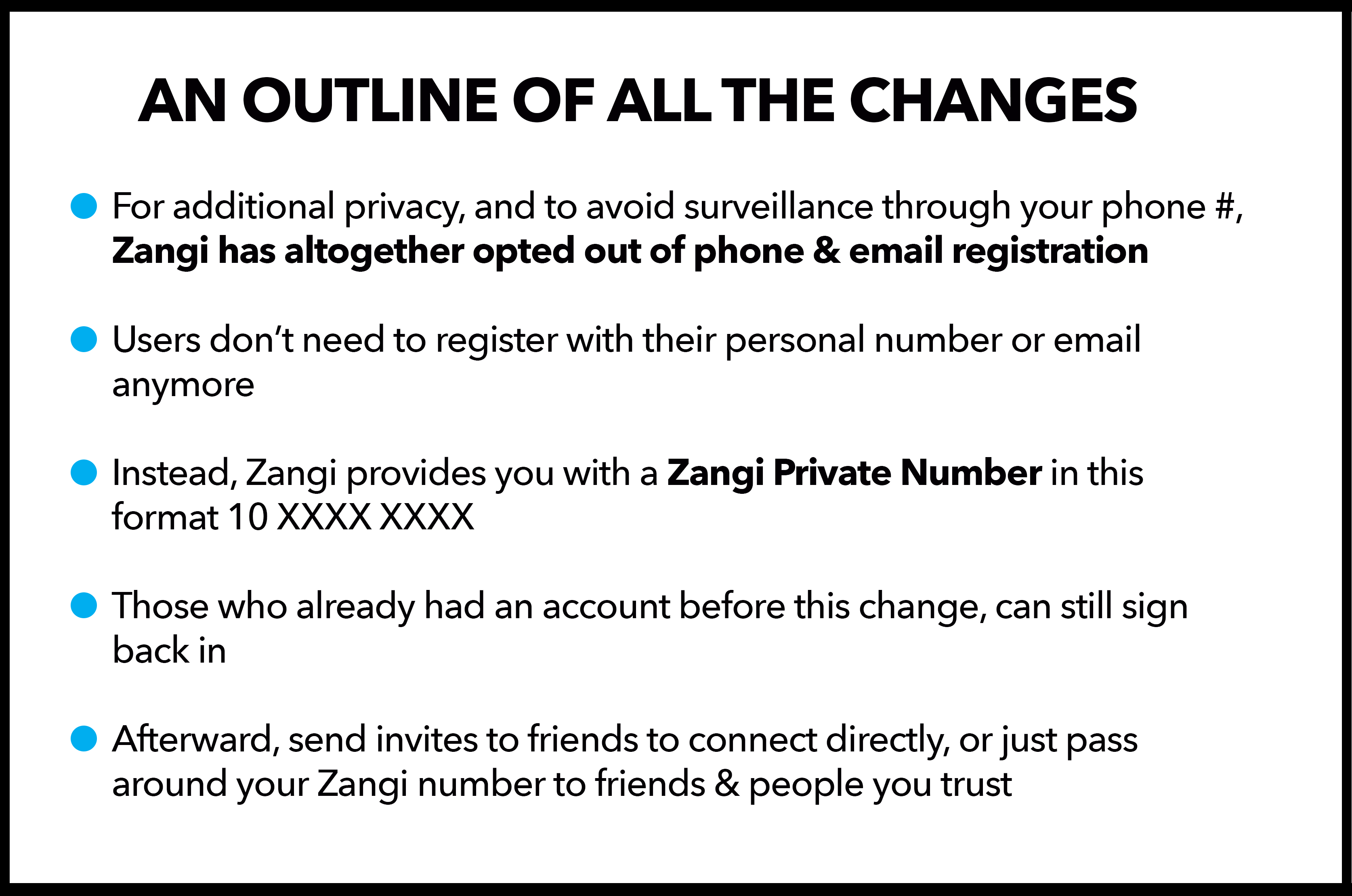 Zangi Before: Required Phone#
Before Zangi was like any other messenger app. We required you to sign up with your phone number. In the last few years, we also added the option to register with email address.
Zangi Now: Fully Private, traceless
Now you don't need to provide any personal number or email. 
Registration
Registration just requires a click of a button. Tap on the register button to enter the app and get your unique Zangi Number on your screen.
What is your Zangi Number used for?
Your Zangi number is essentially the most private way to contact others. Instead of sharing your personal mobile number, share this number with the people that you want to talk to on Zangi.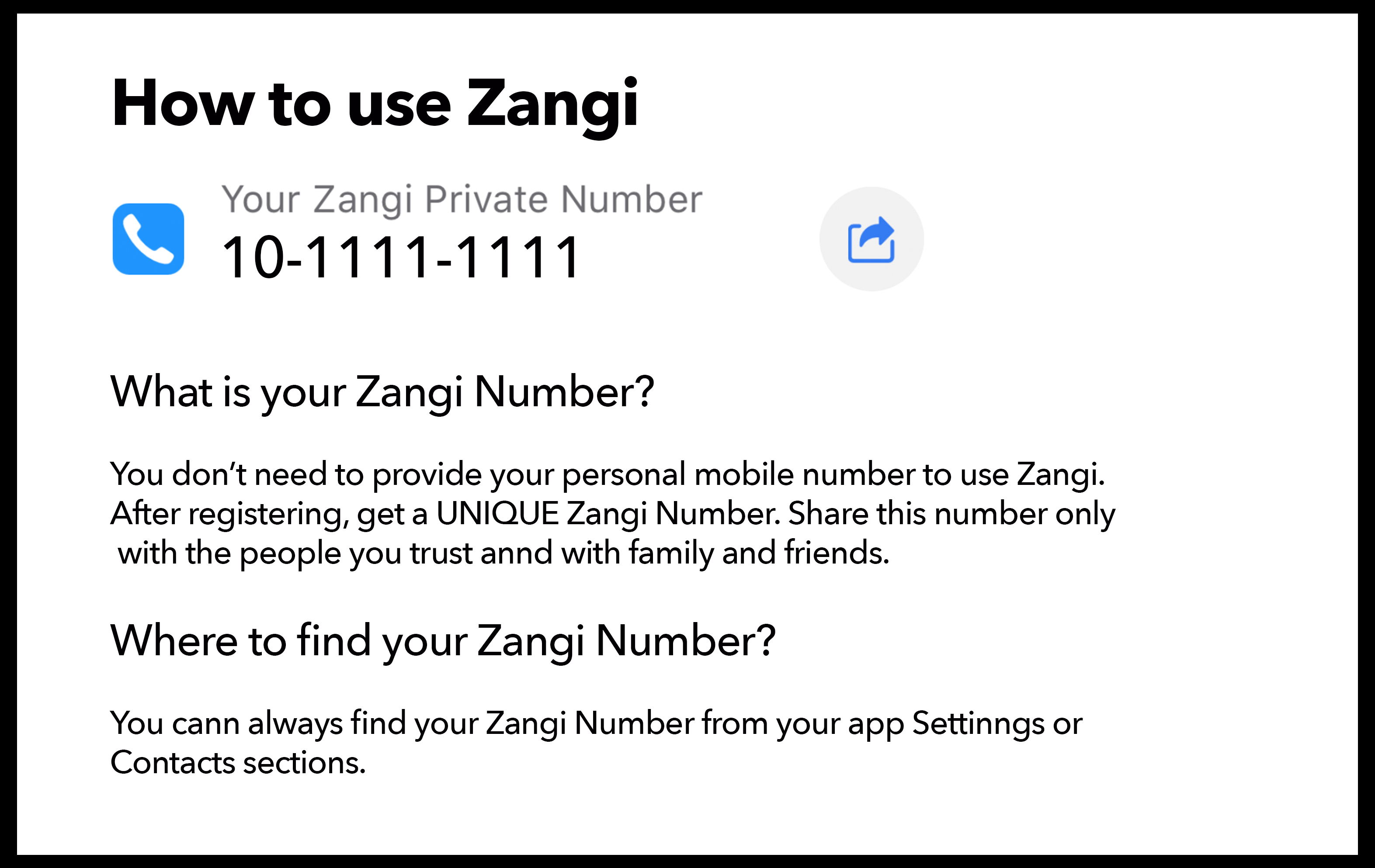 What should I do with my Zangi number?
You now have a secret number, which means no one can contact you, without accessing your number.

Firstly after registration, connect with your friends immediately after registering, by tapping on "Invite Friends to Connect".

Then select all the people you'd like to connect with, tap to send and a uniquely-generated link will be sent to your friends.

When they click on this link, they will be either taken to a download page to download Zangi or will be taken to a new chat with you (if they already have Zangi downloaded).

OR later on, personally tell or send your Zangi number to people you trust.
See the 4 connection methods below: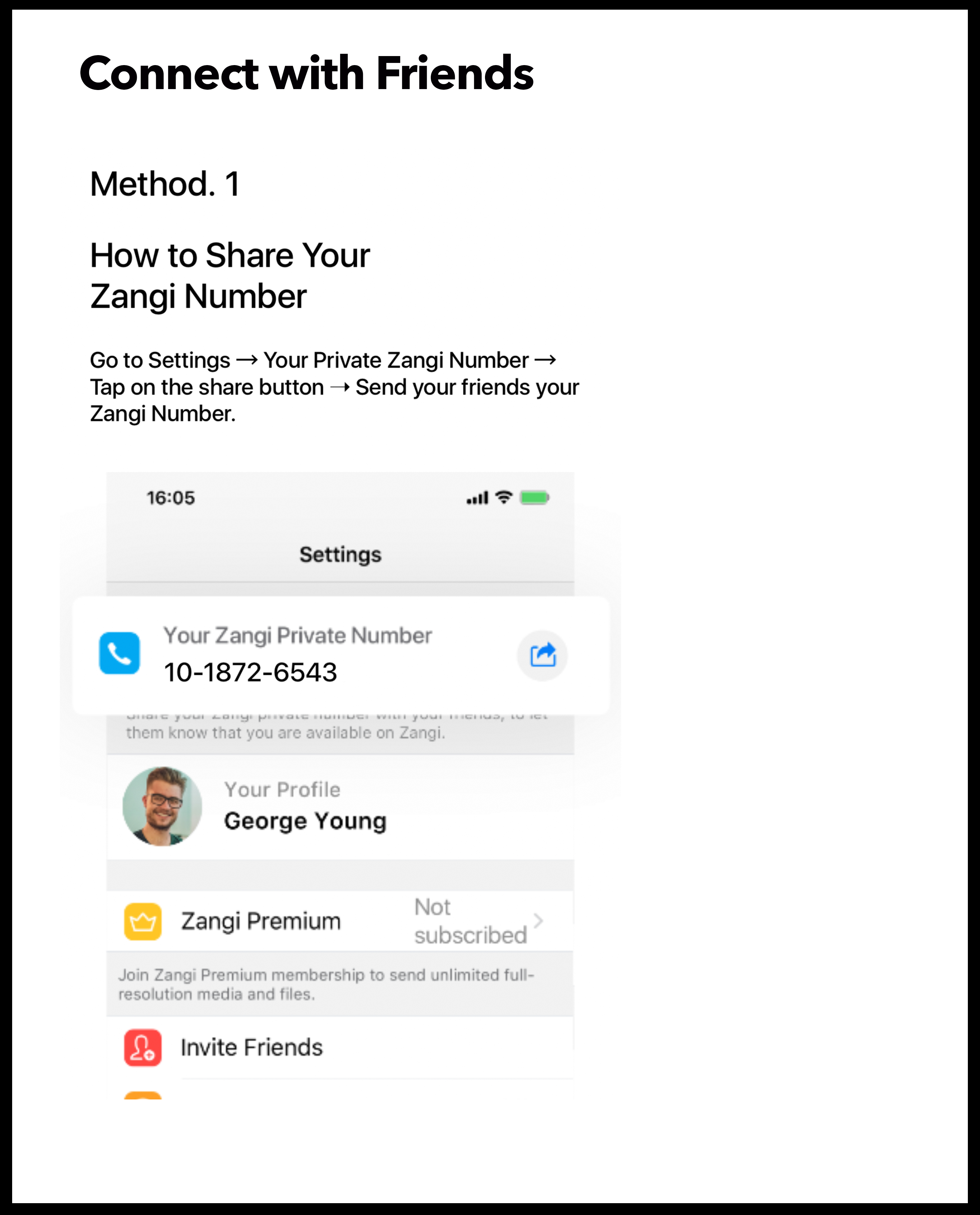 Where can I find my Zangi Number?
We'll show you tour Zangi number in the very beginning when first signing up.

But also find your Zangi number anytime from your Settings > Profile, under your name.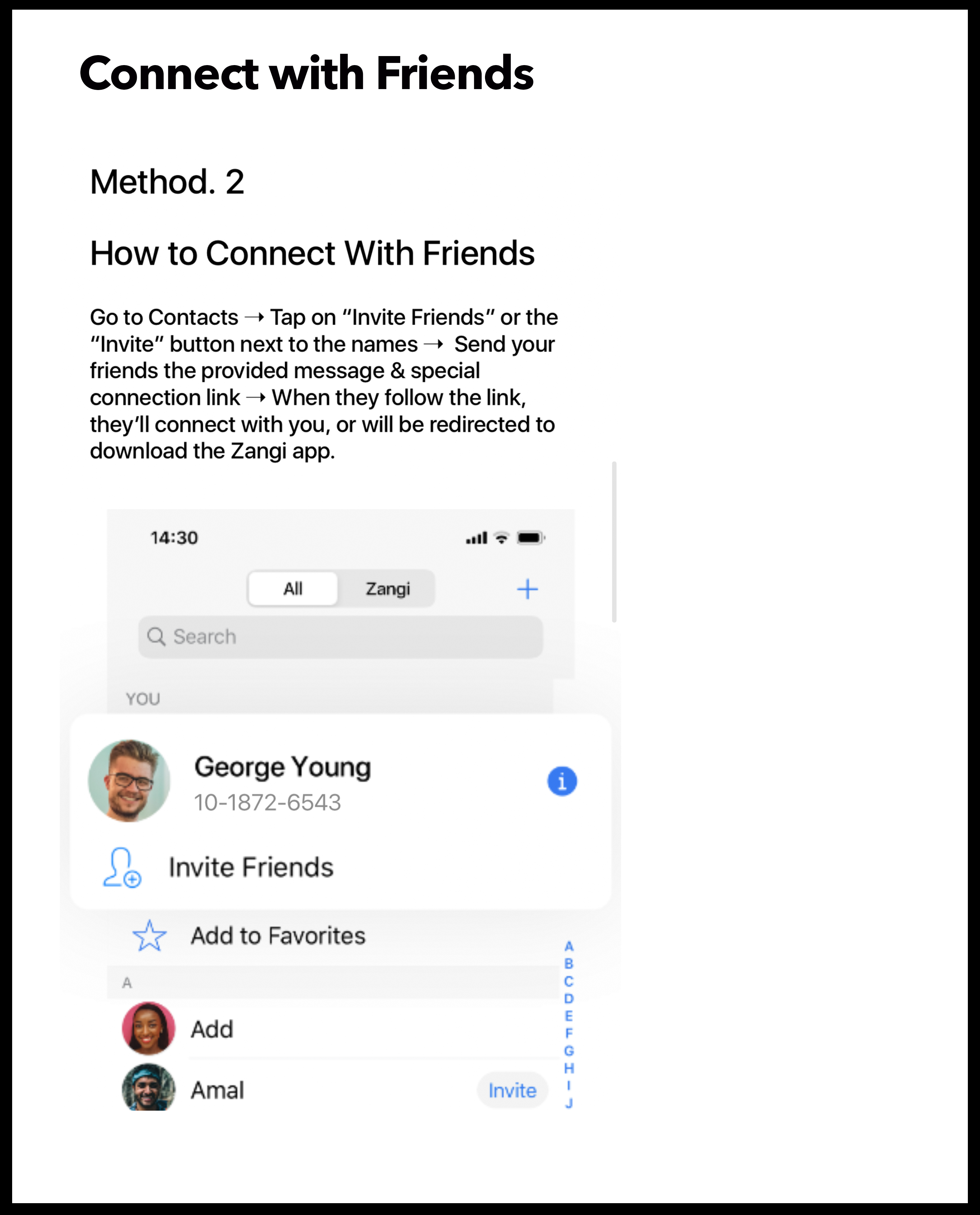 What should I do if someone else gives me their Zangi number?
If you need to call this person immediately do so with your keypad

If you already have this person in your contacts, but saved with another email/number, just tap on their profile and add their Zangi number in the provided space.

If you don't have this person in your contacts, create a "New Contact" in Zangi.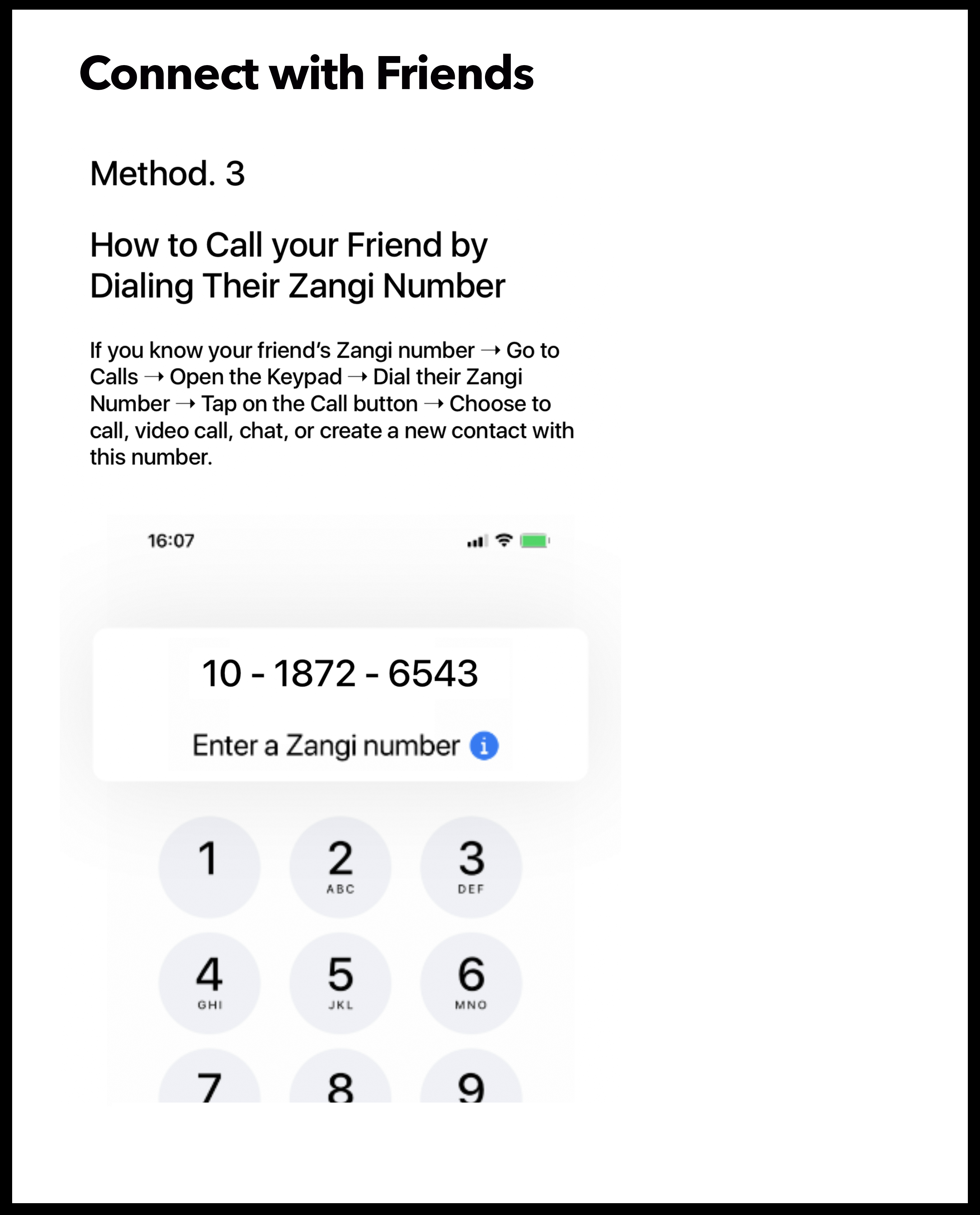 What if I have an existing mobile number/email account?
Of course, we don't want to lose our existing users or force them to create new accounts. If you already had a phone number or email account with Zangi before this change, you can still access it. Just choose to sign in. Ideally, you had already had set a password for your account, just sign back in normally. If not, you'll be sent a PIN.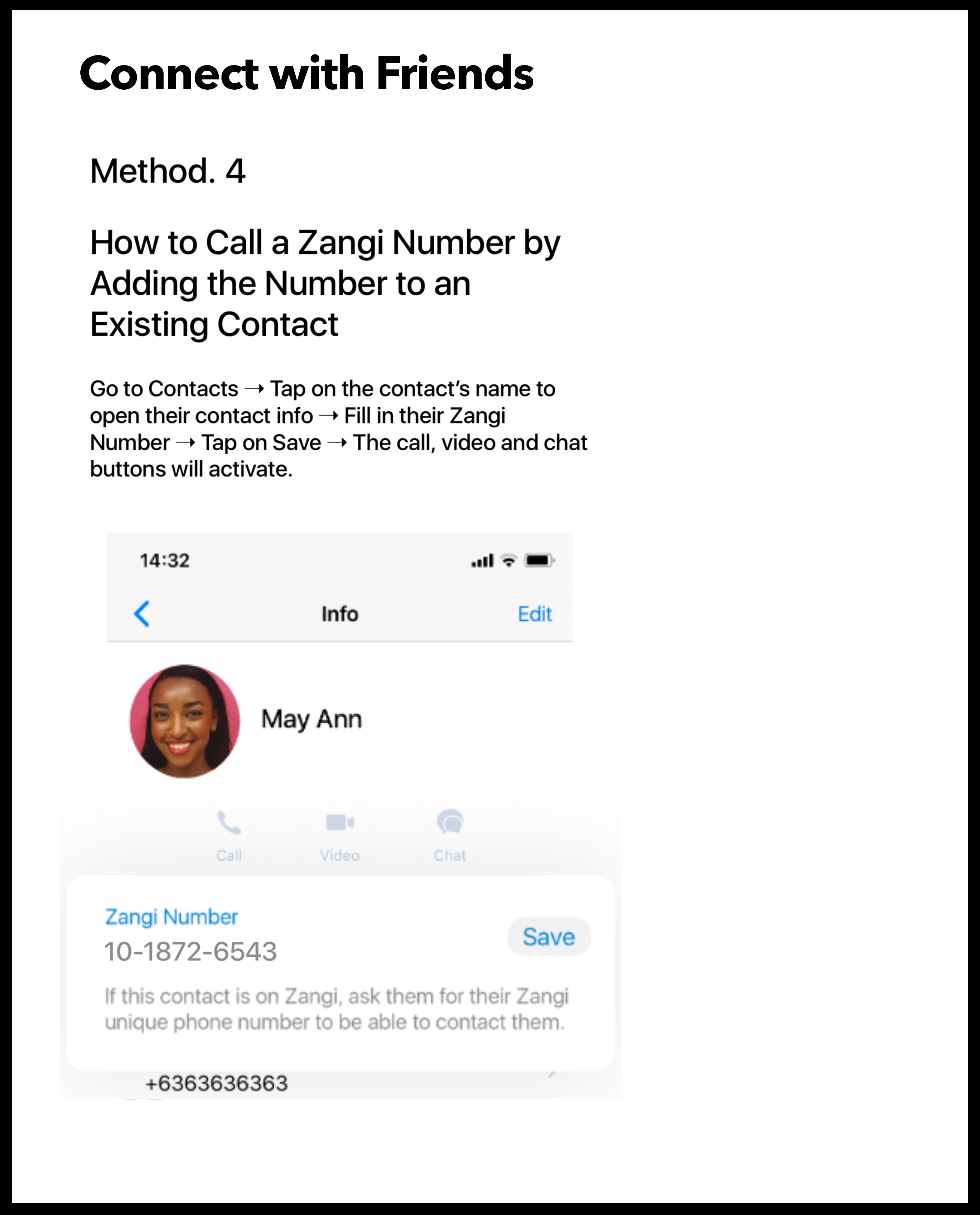 How does this change the app's logic?
Registration has become one step. But connecting with friends is a bit more tendinous. It might seem confusing, but it's really not. People are simply used to phone number registration.

This change makes Zangi so much more private than ever before.

People don't have to share their personal phone numbers, and they can use Zangi for their most personal/ work-related/ confidential conversations.

Users now have "secret" numbers!
Why we've made this change?
We want Zangi messenger not only to be highly protected with 3-leveled encryption and other security measures, but we want Zangi to also be seen as a PRIVATE SPACE. 
Why don't other messengers work like this?
So why don't other popular messengers remove Phone Number/Email Registration as well?
Because some messengers collect such data about users.

For most others, phone registration is the easiest way for the most number of users to sign up and connect to their apps.

They prefer: more business, ease > over privacy measures.
It's not an easy decision that we've made. But we've made it for all the right reasons.