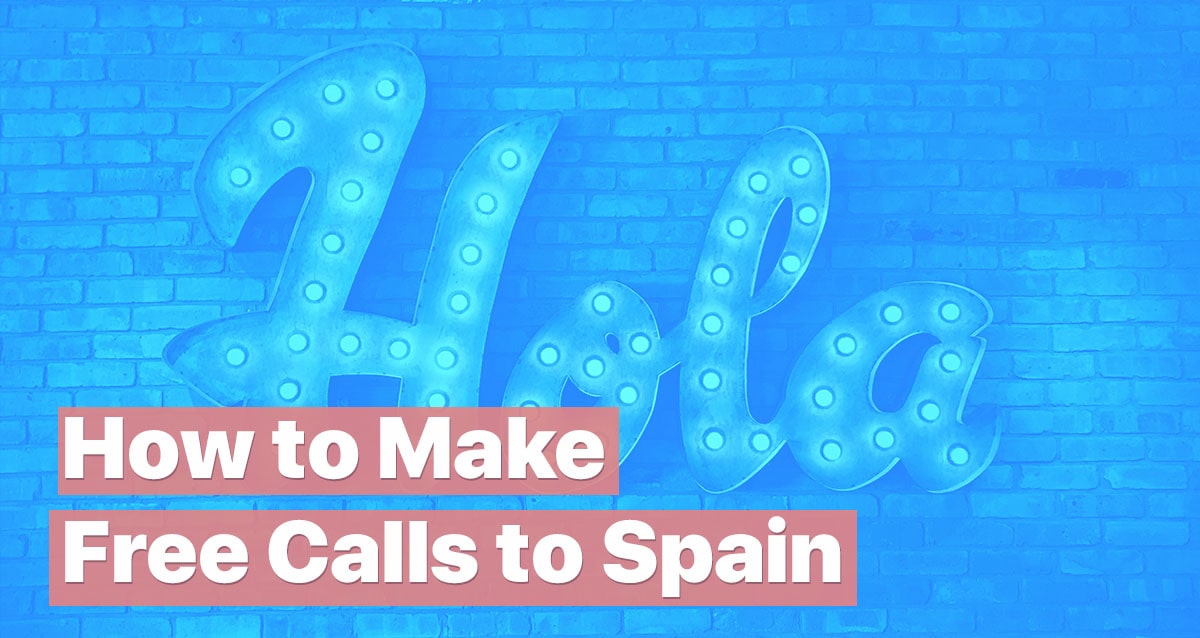 How To Make Free Calls To Spain
There could be many reasons why you are looking for an affordable option for free calls to Spain. International calling can be costly; therefore, it makes sense to look for the free options available. All you need is a smartphone and connection to WiFi or the Internet.
Using a messenger application to call your loved ones for free, or to stay in touch with people while you travel abroad can be a money-saving and easy to use solution. Since there are a number of messenger apps to choose from, continue to read to learn about the best options available, which excel at low data usage while providing premium quality services.
Free Calls to Spain
So many people want to study, work or travel to the beautiful country of Spain, or maybe spend the rest of their life there, who knows. But no matter what you plan to do, you can't do it without reliable communication means, to stay in contact with family and friends. To escape from your network provider's expensive rates when calling internationally, the best option to call Spain locally and internationally is to have a messenger app that uses a low amount of data that works under any condition. Zangi Messenger works in high quality even with the slowest Internet and crowded Wi-Fi which is a huge plus.
Best Calling App to Make Free Calls to Spain
Apart from being the lowest costing option, there're also a number of other important features that Zangi Messenger offers. Here are some important functions you should pay attention to while choosing the right messenger to call Spain (or to make any kind of international calls):
Free Domestic and International Calls
App-to-app calls with most messengers are free, you just need working internet. There're also services like virtual or online numbers that offer free communication to users. Beyond that, you should pay attention to the rates your messenger offers for landlines and those mobiles that don't have your app. With Zangi, Zangi-to-Zangi calls are free and calls to non-app users in Spain costs only 0.16- 0.25 USD/MIN.
Zangi Safe Messenger offers the lowest possible rates both for domestic and international calls and lets you save even more with their low messenger data usage, possible through the "Low Data Usage" mode activation.
Data Protection and Security
Exceptional privacy and data security are of immense importance in the modern digital world. To protect your privacy and to stay away from third parties or data thieves, you should start using a safe and secure messenger, most preferably- serverless and encrypted, which is exactly what Zangi offers.
You can't make a great call without great quality. Quality of voice and video is a typical problem with even the most popular messengers, but HD messengers mean that there will not be voice interruptions or voice delays during calls.
Other operational problems include slow Internet, crowded WiFi, and 2G/poor Internet. If you choose to go forth with Zangi, which works both with the slow/poor Internet and overloaded WiFi, it's a great solution to overcome any problem that you may encounter.
Another feature to help you avoid high roaming rates is call forwarding, so you never worry about making calls when abroad. To activate Call Forwarding with Zangi you must:
Get a local SIM card to pay less for calls and data usage.
Enter your local number into "Call Forwarding" in Zangi app and activate it.
If someone places Zangi-Out call to your main Zangi number, the Zangi system will place Zangi-Out call that will be automatically forwarded to your new number at a very slow Zangi-out rate. And your contacts don't even need to know that new number to call you! Wanna always save on messenger data usage?
Download Zangi today to make free calls to Spain from around the world.

Subscribe to Our Newsletter