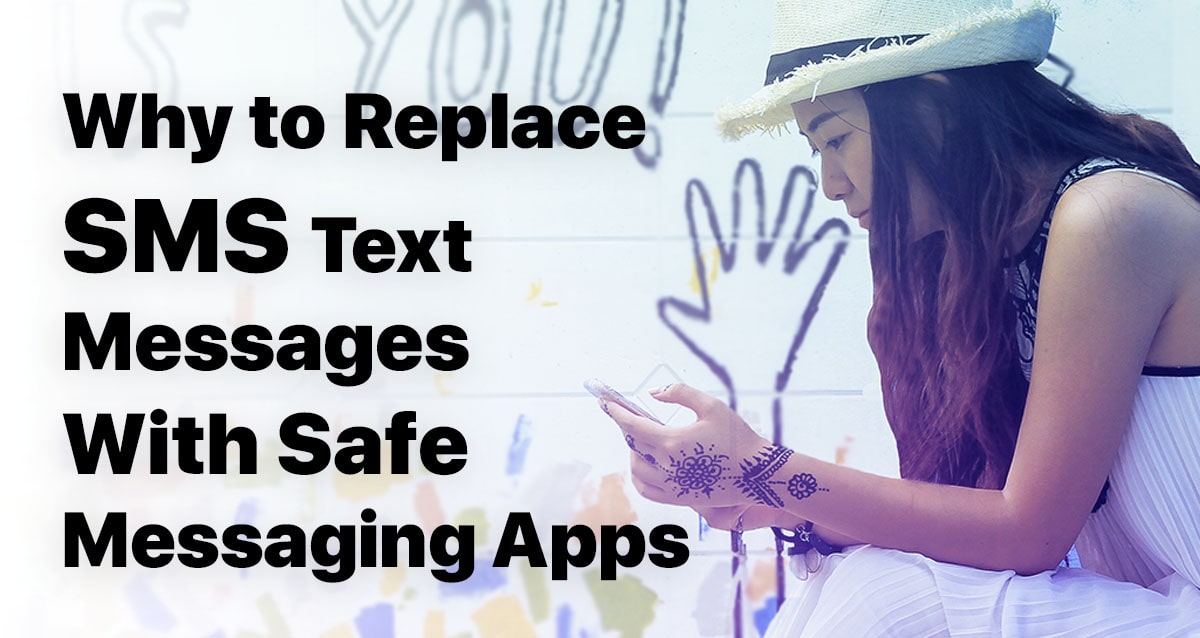 Why It's Time To Replace SMS Text Messages With Safe Messaging Apps
Looking back, it was the difference between the blue texts vs. the green texts on my iPhone that made me keen on messaging/texting through WiFi/internet rather than SMS texting. The blue texts meant that we were using iMessage between fellow iPhone users, and all we needed was some WiFi to message each other. There was no limit on the character count of a message, and apple created an environment for group messages that was easier to use than if you were a green texter. The green texts indicated that you were receiving an SMS text from a non-iphone.
This is perhaps one of the reasons why I tended to choose an iPhone over an android. However, in the last half-decade, we have had the emergence of many internet messenger apps like Whatsapp, Zangi, Viber, or Signal (AKA Over-The-Top, OTT), which can be downloaded on any smartphone and has made my apple vs. non-apple loyalties of the past obsolete. Border-less, secure, and economical, using the internet to communicate is considered to be the next move in messaging and texting each other. Replacing SMS with an OTT safe messaging apps reminds me of college students not buying cable anymore, and watching their shows online, or how many younger American families are opting-out of a home phone service and using their mobile phones instead. So why should you choose a secure messenger app over SMS Text messages?
The problem is that SMS, as a technology is a worn–out system, worth ditching.
Not much has changed over the years for SMS. A couple of features and effects have been added, but group messaging is still a mess, characters are limited, there's still no assurance for safety and some carriers charge relatively expensive per-SMS fees.
Texting is NOT the only way to interact with people via your smartphone. It's time to replace SMS text messages!  
There are free, more convenient and super-accessible ways. Safe messaging apps like WhatsApp, Zangi or Line concentrate on your user experience. They give users so much more for group chat and give a uniform experience across different phones. Also, you get many features of sending data like images, videos, and other data, and SMS/MMS just can't keep up with all this.
[Related: Secure Communication Components of Zangi]
[Related: 3 Ways to Save Money on Your Next Cell Phone Bill]
[Related: A Mobile Dialer That Works With 2G Connection]
Benefits of using safe messaging apps
Works anywhere there's WiFi
With Messenger apps, you don't have to worry about having a mobile data plan. You can chat, as long as you have Wi-Fi, and nowadays Wi-Fi is everywhere.
Talk to Anyone, Anywhere
Unlike texting, messaging apps do not discriminate based on where you live; they just work over an internet connection.  And so you can call anywhere, it's free.
Customization!
You can practically change everything about a Zangi conversation. You can give your friends nicknames and switch through cool themes and colors.
Protect your Privacy
To protect privacy, safe messaging apps do not process your SMS or store your conversations through its servers, only on the phone. And once you delete a message or conversation you've had, it's gone forever.
Free phone calls
Just like messaging, you can also call for free, across the globe! Some apps, like Zangi even let you speak on the phone with a 2G/bad connection or noisy Wi-Fi.
Stickers!
Stickers are fun, colorful and adorable. These drawings let you express and play around, adding a little bit of excitement to your chats. The best sticker offers can be found with Viber and Zangi.
If you're convinced that it's time to replace SMS text messages with safe messaging apps, download Zangi Safe Messenger for iOS/Android to start chatting the new and secure way. Follow us on Facebook or Twitter for constant updates from the messenger world.