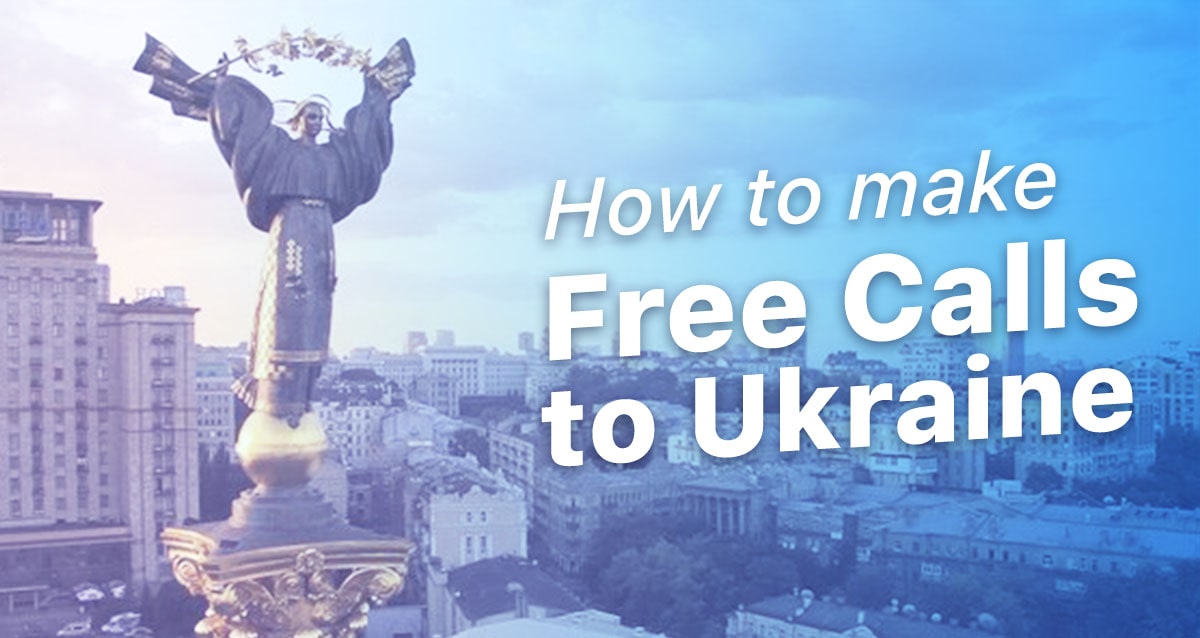 How To Make Free Calls To Ukraine
What's the best way to make free international calls to Ukraine? The best way to make free calls To Ukraine is with messenger apps. You only need a working internet or Wifi connection, and a smartphone to download an application, and that's it! Continue reading to learn more about how to use a messaging app for free while using very little data. Ukrainian citizens, are you looking for a secure and affordable option for communicating with friends, family or work with voice calls, video calls, or through text? For those of you who may be visiting Ukraine, are you looking to stay in contact with home while abroad?
If you're outside of Ukraine (maybe in  Russia, Canada, Poland, the United States, or Brazil) and want to find the cheapest way to call Ukraine. Fortunately thanks to the internet, this day and age have brought us all sorts of options for staying connected around the world, of which the best tool is considered instant messengers. Messenger applications are a sort of online chat, that offers Real-Time communication over the internet. Many of the top messenger applications today can be considered a more advanced version of these online chats. Many of which include features such as, file transfer, clickable hyperlinks, Voice over IP (Voice Calls), or video chat.
Today, there's no shortage of messaging apps on the mobile app market. Now comes the problem of how you should choose the right messaging app for you. If making free calls to Ukraine is important for you, then you should pick a messenger that has great quality for voice and video. In addition, a messenger app that can work even when your connection to the internet is weak, or if you have a data plan that requires you to be mindful of your data usage because it is costly or limited. All these features are a big part of what Zangi Messenger has to offer.
Free Calls to Ukraine with Zangi Messenger
Zangi Safe Messenger is a safe voice and video calling app that's ranking high thanks to its quality, reliability, security, affordability, and free services.  In fact, this chat app boasts many other striking features that you'd expect from a great mobile app. Here are some advantages of why to use this messaging app over other messengers:
Save With Zangi
With Zangi, you save money because the app consumes the least mobile data compared to other messengers (up to 6 times less!). Using Zangi, one can save plenty of data so you can enjoy longer and more frequent calls.
Get High Quality
With Zangi comes a high-quality service. It lets you make HD audio and video calls, you get to enjoy a professional and easy-to-use interface and a lot more.
Bad Connection, No Problem
If you find yourself in a large crowd trying to share the wifi or are traveling around somewhere with a slow connection to the internet, then Zangi can be the perfect tool to guarantee your connection and freedom to call and message wherever you are. Thanks to an original and innovative messaging protocol created by the Zangi team, the application is able to accomplish a lot more than its competition. [Related: How To Make Free Calls To Spain]
No Annoying Ads
Unlike Whatsapp who looks to monetize and include ads very soon, Zangi doesn't involve itself with ads in its application, to ensure your satisfaction and privacy. There are no distracting ads anywhere in the app so you can enjoy messaging and call without having to deal with popups.
How to Make Free Calls to Ukraine from Russia / From Ukraine to Russia
Do you need to connect with your family, friends, and colleagues in Russia? Maybe you're traveling or moving to Russia but still, want to connect with your Ukrainian friends back home. Ukrainians in Russia come from all over Ukraine – from Lwow, Kiev, Odessa, and many other places. And no matter you want to call Yekaterinburg, Moscow, Saint Petersburg, or any other place in Russia, you can easily make free calls to Ukraine or from Ukraine to Russia with Zangi.
Why not download Zangi messenger on your mobile device today and let us know what you think about the app.

Subscribe to Our Newsletter