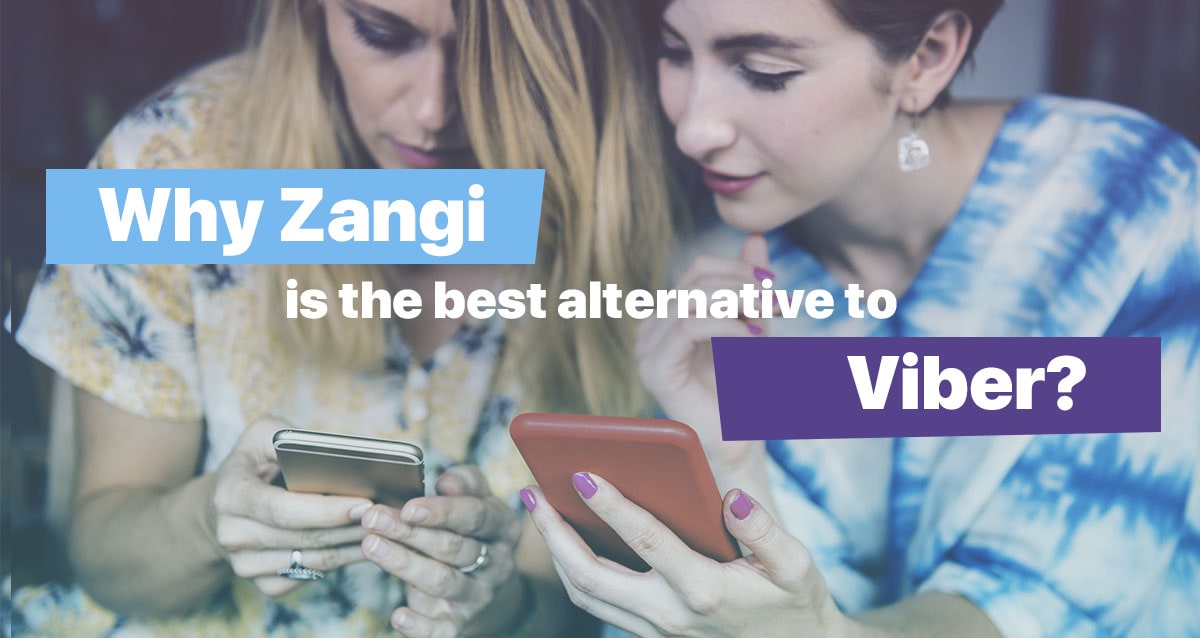 Why Zangi Is The Best Alternative To Viber?
If you are in a search of a better alternative to Viber, consider Zangi Private Messenger. Maybe you don't find Viber interesting anymore or you want to try out other apps without compromising your communication privacy. Viber has been known for having errors and it's service being down on multiple occasions. People will get frustrated when their group chats won't carry over to their new phone or other devices.
Fortunately, new and upcoming apps are looking to perfect the messenger app model, and with additional levels of privacy and security, such as Zangi. Let's dig in and find out why Zangi Messenger is the best alternative to Viber. The main aim of Viber and Zangi messengers is to provide free text messaging and voice/video calls between the devices that are connected to the Internet. Both apps have video and audio calling options and other advanced features. In many ways, they are both good apps but there are some key differences between these two.
What's good about Zangi and Viber?
Both are free to download
Both services support video and audio calls
Both let you send video and audio messages
Both have creative and original stickers
So What Makes Zangi The Best Alternative To Viber?
Safety
Zangi is a secure messenger that doesn't store the messages on any server. In addition to being a serverless and decentralized communication service, all the messages are encrypted, therefore only you and the person you contact have access to the details of your chat. Zangi completely removes themselves from accessing and processing any of their user's data. As a result, there are no back-doors for governments to access your info, and hackers have nothing to hack. This high level of security is one of the main competitive advantages of Zangi over Viber.
Zangi PrivateMessenger provides a high level of security for all users. For some users, this high level of security is less of a concern. However, if you are a lawyer, journalist, or medical professional and you use a messenger app to communicate sensitive information to a client, your chat security and privacy should be a great concern. Since the funding for Viber is somewhat unknown, and their founder is a former Chief Intelligence officer of a government, the trust in their motives or activities becomes less clear.
Data Usage
Thanks to the revolutionary protocol technology, Zangi Messenger- alternative to Viber, consumes up to 6 times less mobile data compared to other messaging apps. If you make a video or audio call with Zangi with 1MB, it will last you more than twice the amount of time than if you use Viber.
Low Data usage may not be sought after by those who have unlimited data, but I guarantee we all find ourselves at times with a bad signal and need to get a message out. This is also advantageous for those who like to travel or hike in remote areas. Using less data can help save you money, and can be crucial for places where mobile Internet is expensive: certain countries, airplanes, cruise lines, etc..
Phone Battery
We all want to chat for hours and never care about the battery. Thankfully, Zangi does not drain your phone's battery so fast, and you can keep on talking to your friends for much longer hours. Again, an advantageous feature for those who are in a remote spot without an outlet to charge your phone, or traveling abroad and are still limited to where you can charge.
Slow Internet Connection
Unlike Viber, Zangi Messenger works even with a 2G connection which can be a life-saver sometimes. It is not fun to imagine, but it's possible you will be in an unfortunate situation where the internet is limited and you need to contact someone; this the connectivity Zangi offers at 2G connection can really come in clutch. All the while providing it in top-notch quality. Moreover, its ability to function with slow internet can be nice if you have to deal with slow Wi-Fi in cafes and public areas.
Availability
Unlike Viber, Zangi is not banned in any country. As you may have heard, Viber may be banned in Russia by 2019 for violating their privacy laws. It has already been restricted in China and some other countries. Due to being not as widely used as Viber, Zangi Messenger has not been banned and is free for everyone and anywhere. We think people should not worry about their privacy every time they send a message while being able to be economical. Privacy and security shouldn't be a premium, but a standard for all communication and online activity.
Let us know which Zangi feature is your favorite and if you'de like to try Zangi as an alternative to Viber. Maybe you are a fan of our stickers or you like the possibility to make HD video and audio calls with Zangi. Share your thoughts on our Facebook page or comment below.

Subscribe to Our Newsletter