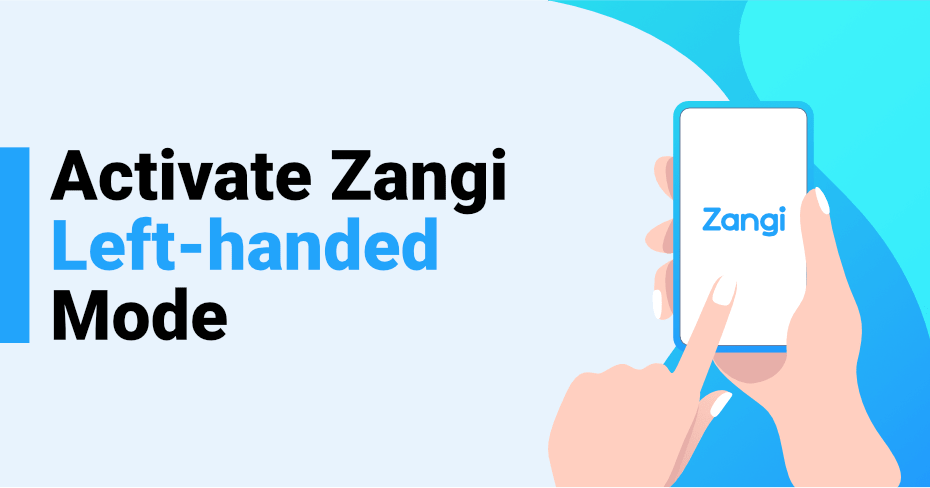 Activate This Setting In Zangi for Left Handed Messenger
Around 12% of the world's people population is left-handed and 30% is ambidextrous (those who can use both hands for their tasks like writing, using gadgets, etc). We present to you another interesting feature that you can impress your clients with! It is the left handed messenger feature that Zangi provides. With this feature, Zangi has placed buttons in a manner that your left handed or ambidextrous clients can utilize their application with more ease.
Our left handed messenger feature is not just a 180 rotation!
There are few such VoIP Softphone providers, and for those who do have a left handed messenger feature usually means just a 180 rotation. But we at Zangi provide you a complete solution in addition to all its other impressive qualities. Instead of appealing to your clients and users preferences, appeal to their habits as well.
We assure faster accesses to help those multi-taskers
Think of an important voice call that your left handed client gets when he or she is driving or on any other work. How frustrating would it be to get used to those buttons that are places suitable to for the right-handed persons? Are you one among those who are trying to annoy those multi-taskers again and again, every time they pick or dial a call? Facts support that a left-handed person can type 3400 words on an average with a QWERTY keyboard whereas a right-handed person can type just 450 words on an average. So, why shouldn't you give them what they need so that they need not shrink their potential?
You can say with pride that you are giving your clients what they need and not what you have! So try Zangi and design your own call interface that completely hides that your interface is a Zangi-based. Yes, none of your clients can identify that you are deploying another service as we exclusively design logos and other interfaces as per your preferences! This is a great opportunity to expand your brand or to give a classy look to your company's Softphone.
Support the next Albert Einstein, Isaac Newton, or Charles Darwin!
Do you know that many famous personalities including Albert Einstein, Isaac Newton, Charles Darwin, etc were left-handed persons? If they had an App like what we provide for your clients now, they could have invented their theories much earlier than they actually did! Help your clients win their time and certainly, you also can take pride in that. Still confused?
Just feel free to get assistance on how to design the app as per your requirement. Thereby, you have covered your left-handed clients as well and no more denying of those interesting persons!

Subscribe to Our Newsletter