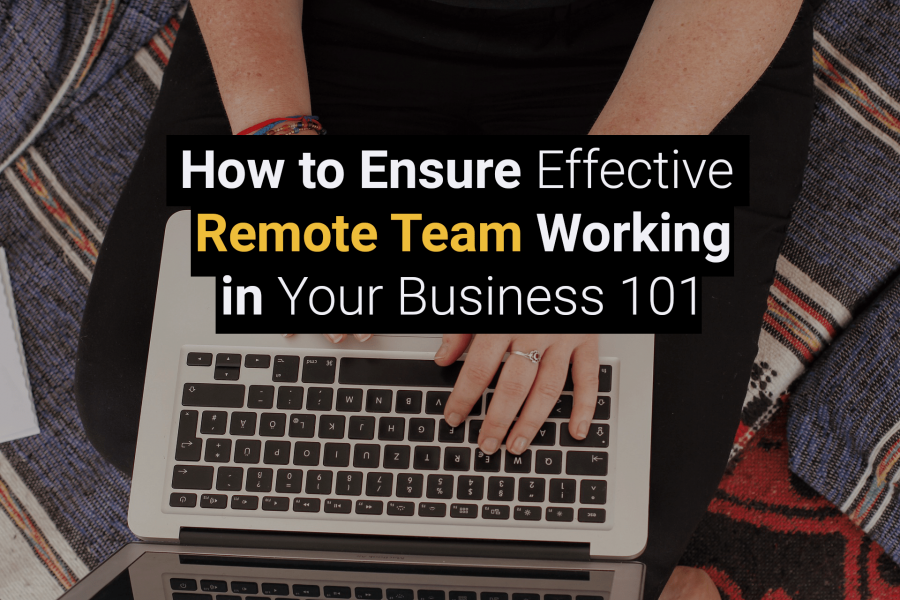 How to Ensure Effective Remote Team Working in Your Business
Being able to hire people from all around the world can give your business a competitive advantage. You get to recruit fantastic talent, get an effective remote team working, without the hassle of renting large office space.
Remote teams can be a challenge to manage since business owners need to create the right processes, controls, and culture remotely. With the right negotiation skills, managers can have an effective remote team working without micromanaging their staff. Here are eight ways to drive your virtual dream team to business success.
1) Invest in Training
Just like regular staff, remote staff needs to sharpen their skills. To address skills gaps, invest in skills training and ongoing learning for yourself and your remote workers. Provide mentorship, quick refresher guides, and access to online tutorials.
For instance, attending negotiation skills training can sharpen management skills, and a mentorship program is a useful way of more closely connecting remote workers to the company's culture and ethos. Continue to research the most appropriate skills for your organization and find relevant courses to match these skill requirements.
2) Have a Messaging Rulebook
With so many channels of communication, notifications from messaging apps can become a tough demand on employees' time. Team communication software for effective remote team working can sometimes lead to information overload, especially when team members use these channels for gossip and social posts.
It's essential to have a rule book guiding on-job communication. For instance, your rule book can discourage the exchange of memes and funny cat videos and anything else irrelevant to the job. Alternatively, you could open up a social channel on your messaging software to allow off-topic communication.
3) Get the Most Convenient Tools
1.  Zangi
If you want peace of mind when making business calls, messaging or sending across corporate files, Zangi private communication system lets you host your app yourself. This means your data and conversations are put directly safely in your hands, on your servers or cloud, separate from 3-rd party risks.
Zangi also features modern team features, HD video calling, and low data usage features. This makes it the perfect choice for teams who are used to working in remote conditions and are always on the move. Make sure to check Zangi out regardless of your business' scale or industry – you will find it more than useful for a variety of situations.
2. Slack
If you are tired of sending endless email messages and you find it exhausting searching through email discussion threads for lost conversations, Slack might be the tool you need. Slack will help you to maximize everyday communication and collaboration demands for your team.
It has a very intuitive and user-friendly interface that allows team members to collaborate, communicate, and share files. Different effective remote team working can also create discussion channels for their team members to communicate.
3.  Zoom
Are you looking for a perfect conferencing system to hold a video/audio meeting? Do you have employees that work in multiple locations, and you need to have virtual meetings with them at the same time?
Zoom will meet all the needs mentioned above and many more. It allows you to connect with team members even if you're not in the office. Zoom works well on any device with web, iOS, and Android applications.
4.  JIRA
If you are looking for an ideal tool you can use for effective project management, then JIRA Cloud ticks all the right boxes.
With the JIRA cloud, you can monitor issues easily and track the progress for how effective remote team working towards actualizing team tasks. Team members can give updates on tickets, give comprehensive reports on projects, make comments, and share files. JIRA Cloud works well on any device with web, iOS, and Android applications.
5.  Office 365
Office 365 offers teams invaluable tools to foster effective collaboration on everyday tasks in the workplace. Team members can get the latest news and updates through the announcement section.
Office 365 is essentially a Microsoft application that offers office presentation tools like PowerPoint, Excel, Skype, Microsoft word, etc.
Digital Communication tools in the Workplace. To Solve Any Business Need.
4) Standardize Procedures
Many types of businesses can fall apart without proper systems. An office-based business may survive without set processes since people can look over each other's shoulders and talk in person. With virtual teams, each person is on their own.
Each worker may end up developing systems that don't work well with other colleagues' way of working. The best practice is to put in place a standard operating procedure (SOP). SOPs aim to instruct on how to handle routine tasks. An SOP promotes uniformity, assures quality, and reduces miscommunication.
5) Allow Flexible Work Hours
Most remote workers prefer the flexibility of working whenever and wherever they want. Your remote workers may also live in different time zones. Allowing a degree of flexibility in work hours can boost morale.
Nonetheless, when the timing is entirely erratic, it may become difficult to collaborate as a team. Schedule times when team members should make themselves available while still allowing some level of flexibility. Negotiate work schedules with each new team member. Share the time schedules for all team members, so everyone knows when to reach everyone else.
6) Track Progress
In an office environment, it is easy to see who reports working even when you're not tracking attendance.
With remote teams, it can be challenging to know who is working, what each person is working on, and for how long each person works. Use time tracking apps, especially if you are paying per hour. Also, track performance following training to know which classes have an impact on skill-building.
7) Use Cloud Services
Sending large documents via email can slow down your network. Sharing large files through a cloud-based service is faster and has a lighter load on your network. Cloud servers offer the same services as your internal server.
Plus, cloud servers are easier to share and access and are also more secure. Your entire team can use a cloud storage app, such as DropBox, to access files and folders from any device. Using apps can be perfect for mobile teams working on the road.
8) Recruit the Right People
To recruit an effective virtual team, it's important to focus beyond just the employee's skills. Assessing the personality and life situation of a prospective team member can uncover any potential issues about whether the person may face either distractions or isolation.
Does the person have somewhere quiet to work? Does the person network with other professionals in similar fields? Both distraction and isolation can be difficult to negotiate for some, which is why remote working isn't for everyone.
Ensure Effective Remote Team Working
Working with remote teams can allow you access to the best talents from around the world. Ensure your company's success with an effective remote team working by choosing candidates who will thrive in a remote working environment. Make sure to set standards by establishing SOPs and a messaging rulebook to enable clear of communication.
Reward the best remote workers with ongoing training and flexible work hours to boost morale while improving job satisfaction.
6 Ideas for Increasing Employee Engagement & Improving Team Communication
Cybersecurity for Remote Workers: How To Limit Data Leaks in Remote Teams
Get in Touch
Send us a note using the form below and we will get in touch with you shortly.