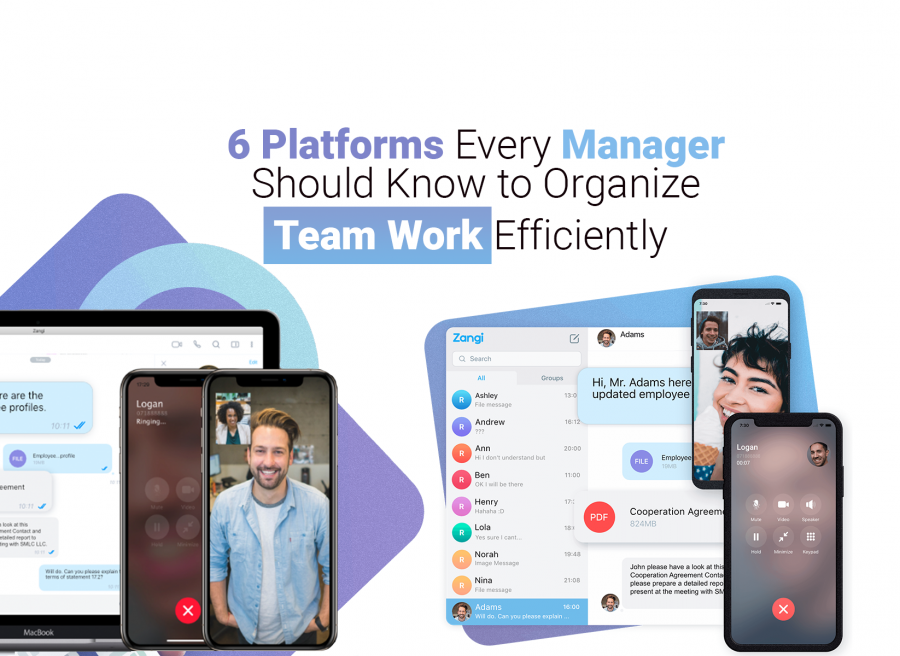 6 Manager Tools: Managing Virtual Teams Platforms
A manager's position entails a wide range of responsibilities. The most significant one is, of course, the ability to lead your team to success. To accomplish this aim, one should have good planning, motivating, communication skills, and managing virtual teams platforms -just to name a few. 
As the employee network grows and jobs get digitized, it is more practical and easier to take advantage of the technology, more specifically managing virtual teams platforms made for managers. 
If you are on the lookout for managing virtual teams platforms, here are the top picks for you. 
Managing virtual teams platforms list
Asana
Asana is one of the most popular platforms in the market. It can be applied efficiently in all areas of team management. 
The software combines the elements of collaboration, management, data storage, and allows easy communication among team members without the need to exchange emails. 
The tool enables leaders to structure work, assign tasks, and share all relevant details while setting deadlines for each assignment and employee. 
Should you need help to manage a writing team like the specialists from Essaypro do or need to work with multiple crews working on software development, Asana would be the best choice to handle projects regardless of the workload.
Highlights are as follows:
Customize work management and delivery;

Prioritize activities based on needs and the capabilities of teams;

Centralized and live updates on tasks;

Personalized team calendars;

Meeting minutes with alerts and reminders.
Trello 
If you are looking for a sleek and simplified interface to communicate effectively with your team members, choose Trello. 
The platform makes it incredibly easy to schedule and delegate tasks on various projects. Managers can assign cards to different members. There is also an option of fixing deadlines, attach documents, and other sharing features. 
The greatest advantage of Trello is that there is no limit on how many people can view a board nor how many you can include. 
Here are the main features:
Real-time updates on team activities;

Automated notifications;

Unlimited number of boards;

Collaboration and commenting options.
Notion 
This all-in-one space might be the only platform you need to handle the divisions in an office. 
Notion seamlessly blends several tools that you would need to make the ultimate work management software. 
It comes with a Word Processor, a Knowledge Base application that enables collaboration with a search tool and management software to handle projects, responsibilities, and other elements. 
If this is not sufficient, there is also a spreadsheet and data section to note down all employee and client information. 
Here's what Notion offers:
Personal checklists and to-do lists;

Weekly planner;

Taking and sharing notes;

Shared whiteboard with commenting options.
Basecamp 
This project collaboration platform lets a team tackle their projects and have conversations in one place. With Basecamp you can organize the members into different groups by departments such as marketing, designing, etc.
Within the app, there are additional options to create cards, lists, follow schedules, and attach files. Similar to other apps mentioned above, you can also view the project progress and efficiency of different groups. 
There are options to ping members directly, public conversation spaces, and commenting available. Here are more Basecamp features:
reporting project performance;

synchronization with email; 

task-related conversations;

shared timeline across different projects;

team calendar and tracking options.
Zangi 
Communication is the key to effective organization management. And Zangi performs this function with utmost proficiency. 
This messenger focuses mainly on collaboration, messenger and calling features, while giving users military-grade protection and security.
This is what else Zangi offers:
Based on Zangi solution, get an independent white label applications made specifically for you, with your logo and branding.
Depending on your preferences, your apps can be incognito or we can publish them for you on Google Play and the App Store.
Get the unique opportunity to add special security algorithms and keys into the source code.
Zangi deploys media servers on your side or cloud, separate from Zangi and other third parties. The system will work only with your IPs and domains.
You get a web dashboard for full management of your business and team.
Slack 
There is no way to curate a list of teamwork organization without mentioning Slack. 
Since its launch in 2009, the platform has adapted to the changing technologies to continue as one of the top tools in any workspace. 
In Slack, you can create channels, private, public, or shared ones, to discuss specific projects or topics. Inside these channels, you can further separate conversations into threads. 
Slack is much more than a nifty communication channel wherein you can organize and bring alignment to all your team tasks. Here's what else it does:
Set reminders with Slackbot;

Individual and group discussions;

File upload and sharing;

Notifications and alerts for updates;

Audio and video calls.
Wrapping Up
Each of these managing virtual teams platforms come in different packages for companies to choose from based on their size and requirements. 
If needed, you can also request demos and take advantage of trial periods to ensure that a specific tool is a fit. Any of these tools will surely elevate your performance and productivity as a team. 
You Might Also Like