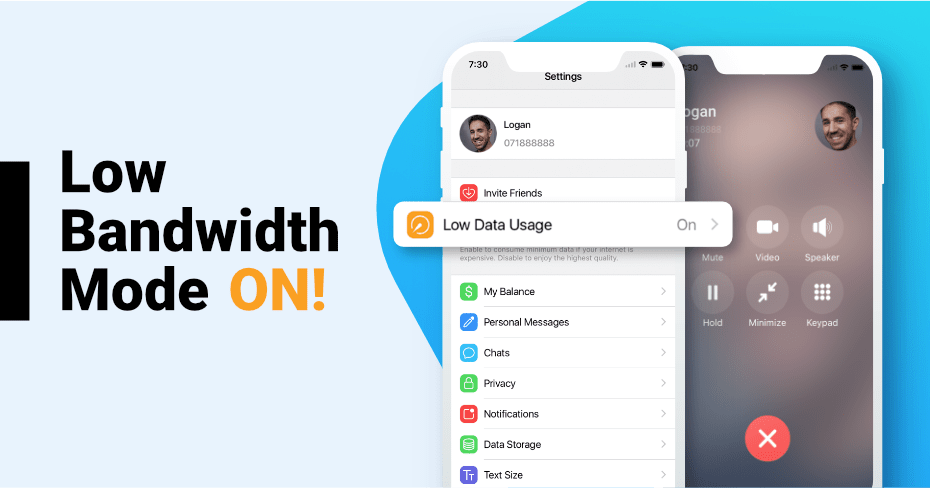 Low Bandwidth Usage Mode ON!
Oh, those struggles with data roaming. Who hasn't ever worried about absurd roaming prices, the amount of data spent on it, and the ridiculously low quality you get for those sky-high prices? Meanwhile, staying in touch anywhere across the globe is a necessity today. That's why we've created the technologies for low bandwidth usage mode, which makes Zangi the lowest data usage messenger out of all messengers.
Whether family, friends, or business, it's hard to be unavailable in the modern age of communications and ever-changing situations when there is a chance of falling behind and missing out even after a couple of hours of the absence. So, the problem is obvious.
But What is the Solution to Low Bandwidth Usage?
In reality, the solution is simpler than you think. This time, Zangi comes to help with its unique feature – the "Low bandwidth usage mode." This feature will allow you to forget all the worries about the high prices and costs of data roaming.
Being a messenger with the least data usage, Zangi is a leader in this issue. Zangi gives you the opportunity to place calls with a duration of up to 10 minutes and use no more than 1 MB of data. With this killing feature, you can go anywhere anytime and stay in contact without the feeling of anxiety that would grow with every megabyte you would be wasting with regular data roaming.
Simply download Zangi and avoid all those problems at once. Our team at Zangi works hard to identify major problems that are often left unseen and offer you easy and quick solutions. Zangi doesn't simply offer you low bandwidth usage mode; what you get with this feature is also a supreme quality that does not get affected by the low bandwidth usage. You will get a chance to save money and resources without compromising the quality of your calls. So go ahead, plan your next trip, activate your low bandwidth usage mode and let Zangi worry about the data roaming issues! You will be in safe arms throughout your trip and will stay in touch with the rest of the world wherever you go.