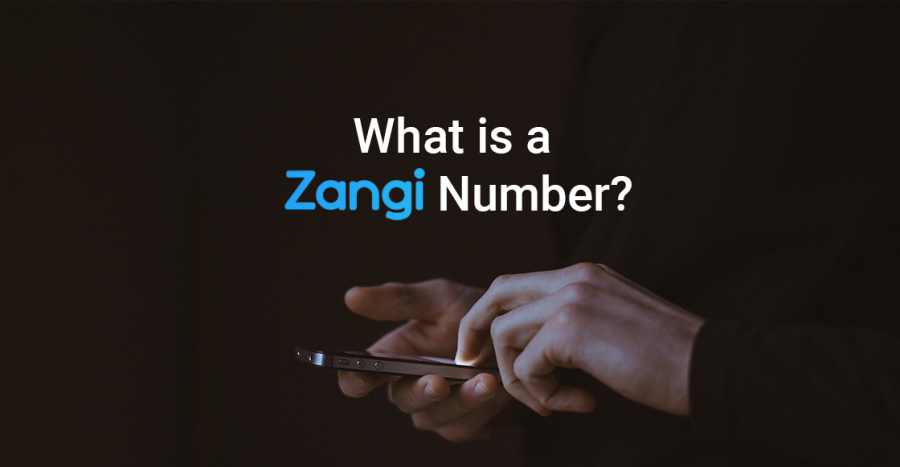 Zangi Numbers | What is a Zangi Number & how to use it?
You may or may have not yet noticed that NOW all new users get a UNIQUE Zangi Number upon registration, instead of having to provide their personal phone number to sign up. This a new security measure we've recently added.

For all of you existing users, nothing has changed for you. Just make sure to set a password for your account from Settings➝ Your Profile. This is because signing back in has become a little tougher without a password.
For new users, you've surely seen that after registering with email, you get a special Zangi Number.
In this article we would like to touch more upon what is a Zangi Number and how to use it to connect with friends.
What is a Zangi Number?
You don't need to provide your personal mobile number to use Zangi. After registering with email, you get a UNIQUE Zangi Number. Share this number only with the people you trust and with family & friends.
Zangi Numbers start with 871 or +871 (no difference), are 12 digits long, and are randomly and uniquely generated.
Where to find your Zangi Number?
You can always find your Zangi number from your app Settings or Contacts sections.
Connecting with Friends
Method. 1 How to Share Your Zangi Number 
Go to Settings → Your Private Zangi Number → Tap on the share button ➝ Send your friends your Zangi Number.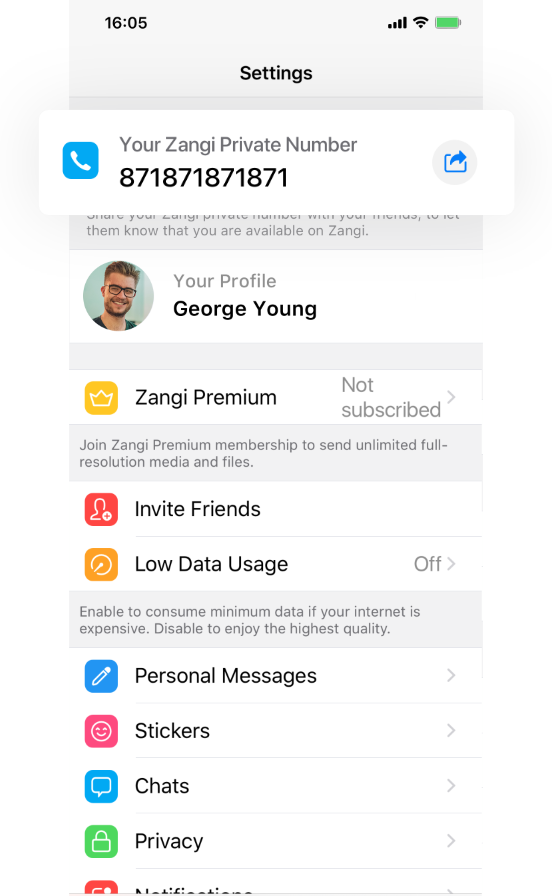 Method. 2 How to Connect With Friends
Go to Contacts ➝ Tap on "Invite Friends" or the "Invite" button next to the names ➝  Send your friends the provided message & special connection link ➝ When they follow the link, they'll connect with you, or will be redirected to download the Zangi app.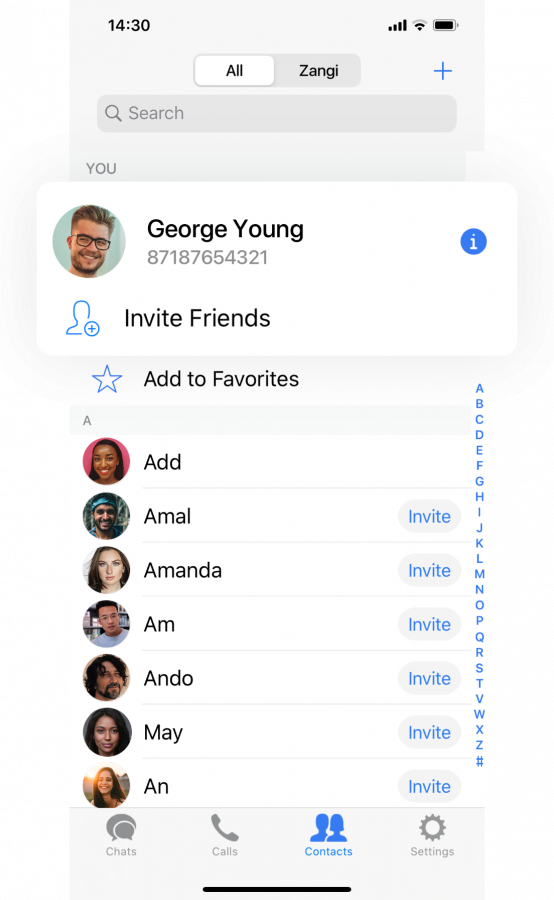 Method. 3 How to Call your Friend by Dialing Their Zangi Number
If you know your friend's Zangi number ➝ Go to Calls ➝ Open the Keypad ➝ Dial their Zangi Number ➝ Tap on the Call button ➝ Choose to call, video call, chat, or create a new contact with this number.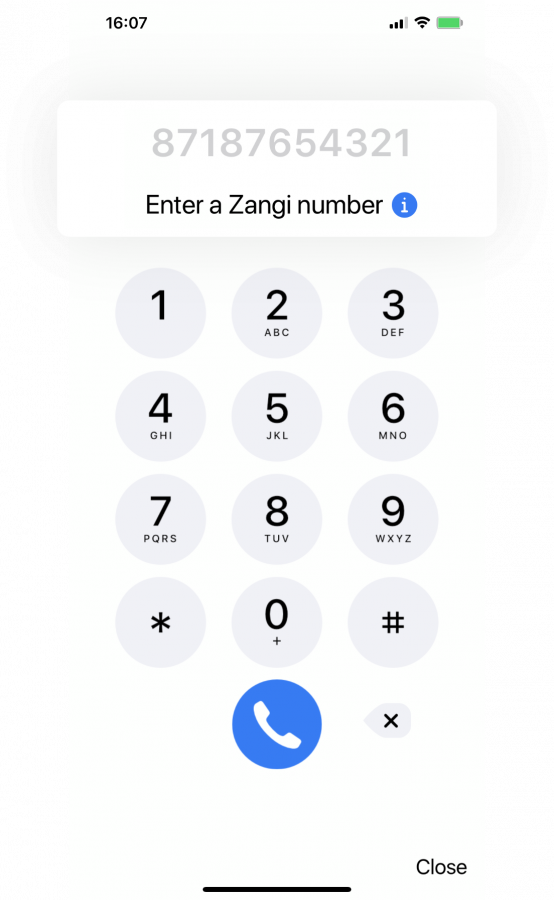 Method. 4 How to Call a Zangi Number by Adding the Number to an Existing Contact
Go to Contacts ➝ Tap on the contact's name to open their contact info ➝ Fill in their Zangi Number ➝ Tap on Save ➝ The call, video and chat buttons will activate.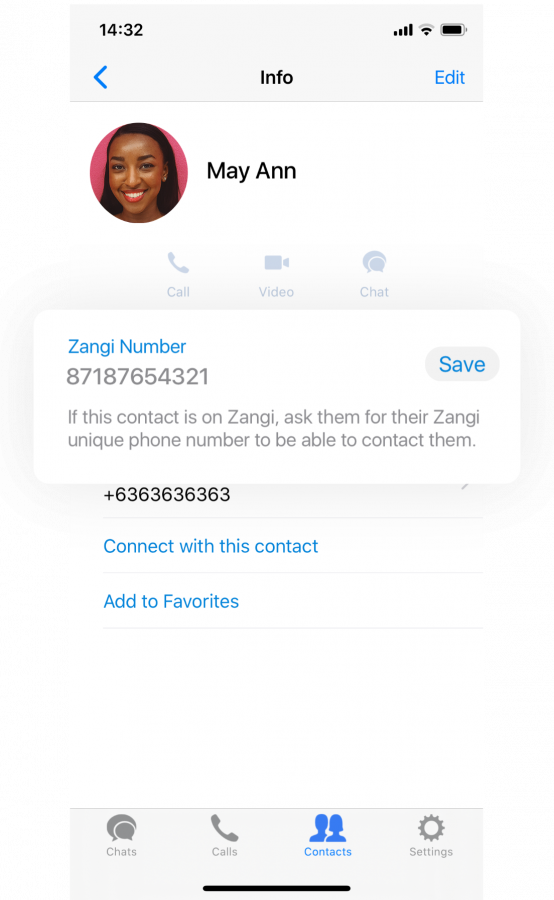 Read this article below for more info about the new registration. For questions related to what is a Zangi Number or registration write to support@zangi.com.
Zangi new registration. What's a Zangi Number? Privacy advancements.
Why we've made this change?

We've made this change for privacy reasons. We want Zangi messenger not only to be highly protected with 3-leveled encryption and other security measures, but we want Zangi to also be seen as a PRIVATE SPACE. https://zangi.com/news/en/all-about-privacy-encryption-zangi-secure-messaging-app/

Why don't other messengers work like this?

So why don't other popular messengers remove Phone Number Registration as well?

Because some messengers collect such data about users.
For most others, phone registration is the easiest way for the most number of users to sign up and connect to their apps.
They prefer: more business, ease > over privacy measures.

It's not an easy decision that we've made. But we've made it for all the right reasons.