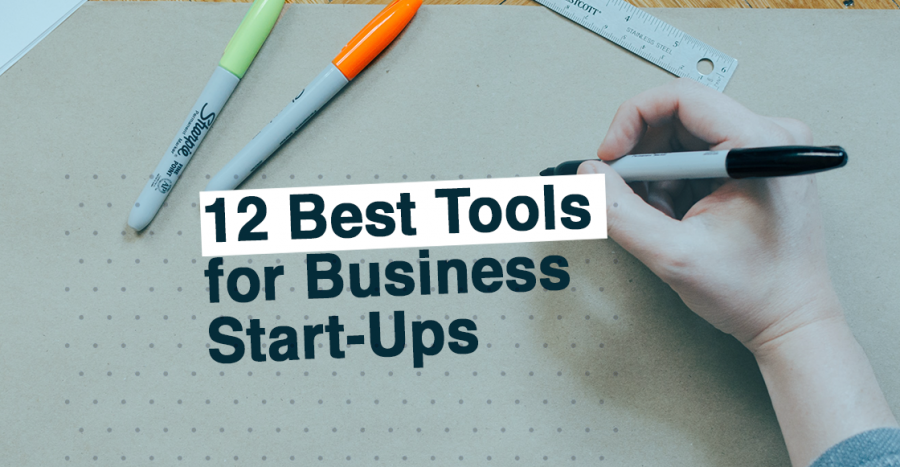 12 Best Tools For Business Start Ups
If you are an enthusiastic entrepreneur who is about to launch their first – or maybe tenth – start-up, then you should probably find some tools that will help you along the way. Here are 12 best tools for business start ups that you can check out.
The first best tools for business start ups is to choose a name. Choosing a name for your business can get pretty tough, especially if you're not sure if others are using it already. You will need to create a website and social media profiles for the start-up, so you must make sure that it is still available. The Name App can help you with this task. The Name App allows you to check whether your desired domain has already been taken. It checks such endings as .com, .net, .co, and .me as well as checking such social media platforms as Facebook, Twitter, Instagram, and Tumblr.
This ensures that you can have one uniform username and domain across all platforms. The Name App is also available as a website and as an iOS app.
The next big thing is to start securely communicating with your team or customers to have your business going ( both inside and outside of your business). If there is no proper communication, there is a much higher chance for your team members to mess up one thing or another.
Especially convenient for small teams and startups, Zangi gives businesses a safe place for calls and messages. If you need an app for your startup, they also create white label messengers with features of your choice.
Next comes collecting a mailing list and potential interested customers. MailChimp allows you to manage your email marketing campaigns in the most efficient manner. It's your go-to tool for email marketing. There are three main packages that you can choose from New Business, Growing Business, and Pro Marketer.
If you are a beginner or have a limited budget, you can choose New Business which is free and has all the basic email marketing features included. If you want to go on a different level, choose Growing Business which starts at $10 per month and provides you with many new options such as predictive demographics, email delivery by time zone, advanced testing, and so much more.
At least once in your career you probably had to create survey forms. If you have been using Google Forms for this, then you probably only scratched the surface of all the benefits Aytm can supply you with.
Aytm is different from all the survey creation tools on the market because it not only allows you to create great survey forms but also helps you reach out to the right audiences who would want to take your survey. That is perfect for any entrepreneur who wants to get feedback on their business start-up idea.
Managing projects is exhausting and can even become chaotic if you don't keep track of all the processes properly. Asana is one of the best tools for business start ups that helps you deal with all the aspects of project management and allows you and your team to stay on track. This tool is one of the best on the market right now and is very popular among start-up owners from all over the world.
You can assign tasks as per the user's status, add assignees, get activity feed, view log reports, and so much more.
6. WordPress Multilingual Plugin (WPML)
If you created a website for your start-up by using WordPress, you will be happy to hear that there are plugins that can easily translate your website to other languages for your foreign audiences to benefit from. The most popular of such plugins is the WordPress Multilingual Plugin or WPML.
WPML has a powerful translation management system that allows you to translate everything on your website: content, themes, plugins, and more. You can either get an automatic translation or connect with a third-party translation service to get a more accurate and personalized translation.
The one thing that always gives entrepreneurs and small business owners a headache is accounting. The financial side of any business is always complicated and you will constantly encounter challenges on your way. This is why using a best tools for business start ups:  such as Wave to help you is essential for the well-being of your start-up. Wave is an online accounting tool that is absolutely free. You can track all of your expenses and incomes.
Moreover, Wave can help you manage your taxes saving you a lot of time and effort. It's a real life-saver and is definitely a reliable tool having gotten media coverage from the big players such as Forbes.
As mentioned earlier, you will need to create content for your business website and social media accounts, so finding a good writer is essential.
A writer rating service like Best Writers Online will help you find your professional who will be creating the content you need while also having fairly reasonable prices.
Having several social media accounts on different platforms can be not only time-consuming but also very chaotic. This is why such best tools for business start ups as Hootsuite are so popular with all kinds of entrepreneurs and business owners.
Hootsuite is perhaps the most well-known social media management tool allowing you to control your social media accounts from 35 different platforms. All of your accounts can be managed from one dashboard and you have a wide variety of features available to you. Hootsuite makes posting to social media easy and lets you keep up with your schedule while being consistent with your posts at the same time.
High-quality images are always in-demand. But what about free high-quality images? If you have been looking for a place to find beautiful stock images for absolutely no cost, then StockSnap is the website you must check out immediately.
Just like Unsplash, StockSnap is a website where you can find high-resolution images to use in your articles or on your website. The good news is that it is completely free of charge and you don't have to worry about copyright issues. Of course, you won't always find everything you need as this is not a paid website like Shutterstock, but you can still marvel at all the hidden gems on StockSnap.
Managing the human resources in your start-up can be tiring and quickly become a mess just like your finances or task management. This is why Recruiterflow best tools for business start ups was created: to help start-up enthusiasts, entrepreneurs, and small business owners to manage their human resources properly.
Recruiterflow allows you to manage all the activities that revolve around the HR department. You can automate your outreach, coordinate with your candidates, streamline your appointments, and more.
Last but not least, BetaList is another great way that you can get valuable feedback about your business start-up idea. It is a prelaunch traction system where you can list your start-up before launching it. The best part is that it is absolutely free of cost. After you submit your idea, there is a waiting period of two months.
If you want to get listed in a matter of a few days, you can pay a fixed fee of $99. Once you get listed, you showcase your start-up idea in a community of business enthusiasts just like you who can give you feedback. Moreover, it's the perfect place to get new connections and maybe even find business partners.
Final Thoughts
To sum up, these best tools for business start ups will definitely help you with your start-up if you try them out. You can combine some of these tools, but you don't necessarily have to use all of them. As long as you check out at least a few, you will be sure to find the right tools for yourself that you like and enjoy using.
by Gregory
Gregory is passionate about researching new technologies in both mobile, web and WordPress. Also, he works on writing service review websites Online Writers Rating. Gregory in love with stories and facts, so Gregory always tries to get the best of both worlds.