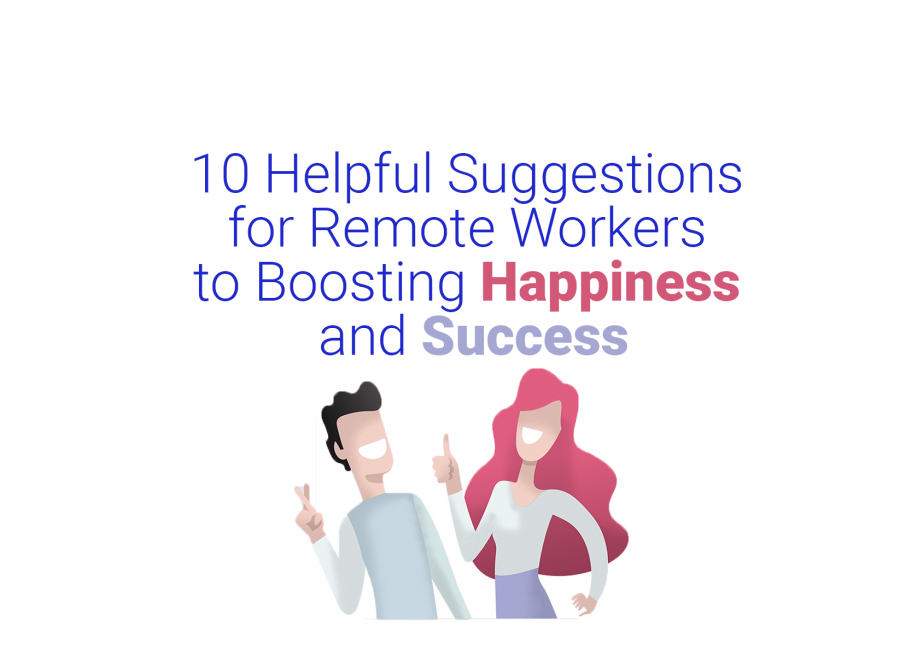 10 Tips to Boost Success and Happiness for Remote Workers
Coronavirus has a lot of us working from home, and many of us still haven't fully figured it out how to work from home and stay sane at the same time. So how can we make remote work productive and successful? And how to boost success and happiness for remote workers?
There are a lot of pros and cons to working remotely, so we'll explore ten suggestions to help you be more successful and happier as a remote worker.
Boost Success and Happiness for Remote Workers
1. Look for Purpose
When you're working away from a physical office, it can be easy to lose meaning in your job since you're not engaging with colleagues or removed from a purpose. Regardless of what job you're doing, there are ways that you can look for purpose in your work.
To boost success and happiness for remote workers take some time to think about who your work impacts, and what the benefit is in your work. Whether you're helping customers or sharing useful information, work motivation is to keep feeling engaged.
2. Discuss Expectations
It's important that you discuss with your manager what their expectations are and take initiative. When a meeting is over, you should be following up by email and summarize what you'll be doing next.
Dean Hughes, blogger at Next Coursework, says "you can't hurt by being too specific – when you're working remotely, it's key to avoid miscommunications and errors of interpretation, so make sure both parties are clear on details."
6 essential team communication tools for the modern workplace
3. Share Progress
You need to be able to easily share with others your progress on the tasks you're working on. There are some great collaborative tools for remote workers like Slack, Zangi, Zoom, InVision, Trello, Teamwork, Google Drive, and Adobe.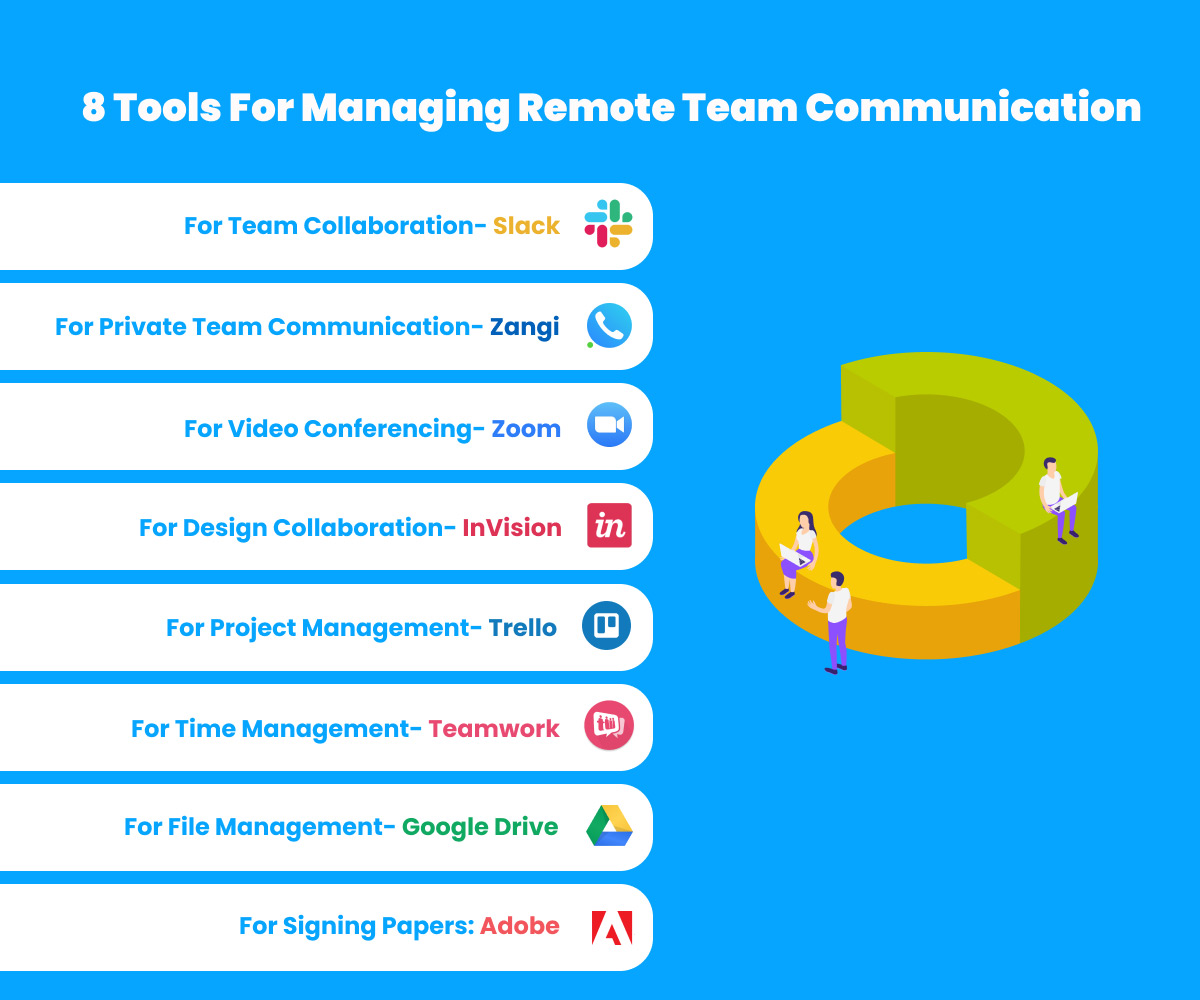 4. Meet Frequently
If you're working with a team, you should be setting up video meetings regularly and have them scheduled in advance. This is a good way to make sure you're all on the same page about projects.
5. Meet in Person
Remote worker: Working remotely is an effective way to meet your team and spend some great time face-to-face. It's a lot easier to get on a personal level with your colleagues so you can get a great team dynamic. No matter how frequently you meet, a month, quarter, or twice a year, it's useful to have regular in-person meetings.
Quarantine:  Remember that the situation is temporary. You will meet in person too, take the time to value your team and try video calling them more instead of voice calling them.
6. Get an Office Friend
Remote worker: Forming a solid relationship with a colleague in the office is really helpful. They can help you avoid missing out on things when working remotely and can keep you up to date about what's happening in the office. For example, if a department sent around feedback about work that was submitted, your work friend can fill you in, or company news.
Quarantine:  Or if you're all working remotely, still have a friend or two to message and video chat with about ongoing projects so you feel part of group.
7. Take Breaks
Tom Jules, a remote worker at Australia2Write, says "because you have less distractions at home as a remote worker, it's easy to get lost in your work and sit at your desk too long. To boost success and happiness for remote workers: take the time to get up and move around each hour, take fresh air, and get physical activity."
8. Find a Workspace
Remote worker: You should have a separate workspace to keep your work apart from your home life. Whether it's a different room or nearby coffee shop, you need somewhere to work without distractions.
Quarantine: Or if you're working only at home, try switching the location of your work space. To boost success and happiness for remote workers some sunshine, working at the front porch, having some tea or lemonade will do the trick. Having a calm but interesting place to work to brighten up your mood and get yourself motivated.
9. Fight Loneliness
Remote worker: You can get lonely when you work by yourself each day. Whatever works for you, talk radio, music, or social contact, is key to be able to step away from your job and be less alone. You can join a coworking space and network with other people working remotely. You can also join a meetup group for an activity that you love, like hiking, sports, or a book club.
Quarantine: If you can't get out of the house it's a great time to start some new hobbies at home or catch up on career classes or movies you've been wanting to see. You can organize a time to video call your friends, so you have something to look forward to after work.
10. Have a Routine
Being a remote worker is great for flexibility. If you prefer working on evenings and weekends, you can. However, you should still have a routine and work at fixed times, which is easier for your colleagues and for work. It also helps separate your work life and your personal life.
If you're just starting out as a remote worker, you can follow these tips to be more successful and happier in your work life.
Author: Katrina Hatchett is a lifestyle blogger at Academic Brits and writer at Research Paper Help. She works on many lifestyle and work balance articles for her audience. She loves to explore ways that people can live healthier and more fulfilling lives will working full-time jobs. Katrina also writes for PhD Kingdom.