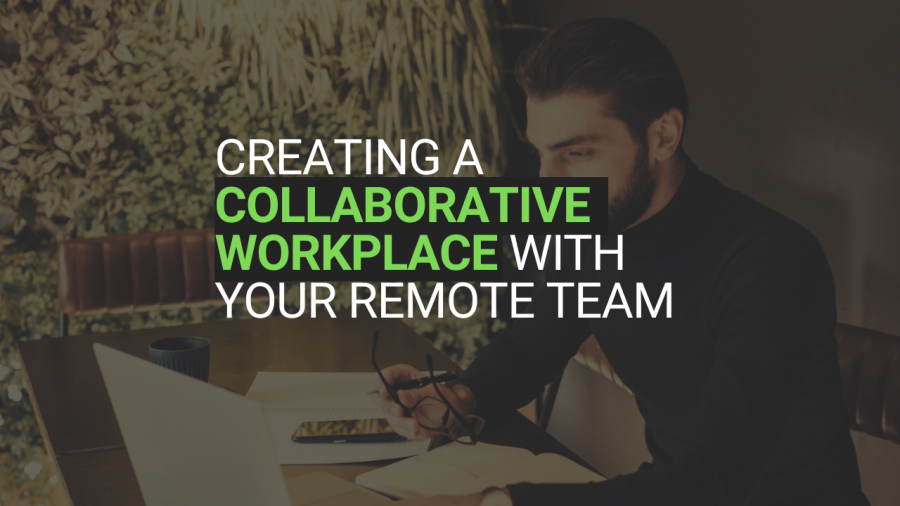 Creating a Collaborative Workplace by Keeping in Touch With Your Remote Team
As businesses across the globe look to speed up their digital transformation, an apparent problem that companies are encountering is the lack of creating a collaborative workplace between teams. This challenge was aggravated further when some organizations started adopting a completely remote work arrangement.
Statistics have shown that about 43% of companies accelerated their communications strategies by at least one to four years ahead of schedule. However, this still leaves a majority of companies struggling to find the right communication strategy to keep teams in touch with one another.
Creating a Collaborative Workplace 101
In this blog, we talk about how you can improve your company's internal communications and how this can positively affect your organization's culture.
Schedule Weekly Alignments
Weekly alignments are a critical part of any company's operations. Setting your team's direction for the week and stating the goals that they need to achieve is key to keeping everyone on the same page.
By allotting at least 15 minutes per week for you and your team to talk about your upcoming goals, tasks, and meetings, you can figure out where you can help out and what you can do for them, as their leader. Don't forget to start this meeting by exchanging some pleasantries before proceeding to discuss the work week ahead.
Additionally, make sure to give everyone on your team a chance to speak, and to dismiss them once the meeting's agenda has been fulfilled.
Ask for Daily Updates
When you ask for daily updates from your team members, they don't have to deliver a full-blown report at the end of the day. You can simply ask them to send you a list of tasks that they'll be working on for the day. Here's a format that you can use for your team:
Start of Day – January 8
Team alignment meeting

Meeting with the account manager

Create a proposal for a new client

Revise XYZ Corporation's proposal
End of Day – January 8
Done | Team alignment meeting

Done | Meeting with the account manager

In-Progress | Create a proposal for a new client

Done | Revise XYZ corporation's proposal
You can use an instant messaging platform for these day-to-day updates. By using this method, you can monitor your team's load for the day and ask them to prioritize certain high-value tasks if need be.
Proactively Update Your Team
Being a leader of a remote team can prove to be difficult due to not seeing your teammates physically. Digital leadership is a different area completely and it requires you to harness the power of software to keep your teammates informed, engaged, and on track.
A practice you can do is to regularly update your team members on any big announcements. Announcements like acquiring a new client, getting assigned a new project, or onboarding a new team member, anything that isn't confidential and is relevant to them should be communicated.
You can update your team about these developments through instant messages, email, or at your next meeting. What matter is that you take the time to update your team.
It also doesn't hurt to remind your team members that your "digital door" is open and that they can message you anytime.
Sync Your Calendars
Even before the rise of remote workplaces, it was a regular practice for teams to sync their calendars and block out times for important meetings. The only difference now is that you can't just stroll up to someone's desk to ask if they're available. Nowadays, you'll have to ask them through chat, email, or call.
Thanks to technological developments, companies like Google and Microsoft have created work calendars. By plotting out your calendar and allowing your team to subscribe to it, they'll see when you're available to talk and when you're not. They can even schedule an appointment with you through your calendar.
By syncing and subscribing to one another's calendars, you eliminate the back and forth of trying to find a common availability for meetings and training.
Keep Meetings Entertaining
Let's face it, some meetings can get boring especially if it's all about numbers. To keep things entertaining, why not have some icebreakers or games ready for your team? You can roll this out before you start your meeting or as a quick pick-me-up before sessions.
This extra step can help keep everyone's energy up and allow you to have their full attention. Not to mention that a healthy dose of competition can be great for developing rapport between teammates.
Don't Impose Video Format
While some companies want their employees to keep their cameras on during a meeting, this can be counterproductive when trying to create a comfortable environment. Remember that some employees aren't comfortable with keeping their video on, this could be because they're not alone in their workplace, their internet isn't good, or other personal reasons. Pressuring your team to turn on their cameras can negatively affect their comfort.
So, unless it's absolutely necessary, allow your team to keep their videos off.
Create a Channel for Fun
Your communications software doesn't have to be all about work. You can create a channel where employees can take a quick breather and talk about things that they like.
This channel can help with your team's mental bandwidth, and it can also make them feel more connected to their team. In fact, studies have shown that by creating a collaborative workplace, you can reduce employee turnover rates by at least 50%. Now, isn't that worth the extra effort?
Get a Secure Platform with Zangi
We hope that you've learned some tips on creating a collaborative workplace to make your remote team stay connected. If you execute these steps, we're sure that you'll be creating a collaborative workplace. Now, the only thing that's left is to find a secure platform for your team's communication.
Most businesses handle a lot of sensitive information and need a secure messaging platform that is risk-free from any vulnerabilities, leaks, etc. 
If you're looking for a protected messaging platform, Zangi can provide your company with a self-hosted team app that's only accessible on your company's servers. A secure system where you can call, message, and transfer files without the threat of data breaches. You also get to customize and brand the platform, add your corporate branding and custom features, making the app look like it was created for your company. Reach out to us today and see how we can improve your team's engagement without compromising their safety.
Redefining remote work
With Zangi Business, there are amazing advantages for remote team connectivity, achieving flawless connection wherever you are. 

Check out Zangi for Business solutions here. Send us a message to receive a quote.
Get in Touch
Send us a note using the form below and we will get in touch with you shortly.